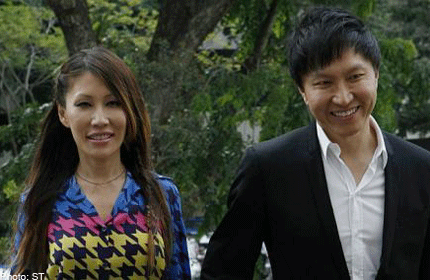 SINGAPORE - City Harvest founder Kong Hee and singer wife Ho Yeow Sun were willing to quit the church's management board to avoid a potential conflict of interest, the court heard. Though they expressed this a year before the alleged illegal transactions, the defence sought to show that they were concerned enough about such issues that they asked auditor Foong Daw Ching for advice.
Kong's July 2006 e-mail to Mr Foong and another auditor noted that Ms Ho, while on the church management board, was also paid by Xtron Productions, which managed her singing career at the time. Kong wrote that she was receiving a $16,000 monthly salary plus $16,000 for every live performance. While these amounts were based on what he called "very conservative" industry standards, it meant that she earned up to $500,000 a year, "more than most average Singaporeans' annual salary".
Kong asked if this was a related party transaction, saying he was "personally very troubled by these matters as I don't wish to bring any potential reproach to the church". He also said if there was no way out, he and Ms Ho would resign "if that would help diffuse the semblance of any conflict of interest on her part".
He said Serina Wee and Tan Ye Peng, two other accused, would contact the auditors to find a solution that would "withstand the strongest scrutiny by any watchdog body or authority". Kong's lawyer Edwin Tong produced this e-mail and others to show that church leaders asked Mr Foong for advice if they had serious concerns. Mr Foong did not recall whether he met church leaders at that time.

Get a copy of The Straits Times or go to straitstimes.com for more stories.