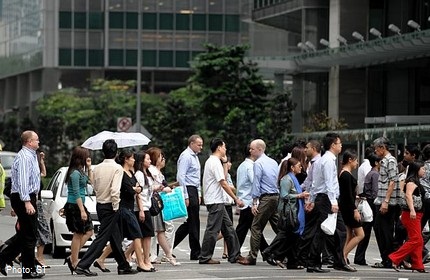 Set up by the labour movement, the centres will give career tips to professionals, executives and managers (PMEs) and offer legal advice if they face work-related problems. They will serve all professionals, regardless of whether they are union members.

Get the full story from The Straits Times.
Here is the full statement by the National Trades Union Congress (NTUC):
At the National Delegates' Conference 2011, the National Trades Union Congress (NTUC) and its affiliated unions and association developed the Labour Movement (LM) 2015 Vision of "Better Jobs for All", "Labour Movement for All, and "Tripartism for All". Since then, we made progress in realising the vision by striving to make every job a better job, making every worker a better worker; and matching the better worker to the better job. We believe this is the way to achieve high employment and low unemployment by minimising structural unemployment.
Today, we are in a better shape than most countries. And we are entering into a critical period of economic transition. The Labour Movement is committed to do more in areas that we have done well; and at the same time, do better in areas that will turn the pains of economic restructuring into gains for both our workers and businesses. And to make this happen, we must have a stronger and more pervasive tripartism.
TURNING PAINS INTO GAINS BY DOING MORE AND BETTER
Companies gain when their profits increase, and workers gain when their wages increase. Both gains must co-exist for the economic transition to succeed.
FOR ALL WORKERS
Both workers' and business's gains can be harmonised with the Progressive Wage Model (PWM) that comprises four ladders of wage, career, skills and productivity. With PWM, workers gain from higher wages and better career prospects; and companies gain from better skilled and more productive workers. These four ladders of PWM are mutually reinforcing ladders and should be tied together as an integrated whole.
Since last year, the NTUC Clusters have initiated PWM in several sectors such as transport and logistics, pre-school, hospitality, retail, marine, healthcare, cleaning, aviation, OPEC, as well as infocomm and media. We want to see MORE companies in MORE sectors implementing PWM as the next wage model for MORE workers. And to do it BETTER, we will be forming an NTUC PWM Expert Group to assist our affiliates and unionised companies on the adoption of PWM.
FOR LOW-WAGE WORKERS
Gain to workers must be widespread and benefit, even more, our low-wage workers. We launched PWM in the cleaning sector last year. Sector by sector, we will improve the wages and career progression paths of MORE low-wage workers in MORE sectors, especially outsourced workers. We are determined to make 2014 a year of breakthrough for the low-wage workers in the cleaning, security and landscaping sectors.
As the national median wage moves up, we must ensure that our low-wage workers' wage increase moves in tandem so that the income gap does not widen further. The percentage point increase for low-wage workers' wages must be BETTER (higher instead of lower) than the percentage point increase of the national median wage. Coupled with the quantitative guidelines issued by the National Wages Council (NWC) for low-wage workers, we will strive to elevate the wages of low-wage workers through this multi-pronged approach of using PWM, accreditation/ licensing and NWC guidelines.
FOR PROFESSIONALS, MANAGERS AND EXECUTIVES (PMEs)
By 2030, two-thirds of Singaporeans will be PMEs. There is a need to ensure that their needs for protection, progression, placement and privileges (4Ps) are met. The Labour Movement has been helping PMEs in the areas of placement and progression through NTUC's e2i (Employment and Employability Institute) and NTUC LearningHub; as well as pushed for a review of the Employment Act so that more PMEs are protected by the employment law. We also advocated for Labour Market Testing and National Job Bank so that they have fair employment opportunities.
We will do BETTER in bringing 4Ps to MORE PMEs by creating new channels. Two PME Centres will be set up to offer employability assistance and legal advisory services to them. And through the current review of the Industrial Relations Act, we aim to achieve 25 per cent unionisation rate so that we can represent more PMEs on individual and collective basis.
We are also looking beyond the unionised sector by forming partnerships, under the U Associate programme, with professional bodies. To date, we have eight U Associate partners. We call upon more professional bodies to collaborate with us so that we can better meet the other needs of PMEs with the 4Ps.
A STRONGER AND MORE PERVASIVE TRIPARTISM
Companies are concerned with profitability, workers are concerned with wages, and the Government is concerned with sustainability of both economic growth and wage growth. To address these three concerns that are closely intertwined, our tripartism must be stronger and more pervasive.
Tripartism must exist beyond the national level and be more pervasive. It must be present at the sectoral level. It must also be embraced by the whole of Government, not just the Manpower Ministry; and across all industry bodies, not just the Singapore National Employers Federation. Likewise for NTUC, we embrace tripartism at our 12 Clusters, consisting 61 NTUC-affiliated unions and association. Over the past years, several formal tripartite workgroups have been formed in sectors such as cleaning (Tripartite Cluster for Cleaners), healthcare (Healthcare Cluster Tripartite Workgroup), hospitality and retail (Customer-Centric Initiative), and more. There are also informal tripartite platforms in various sectors such as landscaping, aviation and transport. We need to strengthen and formalise tripartism with the formation of more tripartite groups for more industries and business sectors so that we can all work together and create a better Singapore for all our workers and businesses.