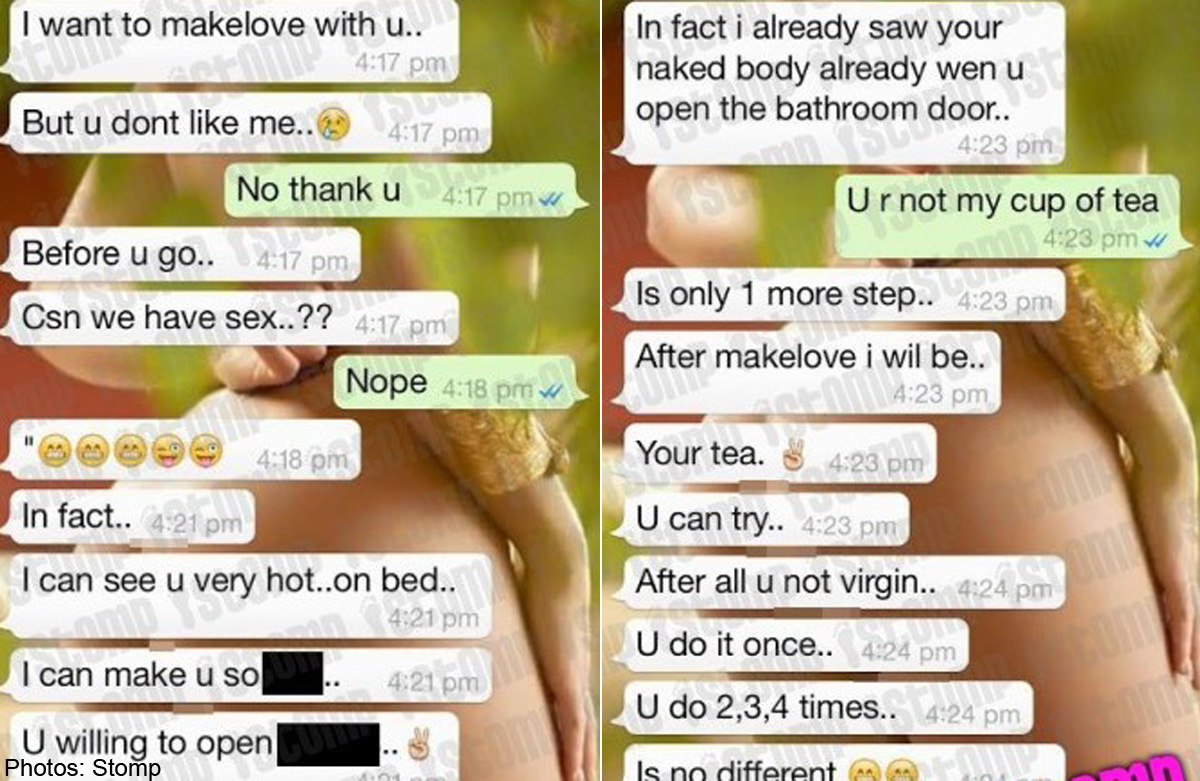 A woman was frustrated after having to deal with her landlord in the Choa Chu Kang area, who has repeatedly sent her lewd text messages.
The woman, who sent in screenshots of some of the messages to citizen journalism website Stomp, said he is old enough to be her father. From the text messages, he appears to be in his 60s.
Although she has rejected his advances, he still continues to send her Whatsapp messages, many of which are obscene in nature.
The Stomp contributor wants to share her story to warn other single ladies who are looking to rent a room in the area.
In an email to Stomp, she wrote: "My initial impression of them was great. Simple family. Loving husband and wife with grown up kids about my age. I didn't see much of a problem with renting a unit from them. Hence, I decided to go ahead with the rental."
She wrote that things had been good until about two years later, when her male landlord, who is her father's age, began texting her constantly and confessing that he was interested in her.
"I ignored the messages and started shunning him. I thought that by shunning him, it would be obvious that I am not interested and that this will make him back off. Things were okay for some time and I thought he got the message that I am not interested and that I am not a loose woman.
"But in the end, it didn't go the way I expected. He got bolder months later and started sending me obscene messages like the ones I've attached. I tried to reply nicely but he really gets on my nerves!
"My contract with the company is coming to an end and I'll be returning back to my hometown soon. I still have a $550 deposit I paid through my own pocket in cash for my room rental with him, which I was hoping not to jeopardise. I endured his irritating messages and started to go back late so as to avoid seeing him.
She says that on her days off from work, she makes sure that his wife is at home, or arranges programs so as to not stay in the house alone with this "wolf", and that she has to make sure her room is securely locked before changing her clothes or sleeping every day.
"Life was a big mental challenge as I had to face stress at work and this irritating filthy old man's constant harassment almost daily. When my contract was finally up earlier this year, I was relieved. I thought that I could escape this, go home, take it as a nightmare and forget about the whole saga since I wasn't violated physically.
"I've discussed with both landlords (the "wolf" and his wife) with regards to my last day of stay and my deposit. Both of them, being in the same tune, were unwilling to return it to me.
"I was told that it will be given to me on the first week of a new month and I will have to stay till the end of the month to fulfil one month's rental before I can have the deposit back.
"I obliged and stayed till the end of the month in hopes of getting my deposit back. When the time was up, the "wolf" said he will transfer it to my bank account.
"I've already booked a flight to return to my hometown and thought perhaps I should give them one last chance. However, from February until now, he kept giving me excuses to postpone it further.
"To me, it doesn't bother me about not getting my deposit back anymore. What really bothers me is that this shameless, filthy old man who is old enough to be my father is still constantly sending me obscene messages through my Whatsapp. It's so frustrating!"
She said that she hoped to expose this big bad wolf, so he will not have the audacity to harass any other women.

Visit STOMP for more stories.