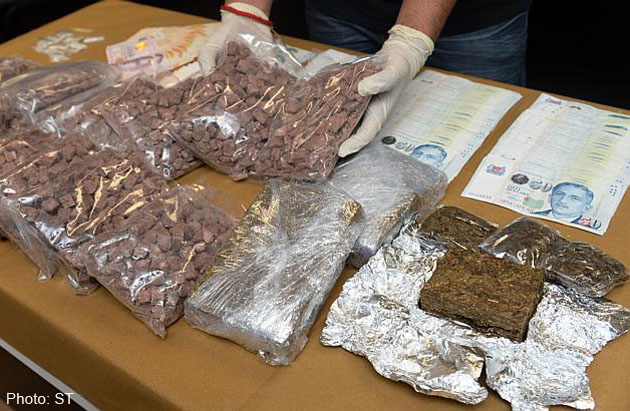 Central Narcotics Bureau (CNB) officers seized their single largest heroin haul of the year to date - almost 6.5kg - as they smashed an alleged drug syndicate.
Two men aged 44 and 46, believed to be the ringleader and a member, were arrested in their car in Geylang on Tuesday.
About 535g of heroin was recovered from the vehicle and a small amount of Ice, or methamphetamine, was found on the 46-year-old.
When CNB officers raided a unit in a nearby commercial building, believed to be the syndicate's hideout, they found more drugs, including most of the remaining heroin, 1.3kg of cannabis, Ice, Ecstasy, Erimin-5 tablets as well as more than $12,000 in cash.
More heroin was also found in the 44-year-old man's home in Jalan Kayu.
The drugs have a street value of more than $500,000.
The CNB said in a statement yesterday that it believes the alleged syndicate has been importing drugs from a neighbouring country to distribute here.
CNB director Ng Ser Song said the amount of heroin seized could potentially feed the addiction of more than 3,000 abusers for a week.
If convicted, the two men arrested could face the death penalty.
Heroin and methamphetamine were the most commonly abused drugs in the first six months of this year, the CNB said last month.
Among new abusers, methamphetamine was the most popular drug, followed by heroin.
The street value of drugs seized, however, fell by about half to $4.7 million. The total number of drug abusers arrested from January to June was 1,524, marking a fall of around 20 per cent compared with the same period last year.
But the CNB said the regional drug situation has not improved. Last year, the area used for illicit opium cultivation worldwide reached its highest level in 15 years.
South-east Asia was responsible for a fifth of the world's overall opium cultivation.
CNB statistics also showed a growing preference among abusers for cannabis as their first drug.
A spokesman said that its legalisation in some parts of the world may "give the false impression that cannabis is 'less dangerous or addictive' than other drugs".
Mr Ng said yesterday that the CNB will continue to clamp down on drug traffickers and syndicates to stop the drugs from reaching Singapore's streets.
He added that the arrests serve as a warning to drug syndicates that Singapore will not tolerate any illicit drug activities.

This article was first published on Sep 25, 2014.
Get a copy of The Straits Times or go to straitstimes.com for more stories.