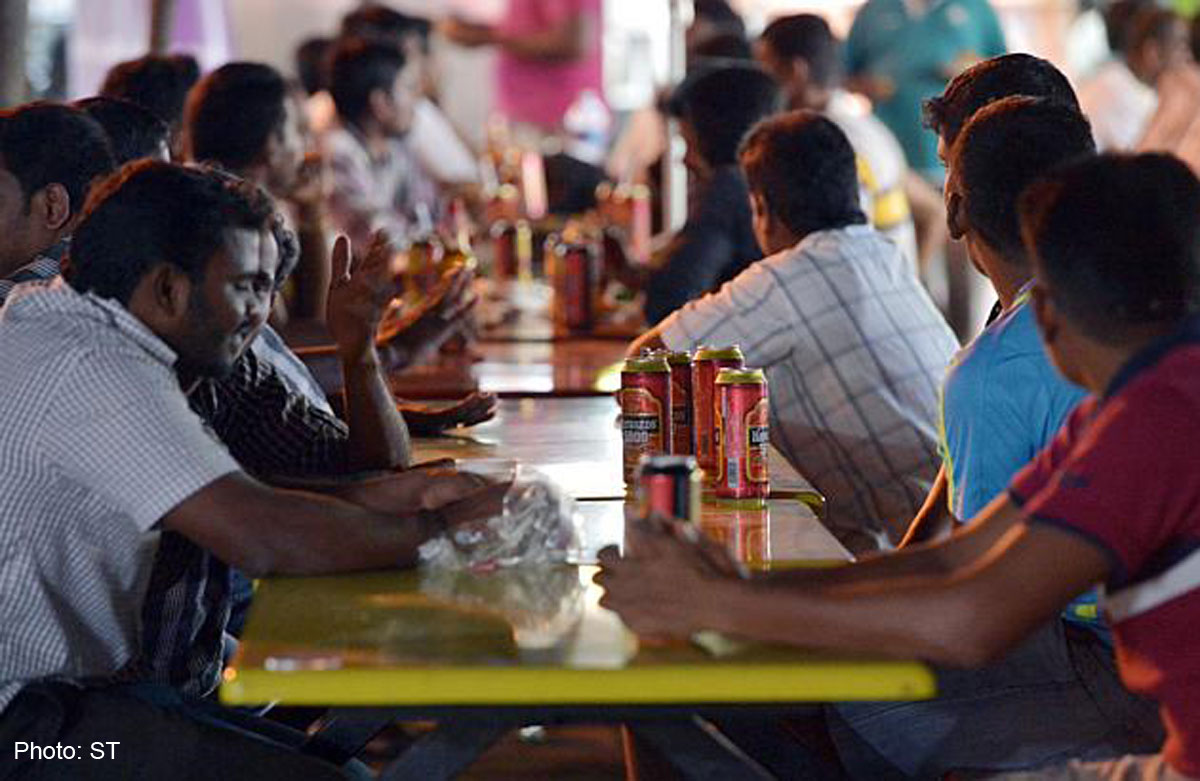 Critics of the Singapore Government's decision to repatriate 57 foreign workers involved in the Dec 8 Little India riot have confused two issues, Law Ministry officials said on Saturday.
There is a difference between those who are charged before a court of law and foreigners who are ordered to leave the country, they pointed out.
"A person who faces a criminal charge has a right to due judicial process before he is convicted or acquitted on a charge," said Ms Praveen Randhawa, press secretary to Law Minister K. Shanmugam.
"A foreign national who is subject to repatriation, however, has no right under our laws to challenge the repatriation order in court."
This was an issue Senior Minister of State Indranee Rajah also dwelt on when she spoke to reporters at a community event in Tanjong Pagar GRC on Saturday, addressing criticism levelled by human rights and social activists in Singapore and abroad.
Amnesty International as well as local groups Maruah and Workfair Singapore have criticised what they viewed as the arbitrary deportation of workers who did not have the opportunity to defend themselves in court.
The 57 workers - all Indian nationals except for one Bangladeshi - were sent home last week after being issued stern police warnings and will not be allowed to return here to work.
Calling some of the comments "misguided", Ms Indranee said: "One allegation appears to be 'Oh, no due process', but the question is, due process for what?"
She pointed out the difference in treatment accorded to two groups involved in the riot.
Judicial process has begun for 28 Indian nationals facing rioting charges, she said. "If you're accused of a crime, you should be entitled to judicial process... the right to be heard and you have a right to representation," said Ms Indranee.
The repatriated workers, on the other hand, were not charged with any criminal offence, so the question of judicial hearings or access to justice did not arise.
Under Singapore law, she said, repatriation of foreigners is an executive decision, allowed for under the Immigration Act.
"So if the suggestion is there is no due process because it's not in court, that is not correct because the court process is inapplicable to this scenario," she said.
Under the Immigration Act, if the Minister for Home Affairs assesses that it is undesirable for a foreigner to remain in Singapore, he can be ordered to leave. All the men sent home were deemed by the Minister for Home Affairs as "a threat to the safety of Singaporeans", said Ms Indranee.
She also disagreed that the action was arbitrary and pointed to the process before the Government decided how those involved in the riot would be dealt with.
The authorities questioned 4,000 men and investigated 400 before deciding that 28 would face charges, 57 would be repatriated and about 200 issued advisories.
"It was a huge and immense effort and at the end of the day, the end result was a very carefully considered, calibrated outcome where you can see that those who are most culpable, certain types of actions are taken," she said.
"So it cannot be said that there is no due process under the Immigration Act."
She also said: "I suppose Workfair and Maruah don't approach it in the same way as the Government has approached it. The Government approaches it from the need to protect Singaporeans and to ensure that Singapore remains a place that is safe for everybody.
"One of the most important liberties," she said, was the ability "to go outside and walk around, not in fear that something's going to happen to you".
"That's a great liberty. But that liberty is achieved in Singapore because of the application of the laws that preserve our safety and security. And the repatriation orders were effected in that context," she said.
To those who insist that foreigners who are repatriated must be subject to judicial process rather than executive decision allowed under Singapore law, she had this to say: "Firstly, that's not our law, so you cannot say there is no due process under our law.
"If you're making that argument, then what you are really saying is that our system ought to be a different system, which is a separate question altogether."
Ms Indranee said the Government's response to that would be that every country has the right to determine its own laws and decide what works best, given its circumstances.
Singapore is also not the only place with such repatriation laws, she said, noting that Malaysia, Hong Kong, Britain and Australia have similar laws.
linettel@sph.com.sg

Get a copy of The Straits Times or go to straitstimes.com for more stories.