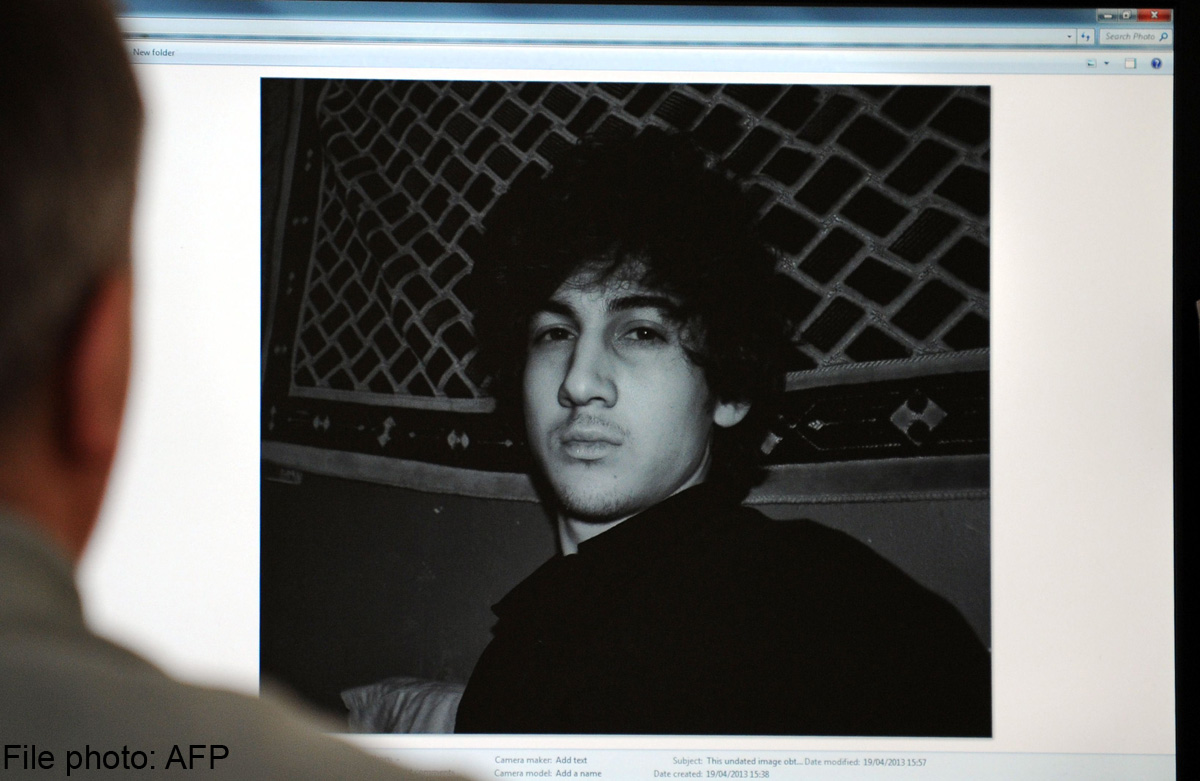 BOSTON - Attorneys for the accused Boston Marathon bomber on Wednesday will ask a federal judge to give them until at least September 2015 to prepare for his trial on charges related to the largest mass-casualty attack on US soil since 9/11.
Dzhokhar Tsarnaev, a 20-year-old native of Russia's restive Chechnya region who moved to the United States a decade ago, faces the possibility of execution if he is convicted of killing three people and injuring 264 with a pair of homemade pressure-cooker bombs in the April 15, 2013 attack as well as shooting dead a university police officer three days later.
Defence attorneys have said they need time to review massive amounts of evidence collected by the government's investigation into the bombing. They also may seek to challenge before US District Judge George O'Toole the death penalty threat.
Last month, prosecutors said they would seek to have Tsarnaev put to death if he is convicted of charges including use of a weapon of mass destruction.
Tsarnaev, who is being held in a prison west of Boston, has pleaded not guilty to all charges. His attorneys have not yet said if they will seek to have his trial moved from US District Court in Boston, just 2 miles (3.2 km) from the spot where the bombs ripped through a crowd of spectators at the race's crowded finish line.
The trial, which will draw intense international attention, will pit prosecutors from the office of US Attorney Carmen Ortiz, who last year convicted gangster James "Whitey" Bulger, against a defence team including top Boston public defender Miriam Conrad and Judy Clarke, a death penalty defence specialist from California.
Tsarnaev and his 26-year-old brother, Tamerlan, are accused of planting the bombs, which killed three people including an 8-year-old boy, Martin Richard. Three days after the bombing, FBI investigators released surveillance photos showing the pair, wearing baseball caps and carrying backpacks, near the site of the blast.
That prompted the pair to attempt a hasty escape from Boston. Authorities say they shot a Massachusetts Institute of Technology campus police officer in an unsuccessful attempt to steal his weapon, an incident that sparked a car chase and gun battle with police that ended with Tamerlan dead.
Dzhokhar escaped that encounter, prompting a day-long lockdown of most of the Boston area until police found him, hiding in a dry-docked boat in a suburban backyard, on the evening of April 19.
Three college friends of the defendant are due to go on trial in June, charged with obstructing the investigation by removing a laptop and backpack containing fireworks casings from his dorm room at the University of Massachusetts at Dartmouth, about 60 miles south of Boston.
In addition to Richard, 8, the marathon bombs killed Krystle Campbell, 29, and Chinese national Lu Lingzi, 23. Tsarnaev is also accused in the shooting death of Sean Collier, 27, the university police officer.