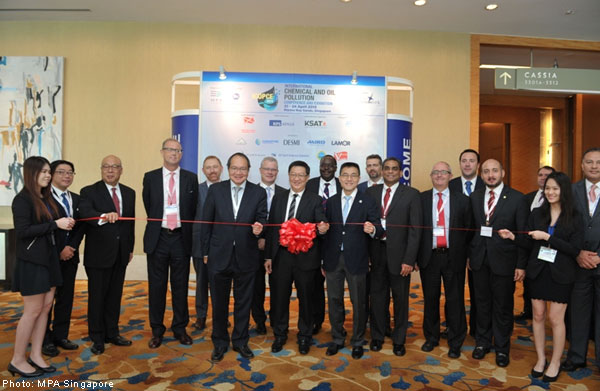 SINGAPORE - Around 300 international maritime experts and participants from major oil and chemical companies, emergency response companies, ship owners and operators, as well as port authorities, have gathered at the International Chemical and Oil Pollution Conference and Exhibition or ICOPCE 2015, which is held from Apr 22 to 24, 2015 at the Sands Expo and Convention Centre, Marina Bay Sands.
The event is organised by the Maritime and Port Authority of Singapore (MPA) in conjunction with the 10th Singapore Maritime Week 2015. Mr Lucien Wong, Chairman of MPA, was the guest of honour at the opening ceremony today.
With the theme 'Next Generation Strategies and Technologies for Evolving Risk Scenarios', international and industry experts will discuss and develop new strategies, leveraging new technologies and innovation, to help the industry manage evolving risks faced by the maritime industry today, particularly on pollution risk.
In his opening address, Mr Wong said, "Singapore is located along one of the busiest waterways used for international shipping, and ensuring the safety, security and environmental protection of our port waters is of utmost importance. As shipping traffic is expected to increase in the future and ships are getting bigger, we must not only continue to provide prompt and effective response to any emergencies, but be adapt to changes and innovate in our spill response capabilities and measures."

Mr Lucien Wong, MPA Chairman, giving his opening remarks at the opening of the International Chemical and Oil Pollution Conference and Exhibition
Highlights of the conference will include a discussion on the evolving risk profile of the shipping industry, the strategies to manage such risks, and the latest technology applications for combating oil spills.
At the conference, participants will hear from more than 30 maritime, oil and chemical experts from around the world. These include prominent local and international industry personalities such as Mr Hor Weng Yew, President and Chief Executive Officer for AET Tanker Holdings, and Mr Henrik Hartzell, Managing Director for Heidmar (Far East).

Touring the International Chemical and Oil Pollution Conference and Exhibition
Up to 13 companies from six countries are also participating in the ICOPCE 2015 Exhibition, with a number of exhibitors representing oil and chemical spill response agencies, marine services consultancy companies, and hydrodynamics and ecology consultancy companies.
In addition, ICOPCE delegates will have a chance to take part in a chemical spill exercise organised by MPA on the final day of ICOPCE on Apr 24.
spanaech@sph.com.sg