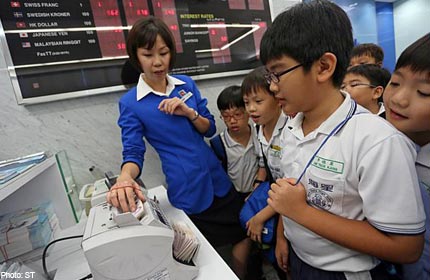 SINGAPORE - Denzel Lee uses the fan on cool nights instead of air-conditioning - an energy and money-saving tip the nine-year-old picked up from Little Red Dot's (LRD) Money Smarts Reading Passport.
The eighth edition of The Straits Times' series for young readers was sponsored by RHB Bank Berhad, and focused on financial literacy and prudence.
It introduced them to the invention of money and the banking system, and got them to think about how the cost of living can affect people's lives.
Denzel beat 250 other entries to earn himself, his parents and younger sister a four-day vacation to Hong Kong Disneyland worth more than $5,000.
School subscribers to the broadsheet with LRD all received the passport in July. They had to complete its six weeks of reading activities, and submit a short essay on why they liked LRD and what they would do as the paper's editor for a shot at winning the grand prize holiday.
Denzel, a Primary 3 pupil from Maris Stella High School (Primary), also received an LRD hamper filled with collectibles, including notebooks and a thumb drive.
"Denzel, if you don't want can you give me some?" his 39 classmates teased when he received his prize.
As a treat to end the contest, the boys were invited to the bank to get a glimpse of its inner workings. RHB's head of service quality and public relations Luke Diep said: "It's about educating pupils. Events like this not only teach them the importance of saving, but the different operations that take place in a bank."
The bank, which is also the title sponsor of the RHB-The Straits Times National Spelling Championship, hosted the young crowd at the Premier Banking lounge of its Cecil Street head office on Friday.
The boys crowded round tellers as they demonstrated counting notes using a special machine, learnt to tell a real note from counterfeit money, and got close enough to sniff at a $10,000 note.
But it was the chance to examine the anatomy of an automated teller machine (ATM) that had them scrambling all over each other in excitement. Zhang Shuo, also nine, worked on a sketch. "I always see my parents using the ATMs, so I'm excited to learn about the way it works."
Many afterwards even told LRD editor Serene Goh they wanted to be bankers when they grew up. "The aim of the passport is to encourage reading by allowing young readers a chance to get behind the scenes as a reward. This trip is not usually on the school's list of places to visit, and that's what makes it special for everyone," said Ms Goh.
Denzel is looking forward to his second trip to the theme park. "I did my best with the passport because I want to win and go to Disneyland again," he added.
nszainal@sph.com.sg

Get a copy of The Straits Times or go to straitstimes.com for more stories.