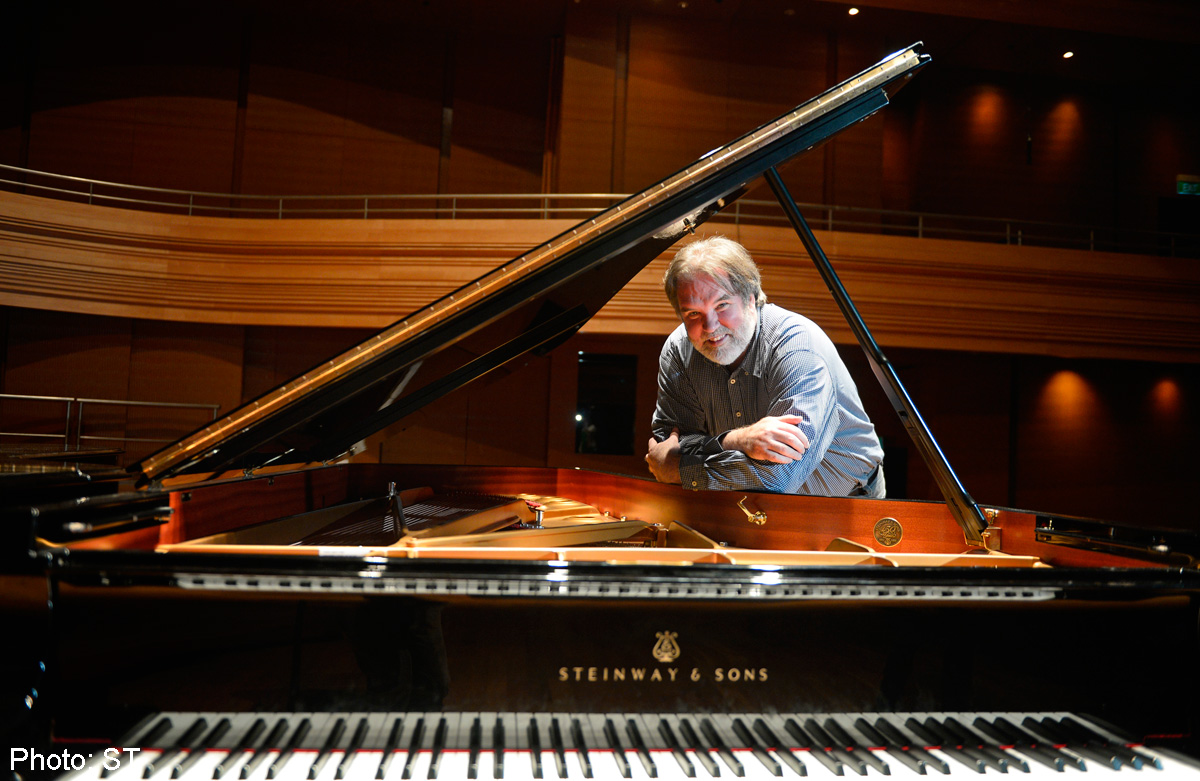 SINGAPORE - He taught music to actors Ewan McGregor and Daniel Craig in the 1990s and, as director of the Yong Siew Toh Conservatory of Music, is probably the most influential music educator in Singapore today.
However, Professor Bernard Lanskey, 54, never planned on a musical career and certainly does not think his should be considered an inspiration. He has even tried and failed to persuade his older daughter to give up studying the viola, arguing that there was no well-trodden road to success.
"I also do engage with most students who come here about whether this is the right path for them. They can't be naive, they have to be aware of the challenges that face them," he says in an interview at his office.
Among the hardships are finding the route to musical excellence and financial stability. The conservatory hopes to help with one of these, by offering Singapore's first-ever master's in music programme, which starts in August. It should hopefully stem the outflow of graduate students to overseas music schools.
The two-year course is open only to Singaporean and permanent residents, and fee details will be firmed up soon. Next year, the conservatory will offer a part-time master's programme so musicians and music teachers here can upgrade their skills.
The master's degree is the most recent triumph of the Australian educator's six years as director of the conservatory. He joined in 2007 as deputy director and took over from late founder Steven Baxter, who left the post when diagnosed with cancer.
Yong Siew Toh has since offered a joint degree with the well-known Peabody Conservatory of The Johns Hopkins University, a pioneering partnership for an Asian conservatory.
In addition, faculty and students tutor budding musicians in the Singapore National Youth Orchestra, and play concerts downtown or on campus, enriching musical culture here. This Sunday afternoon, for instance, a free campus concert aims to introduce five- to eight-year-olds to the instruments of an orchestra.
The overall standard is such that star players ask to visit, with American conductor Robert Spano last year offering to conduct the conservatory's anniversary concert.
"The speed of growth is amazing. There's almost too much activity," says Prof Lanskey.
Nothing is too much trouble for the man described by family and friends as "unassuming" and "generous".
As we walk around the conservatory seeking the best light for the photo shoot, the genial educator is greeted by student after student. One wants to discuss a book he recommended earlier. Another needs help reading a music score. Others are just delighted to talk to him.
He is a good conversationalist and a born storyteller. Asked about his family and youth, he says: "My dad was an electrical engineer and racehorse trainer. Wait, it gets better. My first piano was bought from the winnings of a horse."
His parents, Raymond and Nell Lanskey, aged 81 and 79 respectively, fill in the blanks in a telephone call from their home in Northern Australia. Bernard was born on the outskirts of Cairns, the eldest of their four children. "He was riding horses before he knew the piano," says the father.
When their son was six years old, the couple bought a piano on hire-purchase because Mrs Lanskey loved to play and thought it would be good for the children. That year, a horse from their stable, a chestnut named Referee, won six races and brought in enough prize money to cover the instalments.
Prof Lanskey loved music and persisted at it more than his siblings, practising diligently outside school hours.
"He had the radio on all the time, listening to it. He got interested more so when we took him to the symphony orchestra," his father says, adding that the concert tickets were his son's prize in a local piano competition.
His first tutors were the nuns at a local girls' school until he became too old for that. His parents kept an eye out for other tutors, including musicians who visited Cairns on holiday. Sometimes he played from scores his parents bought him, using the occasional recording to test whether he sounded right.
He was so good that at age 12, a visiting examiner stopped the test midway to engage him in a discussion about the history of music. Three years later, he was driving some 70km south to a summer music festival where visiting Australian pianist Nancy Weir gave him lessons on composers rather than piano techniques.
He says: "I got this idea that it's not just that you play tunes but there's this entire world that connects to the music you play."
Yet he never really thought of music as a career. "I grew up in Northern Australia where you'd be a lawyer, a doctor, but nobody thought of music as a career. Cairns had a population of 30,000 so you could be a music teacher, not a musician."
After completing secondary school, he thought about studying medicine but finally did his bachelor's degree in music. "I still don't know why," he says.
He graduated with a first-class degree and minors in philosophy and mathematics from the University of Queensland.
He also won an eight-month scholarship to Paris. "I thought: 'What am I going to do with this thing?'" He still had not realised music could be a profession.
His fascination with France took him to Europe, where he lost weight because he could not speak French and had to live off Orangina, croissants and the occasional croque monsieur sandwich.
It was good training for Singapore, he says now. "That fits in very well because we have students coming here learning to speak English. I know how it is to be considered stupid because you can't speak the language."
After eight months, he moved to London - "It's not as beautiful as Paris but they speak English" - and completed a master's degree at the Royal College of Music with Germany-born pianist Peter Wallfisch. "If I had a guru, it was him," he says of the late performer, who inspired him with his humility as well as his "deep curiosity for the subtleties and depth of music".
Prof Lanskey began making a name for himself in London as a piano player whom string players could count on. His reputation on stage and with helping students at the hostel he lived in with their coursework won a job offer from the Guildhall School of Music & Drama.
From 1994 to 2006, he would be the school's assistant director of music but among his early duties in the late 1980s and early 1990s was a first-year class in music reading, taken by current screen heart-throbs such as Ewan McGregor, Daniel Craig and Orlando Bloom.
McGregor "was quite a decent musician even beyond Moulin Rouge", he recalls, referring to the actor's starring role in 2001 movie, but he thought all the actors had "great energy".
"It was great seeing how they approached the communicative drama in music, quite different from most musicians but I sometimes thought their natural passion was not unlike how I would imagine some composers were when initially inspired. Guildhall in the 1990s was a really inspiring place," he adds.
In London, he met and courted his wife of 27 years, Dr Caroline Lanskey, currently a teaching associate and post-doctoral researcher at Cambridge University's Institutof Criminology. They have three children aged 25, 21 and 16.
The oldest, Rachel, is a viola player who has just graduated from the Guildhall School; Juliette is reading biochemistry and neuroscience at University College, London, but also sings and plays guitar and cello; while the youngest, Luke, who studies in Singapore, plays the piano.
On the telephone from the family home in Cambridge, his 53-year-old wife, says: "It's no coincidence that all of our three children are musical. Music is Bernard's passion."
She says he fills the home with music, whether by playing a CD or on their grand piano, or organising musicals for family occasions - among others, they did a "von Trapp family" skit, like the singing family from The Sound Of Music, for her sister's wedding. He also organises a music festival in the village near their home.
"He's lucky because he's able to work in music for his job but he'll be doing that for the rest of his life. It's something that's part of him," she adds.
At Guildhall, Prof Lanskey worked on massive projects such as the 2000 BBC Proms performance of Berlioz's Requiem (Grande Messe des Morts) under the baton of Sir Colin Davis at The Royal Albert Hall. About 400 musicians and singers from Guildhall and the Paris Conservatoire took part.
"I sat there listening and thought, what's next? I'd done the big projects. And there were things that were becoming frustrating in the British education scene," he says, declining to elaborate.
He says he wanted to try a smaller, more personal type of school, so when a former Guildhall student and colleague called asking whether he wanted to try running a Singapore conservatory, he took the chance.
The colleague was cellist Qin Li-Wei, 38, who had played with him in a piano trio since the early Noughties and got to know the older man better when he did his master's in violin at the Guildhall School.
Prof Qin, who has been head of cello studies at Yong Siew Toh since 2005, says Prof Lanskey was the obvious choice when the faculty was asked to think of a deputy director.
"He demands excellence. Basically, he asks you to work your butt off, in a very positive way," he adds. "Although, coming from a school of 800 or 1,000 people, I thought maybe he'd be bored."
Prof Lanskey says it was the size of the institution that intrigued him. "Here, you can interact with the students and faculty more easily."
As the founding director stepped down because of his illness, he took on a longer contract. "It was much more interesting to establish something than continue something. I liked the staff, the pioneering spirit, compared to that of a mature institution."
Managing a split family was somewhat of a challenge but he and his wife spend a few weeks in each other's home bases and his second daughter did her secondary schooling here before returning to the United Kingdom for university.
He is still a little disappointed that his older girl, Rachel, went ahead to study the viola.
"I think music and the arts are incredibly intriguing, interesting and absorbing but the profession they're attached to is incredibly complicated in the modern world," he says.
He cites Mozart as an example of a child prodigy who grew up and had to become an "entrepreneurial musician". He wrote music and staged concerts to earn a living but struggled with financial insecurity until his early death.
"That's the precariousness of this as a vocational pathway. We're meant to train people for a vocation here but there are no pre-formed pathways. There can't be pre-formed pathways, that's the artistic way," he says. "If you look at my pathway, it doesn't make any sense at all."
akshitan@sph.com.sg

Get a copy of The Straits Times or go to straitstimes.com for more stories.