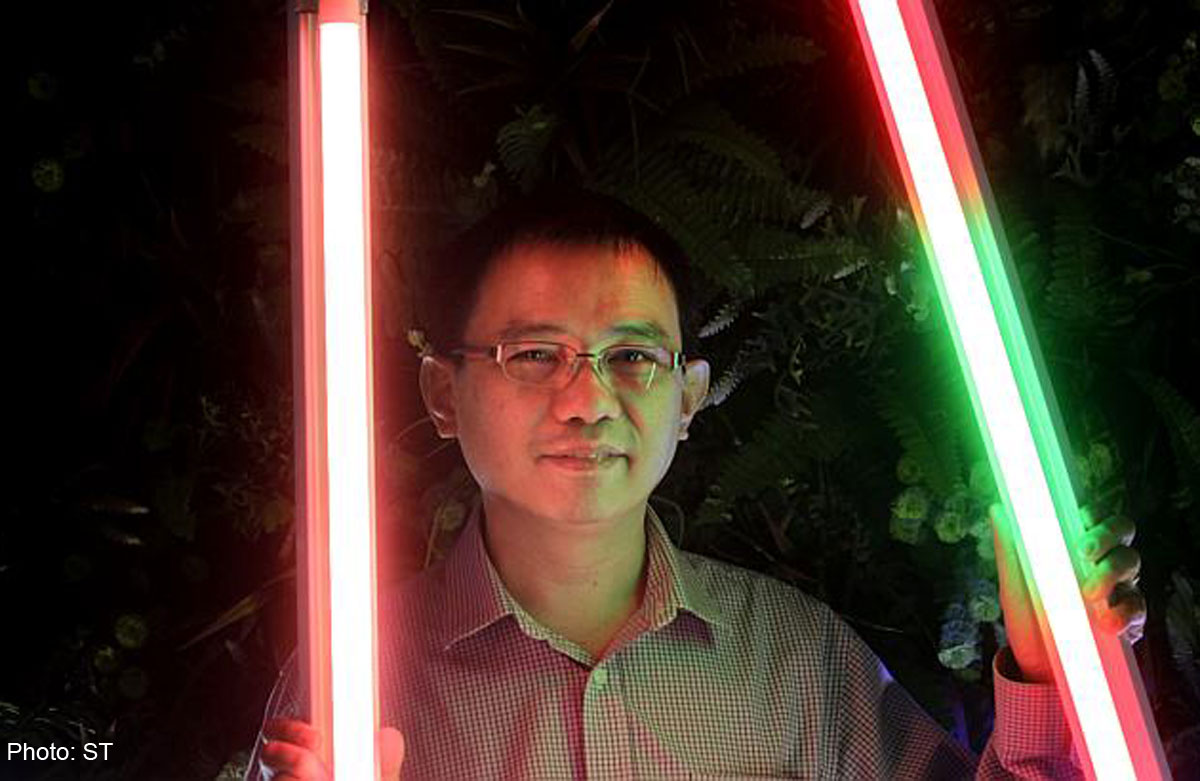 In the world of light-emitting diodes (LEDs), what you see is not always what you get. Switching over to this mode of lighting - touted as low in consumption and high in intensity - is not as easy as changing light bulbs either.
According to Singapore inventor and technopreneur Joseph Tan, 48, the biggest issues facing LEDs are harmonic current contamination of the power grid, electromagnetic interference, and narrow light distribution.
Mr Tan has invented an LED which he says has managed to bypass these problems, and his product, called Elet, has already won over several large companies.
The first snag has to do with the conversion of alternate current to direct current necessary to power LEDs. In small-scale applications such as replacing lights in a bedroom with LEDs, this does not pose a problem.
But if an entire commercial or industrial building replaces 10,000 fluorescent tubes with LEDs, the so-called harmonic distortion can result in wires melting and transformers breaking down.
Using a medical-grade meter, Mr Tan showed that his Elet LED's total harmonic distortion is less than 5 per cent - a fraction of what other LEDs emit, and even lower than what a fluorescent tube produces.
As for electromagnetic interference, he used a simple transistor radio, passing the antennae over his LED, and other lightings. Again, the Elet model did not cause any audible crackling.
"This is important in places like hospitals, or the stock exchange, where such interference can affect sensitive equipment," Mr Tan said.
He also claimed that Elet LEDs emit an optical beam angle of 270 degrees. Next year, he will roll out one with 330 degrees - supposedly the widest among LEDs.
An installation at Giant's new mega-mart in Suntec attests to this, as top-to-bottom shelves are equally well illuminated.
He did this by building wide-angle reflectors.
Elet has attained TUV-SUD certification, which allows its lights to be sold in 27 European countries (including Germany) and the United Kingdom, Hong Kong, New Zealand, Australia and Singapore.
As early as the 1990s, the trained electrical/electronics engineer saw that there was a market for LED lights, as these can offer substantial savings.
For instance, energy savings can be up to 85 per cent. And because the LED lights retain their brightness for several years, users save on replacement cost. Fluorescent tubes need to be replaced every six to 18 months, for instance.
But getting there was not easy.
Mr Tan remembers the anguish of having to scale down his electronics business, sell his four-room flat and three cars, and dip into his savings to finance his LED quest.
"My wife and children were very sad when we moved out of our home. My nine-year-old daughter had tears rolling down her cheeks when we sold our Chrysler MPV," he said.
From 2010, he pursued his quest. His R&D work, involving reworking countless mathematical formulae, paid off last year when "all my designs achieved full product safety approbations".
The secret, he said, lies in a proprietory computer chip that results in extremely low harmonics. With low harmonics comes low electromagnetic interference .
"I believe LED is a disruptive technology. But most manufacturers compromise their products so as to make them cheaper," he said.
On that score, Elet LEDs are not cheap. At $78 for a 120cm tube, it is more than six times the cost of a 120cm fluorescent tube.
But energy consultant Adrian Bukmanis said the payback of quality LEDs "is worth the higher capital expenditure".
Besides substantial power savings, Elet LEDs are robust and long-lasting. Field measurements reveal only a 5 per cent degradation in brightness after three years of round-the-clock operation.
Fluorescent tubes need to be changed after a year or so. Disposal per tube costs around $12, because they contain mercury and have to be disposed of as hazardous waste.
So far, Elet customers have included HP Singapore, Giant, the Singapore stock exchange and the Esplanade.
Still, experts feel the initial cost may be a deterrent, particularly for residential users.
Associate professor H.B. Gooi of Nanyang Technological University's School of Electrical & Electronic Engineering said it is possible to come up with a power converter or power quality conditioner that can address the harmonic distortion of LEDs.
"The question is how much these devices cost," he said.
He added that harmonic distortion "is never an enforced index for residential users".
"Most residential users don't care about it very much," he said. "And $78 is quite a capital investment if users do not appreciate the advantages that the new product can bring."
Others reckon that buildings in the future will have both AC and DC power supply, and that would address the harmonic distortion problem of LEDs.
Until then, Mr Tan's product could well shine.
christan@sph.com.sg

Get a copy of The Straits Times or go to straitstimes.com for more stories.