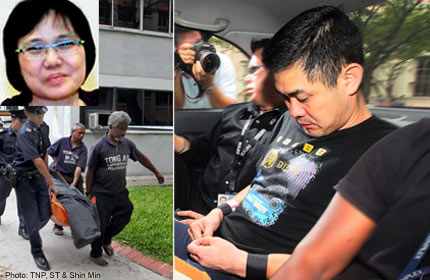 JURONG FLAT MURDER
SINGAPORE - The trial of a man accused of murdering his girlfriend for her money began on Tuesday. We piece together what the prosecution said happened, based on its opening statement
1 Between 2010 and 2011: Lim Wee Thong, then 45, and Ms Loh Nyuk Moi, 50, are in a relationship. Lim is in financial trouble due to credit card debt.
2 November 2010: Ms Loh returns her Yung Ping Road flat in Jurong to HDB under the Selective En Bloc Redevelopment Scheme, and receives $123,600 as compensation.
She then moves with her father to a flat at Kang Ching Road.
3 Feb 13, 2011: Ms Loh informs her aunt and eldest sister that she will not be attending a Chinese New Year event later that day. She also sends a text to Lim.
The same day, Ms Loh calls a locksmith at about 10.25am and informs him that she needs her Yung Ping Road flat letter box opened.
When he meets her 20 minutes later, she leads him to her old flat and asks him to open the main door. He does so and leaves after getting paid.
Lim arrives later and meets Ms Loh at the flat. The prosecution's opening statement does not state what happens next.
4 Between Feb 13 and Feb 16, 2011: Lim allegedly stabs Ms Loh in the chest - leaving her with 10 stab wounds. Five of them perforate the ventricles of her heart and two penetrate her lung.
5 Lim then allegedly withdraws a total of $14,500 from her OCBC and POSB bank accounts over several days.
6 Feb 14, 2011: Ms Loh's younger brother makes a police report at about 4am that she is missing after she does not go home.
7 Feb 16, 2011: Ms Loh's brother calls the police at about 9am and says that he has found her.
When police officers arrive at the Yung Ping Road flat, they find Ms Loh's uncle holding onto the back of an unresponsive Ms Loh, who is in a sitting position.
There is also a pool of semi-dried blood around her. Paramedics pronounce her dead at the scene.
8 Feb 17, 2011: Lim is spotted at Causeway Point shopping centre in Woodlands with one of his girlfriends. He is arrested by the police.
Police recover the knife allegedly used to stab Ms Loh, and her belongings from his car.
Accused asked money from two other girlfriends
After allegedly murdering clerk Loh Nyuk Moi, Lim Wee Thong went to the Resorts World Sentosa (RWS) casino to gamble.
The former Changi Prison officer was with another girlfriend, Ms Koek Siew Huang, whom he had met at RWS in 2010.
On Tuesday, Ms Koek, a widowed mother of two in her 40s, told the court that they had gambled at the same table and exchanged numbers after that.
They started having a sexual relationship a few weeks later.
But soon after, Lim asked her for money about once a month to pay off the loans for his two cars, she said.
She gave him cash from time to time, and a gold chain and ring when she was short of money. She then started distancing herself from Lim.
On Feb 16, 2011, he called her to ask her where she was. She was at the RWS casino at the time.
When Lim arrived, he seemed normal and gave her $100 to gamble, Ms Koek said. He spent the night at her place and drove her to the Boon Lay market the next morning.
"That was the last time I saw him. I tried calling and texting him... but he did not reply," she said.
During cross-examination, Ms Koek told Lim's lawyer, Ms A. Sangeetha, that she had considered taking Lim as her boyfriend and had given him money because she cared for him.
Ms Koek was not Lim's only girlfriend to testify in court on Tuesday.
Earlier, Ms Choo Mui Gek, in her late 30s, said she had got to know Lim between late 2009 and early 2010 while working as a cleaner in Changi Prison.
In July 2010, they started a sexual relationship and would go out two or three times a week, she said. Ms Choo, who is married, said she knew that Lim was married with a teenage son.
She said she was with him at VivoCity in December 2010 when he bought the alleged murder weapon. Lim had told her he needed a knife to "cut vegetables", to replace one that his colleague had damaged.
She paid for the knife and left it in the boot of Lim's car.
Like Ms Koek, she said Lim would ask her for money and threaten to commit suicide if she did not help him.
She let him pawn off three gold bracelets and her husband's Rolex watch, worth a total of about $3,600. She also helped to pay off his loans from unlicensed moneylenders on two occasions.
During cross-examination, Ms Koek insisted that Lim never paid her back, refuting Ms Sangeetha's suggestion that he had given back her money on some occasions.
The trial continued on Wednesday.
If found guilty of murder, Lim faces the death penalty or life imprisonment.
rloh@sph.com.sg

Get The New Paper for more stories.