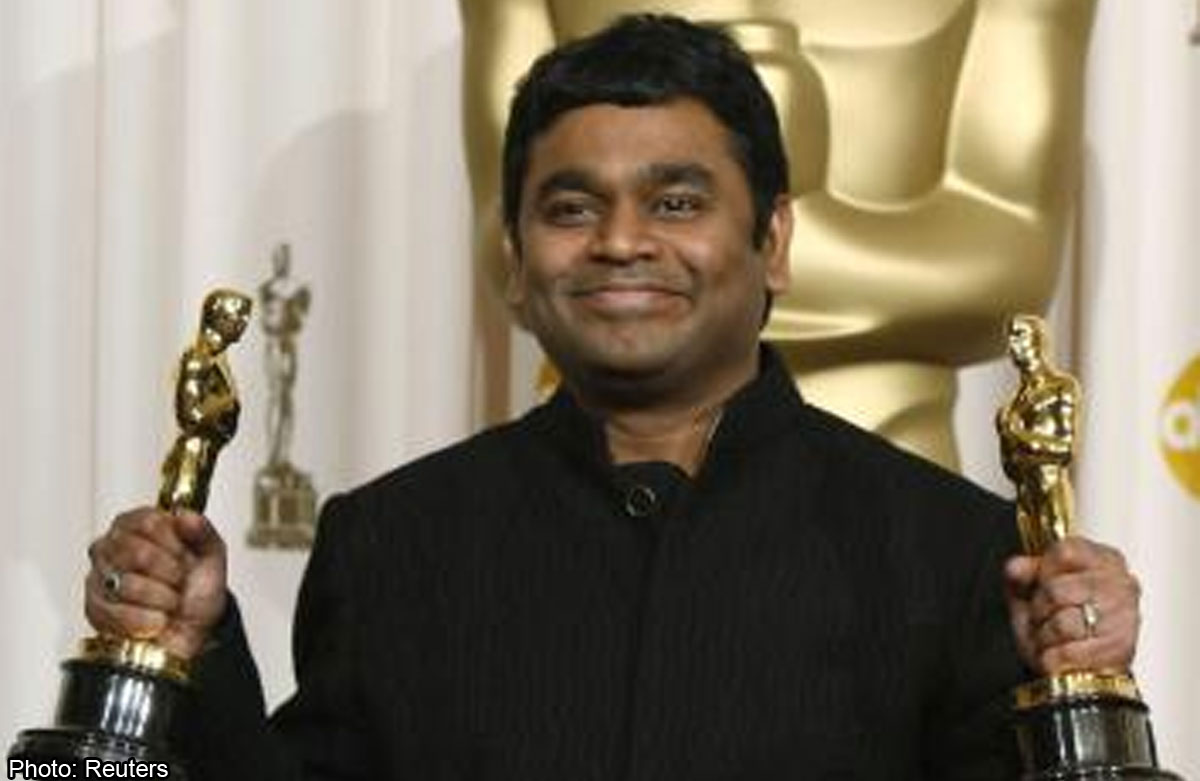 SINGAPORE - The auditorium at the Queenstown Campus of Global Indian International School (GIIS) was buzzing with excitement.
Some students were singing along to songs while others waited with bated breath. Occasionally a shriek would be heard when a car appeared at the school gates.
The students, from the school's three campuses, were gathered there to welcome renowned composer, singer and Oscar-winning music director A.R. Rahman.
Sporting a black jacket, Rahman walked into the auditorium to loud cheers.
He was visiting the Queenstown campus on April 29 for an interactive GIIS Leadership Lecture Series, where he not only interacted with the local students but also with students from across GIIS' South-east Asian campuses, including Kuala Lumpur, Noida, Pune and Hyderabad through a live video conference.
The musician was here for his Infinite Live concert on April 30.
He went on stage with his usual charm and was accompanied by four Grade 12 Queenstown students - Mayur Mohapatra, Shinil Raina, Swarnima Sircar and Utkarsh Dutta for the interactive session.
Rahman took questions from the students and spoke about his first compositions and his favourite musical instrument.
He said: "My fascination was not because of the instruments but it was due to the players. The players can transform the instrument."
Rahman's humility was reflected in his answers to questions on his humanitarian work, his experience in his live performances, the idea behind his latest album Infinite Love, his mantra Maa Tujhe Salaam (Salute To The Motherland) and his method of composing music on different cultures, where he has always tried to grasp the essence of the culture and added his own element to it.
The double Grammy winner told students that they are all capable of extraordinary things.
"I admire people who are patient and have faith. We are all capable of extraordinary things but there is a step by step process where we need to establish a seed or drive in our hearts and allow it to grow," he said.
Rahman has received many awards and has been appreciated for his music all over the world.
He advised students that "love is not about receiving but is all about giving". And this has been the basis of his single Infinite Love, which was inspired by the love between his wife and his children.
The four students who were on the stage with the star felt that Rahman's personality made them feel comfortable on stage.
Utkarsh said he will be taking Rahman's message of love home. "I am inspired by his humility, I think we all are. He is so down to earth, despite winning the Grammys and the Oscars. Just being on stage with him was a great experience," he said.
Added Shinil: "We all love his songs and compositions especially Rang De Basanti and many others. It was a great experience being on stage with him, even though at first we were nervous."
Said Swarnima: "He smiled a lot and he was so relatable to us. We were the facilitators and it was an opportunity for us to interact and engage with him. We were nervous and thrilled at the same time to share the stage with him and he made us feel comfortable throughout the interaction."
Mayur, who loves Rahman's work in 127 Hours, added: "What he said today are lessons for us that we can use in our futures".

Get a copy of tabla! for more stories.