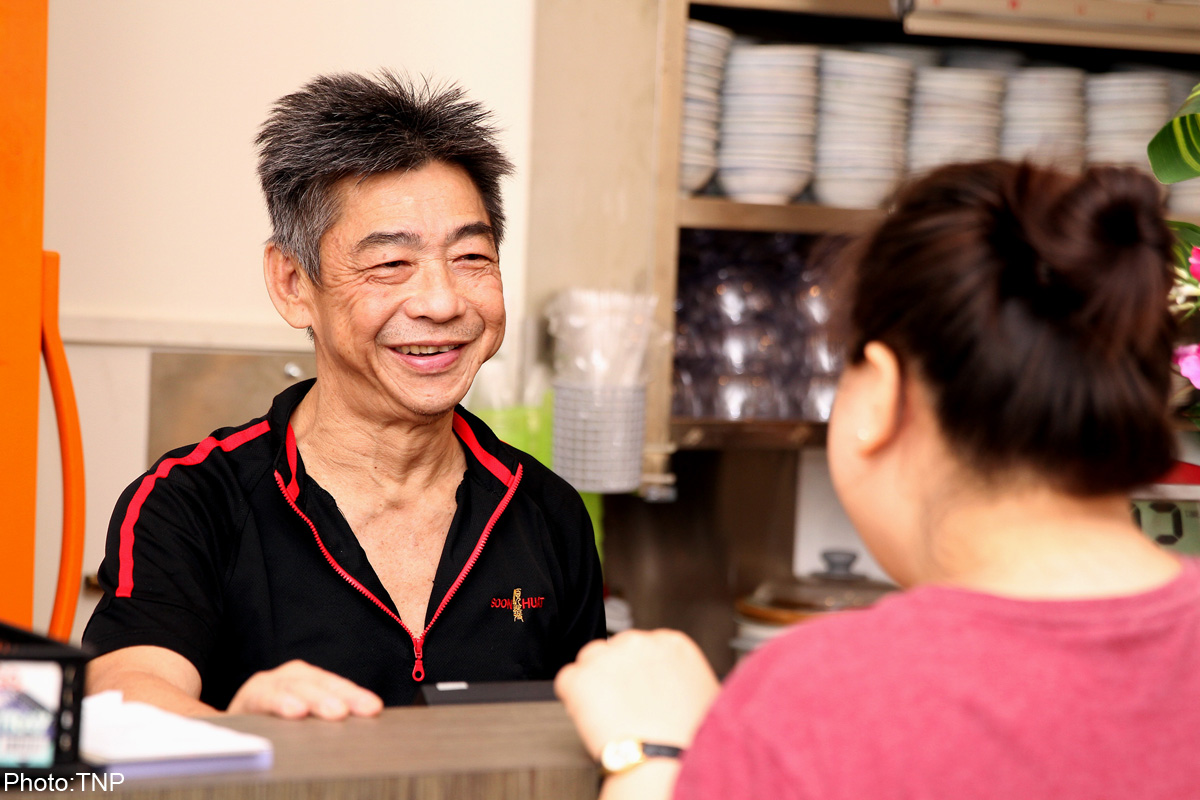 SINGAPORE - He used to procure girls for prostitution rings in places like Thailand, Malaysia and Hong Kong.
Today, Mr Jeremiah Tan Siak Meng, has turned his life completely around.
The 60-year-old now works in a bak kut teh (pork rib soup) stall.
Soon Huat Bak Kut Teh has two outlets here and most of their employees are ex-offenders determined never to return to their old lives. (See report below)
One of them is Mr Tan, who spent a total of 14 years in jail for offences related to human trafficking, and selling and making forged documents.
He considers himself a changed man after being released in 2009 and is an active member at his church, where he helps to serve refreshments at services every weekend.
In the past, he earned at least $30,000 a day from his illegal activities. These days, his job as a cashier at the food outlet makes him about $1,000 a month.
HAPPIER NOW
Mr Tan says he is a lot happier now.
"Now, as long as I take care of everyday expenses, I'm happy," he said.
"I used to be a rascal; I did everything except drugs. Smuggling girls and making fake ICs were my profession."
It was his last seven-year stint in jail that turned his life around.
Mr Tan said that in 2003, while he was serving time, a group of Christian inmates invited him to a gathering where they sang together and prayed for him. He was suffering from depression at that time and had to take medication for it.
The medication led him to feel as if he was spending most days in a haze, not knowing what was going on around him.
During the gathering, he felt compelled to do something worthwhile with his time behind bars. So Mr Tan picked up the guitar.
Within 10 months, he overcame depression and even became a worship leader in prison.
"God healed me through learning music. He gave me something to do with my life," Mr Tan said.
KIDNEYS FAILING
Although his depression is gone, Mr Tan now has kidney failure and heart problems and he often feels faint.
He fainted three weeks ago while on his way home from work and had to be hospitalised.
When The New Paper met him last Tuesday, he had just been discharged from hospital three days earlier.
Because both his kidneys are failing, he goes for dialysis every other day.
His left arm is covered with bumps and visible veins, a result of the treatment.
But Mr Tan said he feels "blessed" to have a boss, who is also a former inmate.
His colleagues at Soon Huat make sure he does not work too hard and always keep an eye out for him.
He has one last wish: To see his wife and son again.
Mr Tan lost contact with them almost 30 years ago when he was jailed for the first time in 1986. His son was only five then.
"She (my wife) suffered so much being married to me. She brought our son up by herself, it was as if she was a single mum," he said. "I want to apologise for not being a good father and husband. I want to show them that I'm a totally new man."
This article was published on April 21 in The New Paper.
Get The New Paper for more stories.