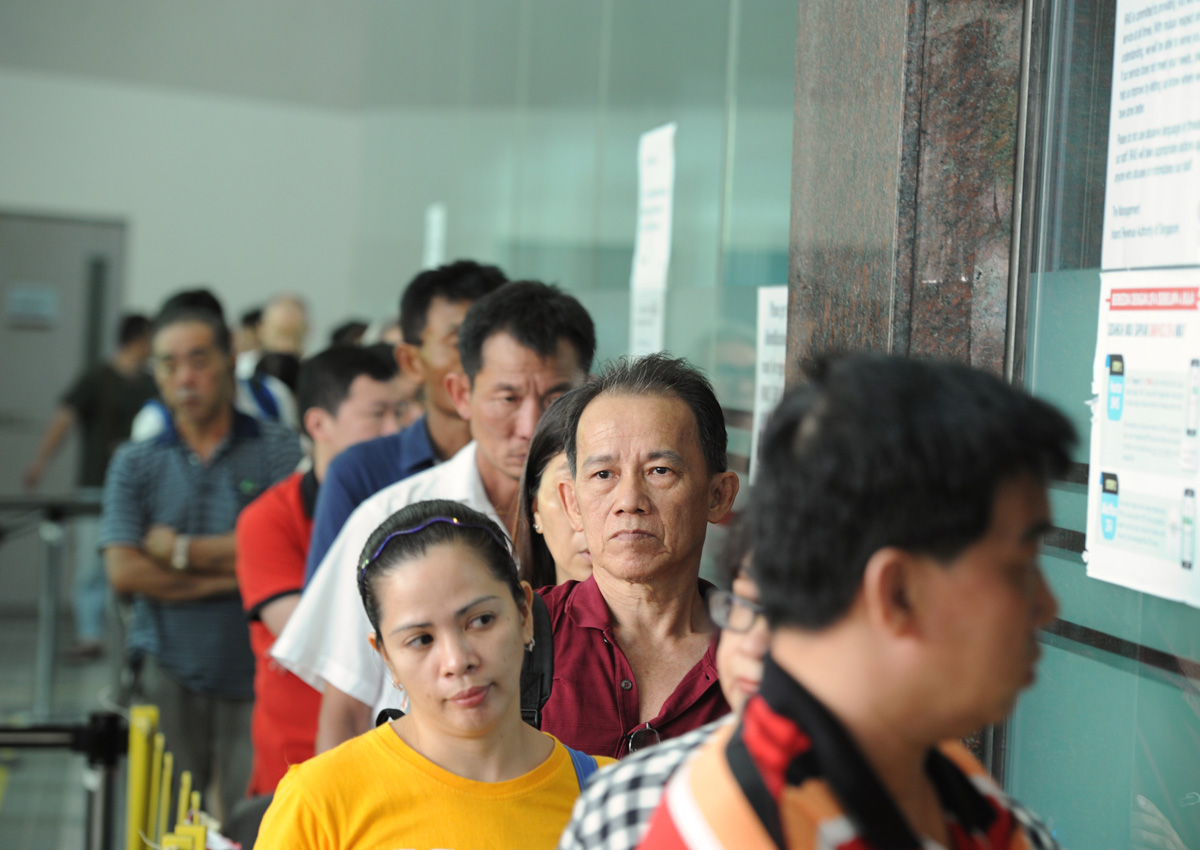 As the deadline for filing of tax returns approaches, queues have formed at the Inland Revenue Authority of Singapore's (Iras') office in Newton Road.
This comes after Iras this year did away with a service at community centres (CCs), in which people can file taxes online with the help of volunteers.
On Monday afternoon, snaking queues were spotted at Revenue House's e-Filing Service Centre, but the number of people in the queue dropped by 25 per cent on Tuesday, an Iras spokesman told The Straits Times yesterday.
The deadline for electronically filing tax returns is next Monday, while that for paper filing is Friday.
Anticipating long waiting times, Iras put up signs indicating it could take up to two hours to electronically file tax returns at its e-Filing Service Centre, set up at Revenue House since March 1.
More than 70 employees are on hand to help taxpayers fill out their electronic income tax returns at some 40 computer terminals.
Previously, Iras introduced a Volunteer e-Filing Service - aimed at educating the public on filing tax returns online - at CCs throughout Singapore. Volunteers would help people in filing their tax returns through computers at the CCs. Iras started this move in 1998.
The authority said yesterday that an average of 4,500 people filed their tax returns annually using the Volunteer e-Filing Service in the last five years. This was a drop from almost 10,000 people in 2004.
The fall in demand prompted Iras to phase out the service. In 2014, 21 CCs offered the Volunteer e-Filing Service, but this dropped to seven in 2015. This year, the service is no longer available at CCs and Iras centralised services at Revenue House.
Iras also has a hotline that taxpayers can call and a staff member will guide them through the online tax return filing process.
Technician Lin Ying Jing, 64, hoped the authorities would reconsider bringing back the Volunteer e-Filing Service to CCs. He told Shin Min Daily News on Monday that in the past three to four years, he had been filing his tax returns at a CC. But when he went to Sengkang CC to do so this year, he was told it no longer offered the service.
Over at Frontier CC in Jurong, more than 30 people, mostly senior citizens, have turned up since late March to file tax returns. They were informed to head to Revenue House to do so, the CC told The Straits Times.
While Shin Min reported that some people had to queue for more than two hours at Revenue House on Monday, the wait time appeared to have eased yesterday.
Driver Azmi Abdul Rahim, 42, said yesterday that he waited for less than 20 minutes to file his returns. He usually files his taxes from home but was not able to do so this year because his computer broke down. "It wasn't inconvenient for me at all (to file at Revenue House). The line wasn't long and the staff was friendly," he added.
The Iras e-filing centre is open to the public from Monday to Friday from 8am to 5pm, and on Saturday from 8am to 1pm.
Iras said 84 per cent of taxpayers have filed their tax returns. There is a $1,000 penalty for those who fail to file their tax returns on time.

This article was first published on April 14, 2016.
Get a copy of The Straits Times or go to straitstimes.com for more stories.