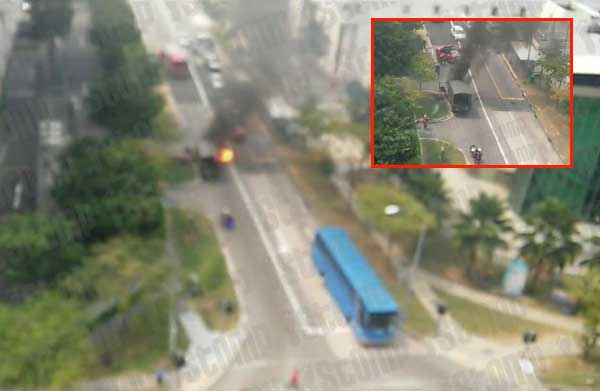 SINGAPORE - An explosion followed by a ball of flame out of a lorry had happened at Serangoon North Avenue 6 at around 2.45pm today.
A witness sent in a video of the incident to citizen journalism website Stomp saying a small explosion was seen on the right side of a green-coloured lorry accompanied by a loud bang.
In the recording by Stomp contributor Dingxuan, thick smoke can be seen billowing out of the lorry after the explosion.
Firemen from the Singapore Civil Defence Force (SCDF) can also be seen rushing to put out the fire as black smoke continued spewing out of the lorry.
The incident drew a crowd of onlookers, who watched the SCDF personnel in action from a safe distance.
An SCDF spokesperson said: "The SCDF was alerted to the incident at around 2.34pm.
"We sent one fire engine, one Red Rhino and two fire bikes to the scene.
"The fire involved the front cabin of a lorry and it was extinguished with one water jet.
"No one was injured."

Visit STOMP for more stories.