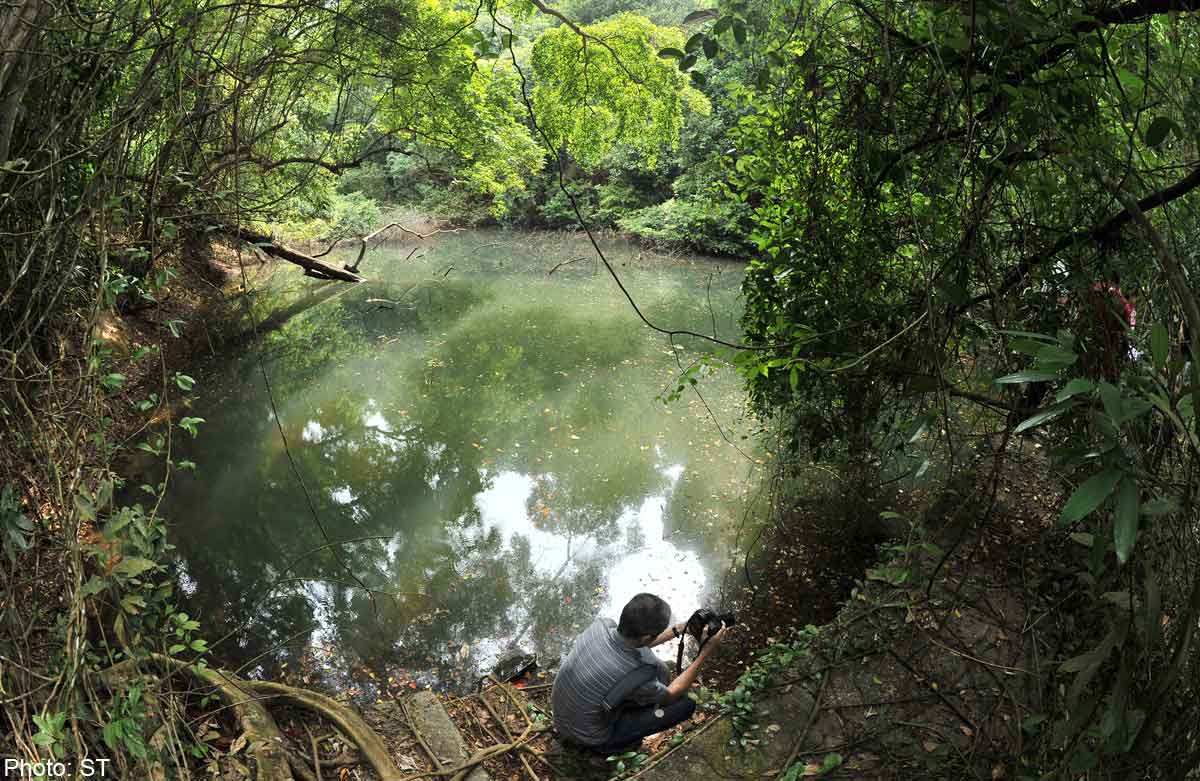 An abandoned man-made reservoir that dates back more than 100 years has been uncovered by the National Heritage Board (NHB).
Located off Telok Blangah Road and near Mount Faber, it was part of the Tanjong Pagar Dock but is not demarcated in the modern maps of Singapore.
However, while doing a study on the topographical changes in Singapore over the past 100 years, a team from the board discovered the reservoir, nestled in a densely forested area.
"We were poring over old maps of the area and saw a body of water marked out on them,'' said Dr John Kwok, 36, assistant director of research at NHB.
Following the discovery in February, Dr Kwok and four researchers spent another four months going through old maps and documents to piece together the story of the forgotten reservoir, which is about one-third the size of an Olympic-sized swimming pool.
The researchers found it was one of three small reservoirs that used to be in the area, based on a 1924 map by the former Singapore Harbour Board.
It most likely served residents of a nearby settlement. Later, it was used as a swimming pool, based on pre-war and post-war maps. Remnants of a diving board and a bathing area still stand today.
The place, which used to be referred to as Keppel Hill reservoir, made the news in 1936 and 1948 when two soldiers and a boy drowned in two separate incidents after taking a dip.
An oasis of calm amid one of the world's busiest ports, a busy bus interchange and dense residential estates, the site still has a functioning water filtration system that uses different rock types to remove sediment. There are a total of six filter beds. It also has a dam on its southern end.
The board said the land the reservoir sits on is zoned as park land.
Singapore has 17 reservoirs which are managed by the PUB.
Meanwhile, the NHB said the discovery is historically significant because of the building materials and methods used.
The bricks used to build the reservoir show the body of water was constantly in use, said Mr Alvin Tan, 42, its group director of policy.
Some were handmade and dated back to the colonial period.
Mr Tan advised people to be careful about exploring the place as its terrain is slippery and overgrown with heavy foliage. He said guided tours may be organised if there is demand.
Nature Society (Singapore) president Shawn Lum said the reservoir and its surrounding mature secondary forest are worth documenting for a closer look at the biodiversity.
"It's a nice, isolated habitat with a lot of vegetation and sufficient shade - pre-requisites for small wildlife such as birds, frogs and aquatic insects to thrive."
melodyz@sph.com.sg

This article was first published on Sep 18, 2014.
Get a copy of The Straits Times or go to straitstimes.com for more stories.