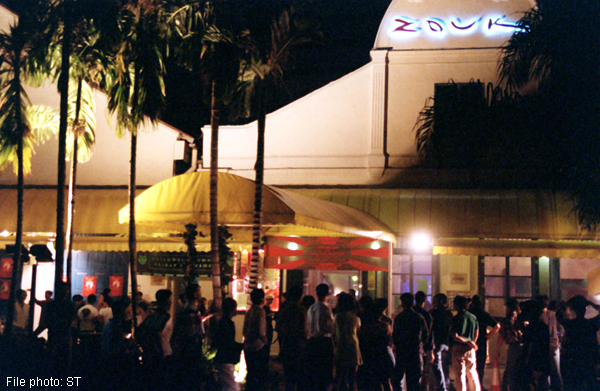 Six years ago, Mr Zullikhan Abdullah and Ms Lua Ai Wei tied the knot at Zouk's Velvet Underground.
For four hours, their 160 guests partied hard as a resident DJ spun music.
"The theme was black and gold, so everyone turned up in those colours. There was a buffet, and free flow drinks.
"We gave out some 200 shots, about 700 house pours, and more than 30 bottles of champagne," recalls Ms Lua, 40.
The venue holds special significance for them because it is where Mr Zullikhan, 41, a special projects and events consultant, took Ms Lua on their first date in 2004.
It is also where they had their pre-wedding photos taken.
"We knew we didn't want a standard option like a hotel ballroom for our wedding party," explains Ms Lua, a copywriter and creative consultant.
Their wedding party was one of the most memorable times they have ever had at Zouk, says Mr Zullikhan.
Ms Lua added: "It ended at about 4am, and we headed for supper at Tiong Bahru before going home. It was just fantastic."
The couple, who have a two-year-old son, returned to celebrate their first anniversary there.
"We'd be very sad if Zouk indeed were to close.
"That's where a lot of our memories were made," says Ms Lua.
"It holds a very special place in our hearts."
Their fondest memories
"Zouk has always been a rite of passage for all young people turning 18 in Singapore, and it built a community of like-minded people from all walks of life who loved the music. No other place occupies this position, and I doubt ever will. Zouk and (its founder) Lincoln Cheng's legacy are what I will miss the most." - Mr Andrew Ing, Zouk's former marketing manager
"I will always remember the dance music education that started from the earliest days of Zouk Singapore. Little did we know that we were setting the foundation for what's known as electronic dance music, which is played everywhere now." - Mr Cher Ng, executive director, Zouk KL
"I will always treasure Zouk because it gave me a 'family' and place to belong - from my teens till today. This family was made up of people I met on the dance floor week after week and I still count most of them as my nearest and dearest now." - Ms Tracy Phillips, Zouk's former marketing manager
"I joined the club in May 1996 as a full-time resident DJ. I fell in love with its concept and music direction. It was the only club in Singapore that I wanted to DJ in." - Mr Aldrin Quek, former resident DJ
"When I first walked through Zouk's doors in 1991, the walkway to the main room reminded me of the entrance of Paradise Garage in New York. I've had many fond memories there. It's too hard to single out one, but many of them have been with people that I'm still good friends with today." - Mr Brendon Perera, former resident DJ
"My favourite memory of Zouk is when we'd play John Lennon's Imagine at all outlets every year at midnight on New Year's Eve." - Mr Benny Heng, Zouk's former general manager
"For over 21 years, Zouk has blazed a trail for cutting edge electronic music in Asia, curating a legacy that has seen it being recognised as one of the most pioneering and respected nightclubs on the planet... (Its) closing would be a catastrophe for global club culture and creativity, and would be felt by dance music fans the world over. Don't let it happen." - Mr Phil Dudman, clubs and live music editor at Mixmag (a UK dance music magazine)

This article was first published on June 22, 2014.
Get The New Paper for more stories.