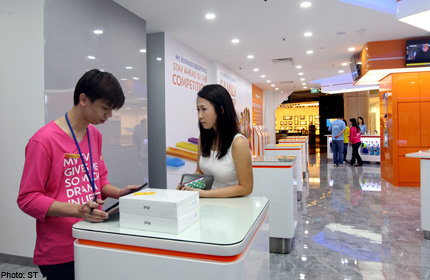 SINGAPORE - Telco M1 is radically upgrading its 15 outlets in a bid to make them more user-friendly and to lift productivity.
Counters will be ditched so staff can mingle with customers out on the floor, using mobile credit card devices that allow them to take payments and barcode scanners to scan documents on the spot.
Entire transactions, from choosing a plan to signing a contract and receiving an e-receipt, can be made on tablet computers carried by employees.
The outlets will largely be paperless and each will be equipped with up to six self-service kiosks. Two outlets - at Suntec City and Change Alley - have already been converted.
The gains are apparent with transaction times for customers down by 40 per cent, said M1 chief marketing officer P. Subramaniam on Tuesday.
The high-tech outlets also mean three fewer employees are needed at each outlet, a major benefit, given the difficulty finding front-line staff, particularly sales representatives.
M1 has about 260 front-line employees and needs more.
The revamp is part of a wider $4 million investment that includes software development, new hardware and increased manpower.
The idea for revamping the outlets arose in March last year and prompted the firm to make a trip to Hong Kong to assess outlets that had ditched counters.
"We wanted to give customers a better experience. A visit could take up to an hour, so we thought, 'what is a better way to serve customers?'," said Mr Subramaniam. "The other thing we wanted to do was to improve staff productivity."
The old outlets require customers to queue up to check their eligibility for a new contract, take a queue number and wait to be served.
There can also be a delay, as documents and contracts are photocopied and signed. Then, there is another queue for payment.
Each customer can end up being served by three to four staff, with transactions taking up to an hour. In the new outlets, one employee can take care of everything, in only 35 minutes or so.
Singapore Polytechnic senior retail lecturer Sarah Lim said more firms have to operate with leaner teams now.
"Consumers will get used to more self-service and fewer staff," she added.
Financial consultant Nerre Chong, 24, who visited the new M1 outlet at Suntec City on Monday, told The Straits Times: "When I first came inside. I was a bit confused. I didn't know where to go. But after a while, I suppose we will get used to it."

Get a copy of The Straits Times or go to straitstimes.com for more stories.