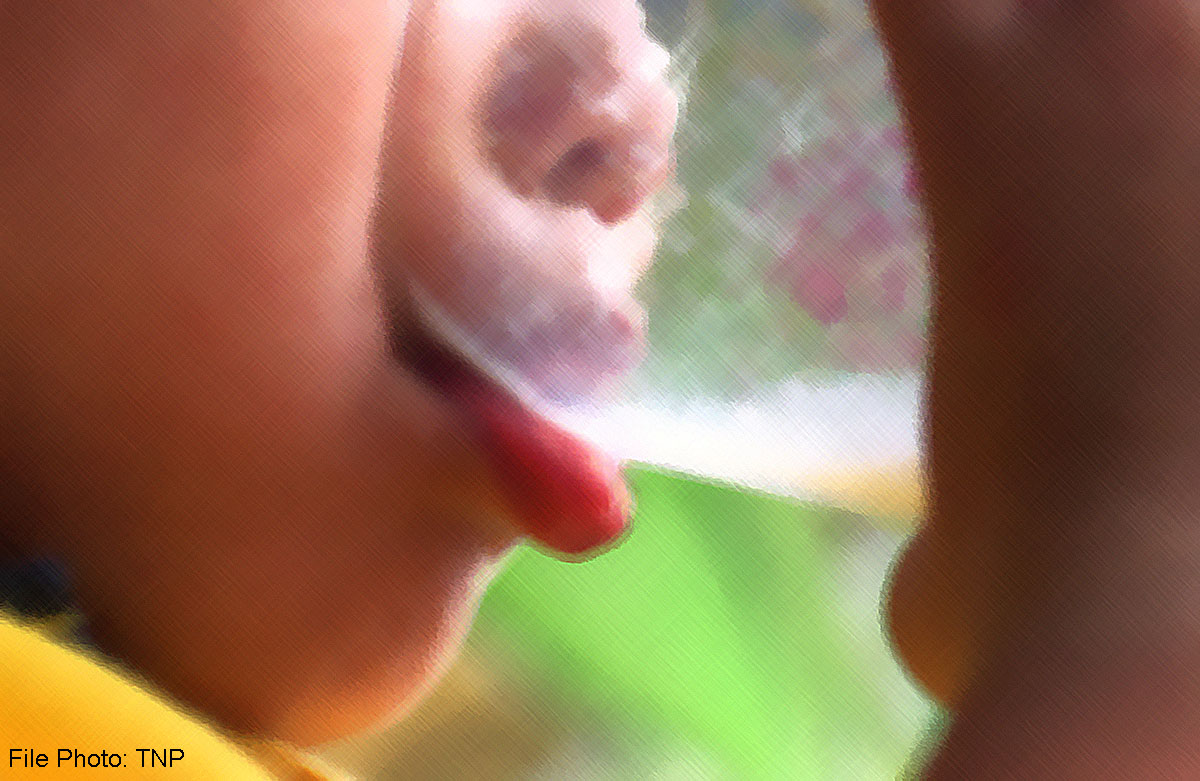 Afraid that she had scalded her employer's toddler after she gave him hot milk, she lied to the boy's grandmother, claiming that the boy's twin brother was the one who had caused the injuries.
Indonesian maid Tri Septiana, 24, came clean only after the grandmother refused to believe her.
Tri was jailed for a week yesterday after pleading guilty to one count of causing hurt due to a negligent act.
The injured two-year-old and his family members cannot be named to protect his identity.
Deputy Public Prosecutor James Low said Tri started working for the family in Bukit Batok on June 4.
On Sept 4, she started her day at 5.30am as usual.
About four hours later, the toddler's grandmother left the flat with his four-year-old sister for a nearby market.
Tri, who has a three-year-old daughter back in Indonesia, was left with the twins.
When one of the boys started crying at around noon, she went to the kitchen to prepare his milk.
But she forgot to test the temperature of the liquid before feeding it to the toddler.
After drinking the first mouthful, he spat out the hot milk and it dribbled down his neck.
He started crying and was still in tears when his grandmother returned soon afterwards.
Tri told the grandmother that his tongue got bitten by his twin brother.
When the older woman noticed blisters and red scald marks on the right side of the boy's mouth and neck, Tri said they were scratch marks caused by the twin brother.
Eventually, she confessed that she had given the toddler hot milk when the grandmother refused to believe her.
The boy's mother was notified and she made a police report at around 1.40pm that day.
INJURIES
The toddler was taken to the National University Hospital where he was found to be suffering from injuries including scalds on his neck and tongue, and blisters on his lips. He was warded for six days.
Although it was an accident, lawyer Rajan Supramaniam from Hilborne Law, who was not involved in the case, said a person can be hauled to court for causing hurt, even if it was accidental.
He cited an example: "A negligent driver who injures another motorist on the road unintentionally can be prosecuted in court."
"What more, in this case, the victim was a vulnerable child."
In mitigation, Tri's lawyer Nasser Ismail told District Judge Ng Peng Hong that his client was remorseful.
He also said the boy's mother often scolded Tri for no good reason.
Mr Nasser added that Tri was very depressed, scared and confused at the time of the offence.
For causing hurt due to a negligent act, she could have been jailed up to six months and fined up to $2,500.
ashaffiq@sph.com.sg
This article was first published on Dec 6, 2014. Get The New Paper for more stories.