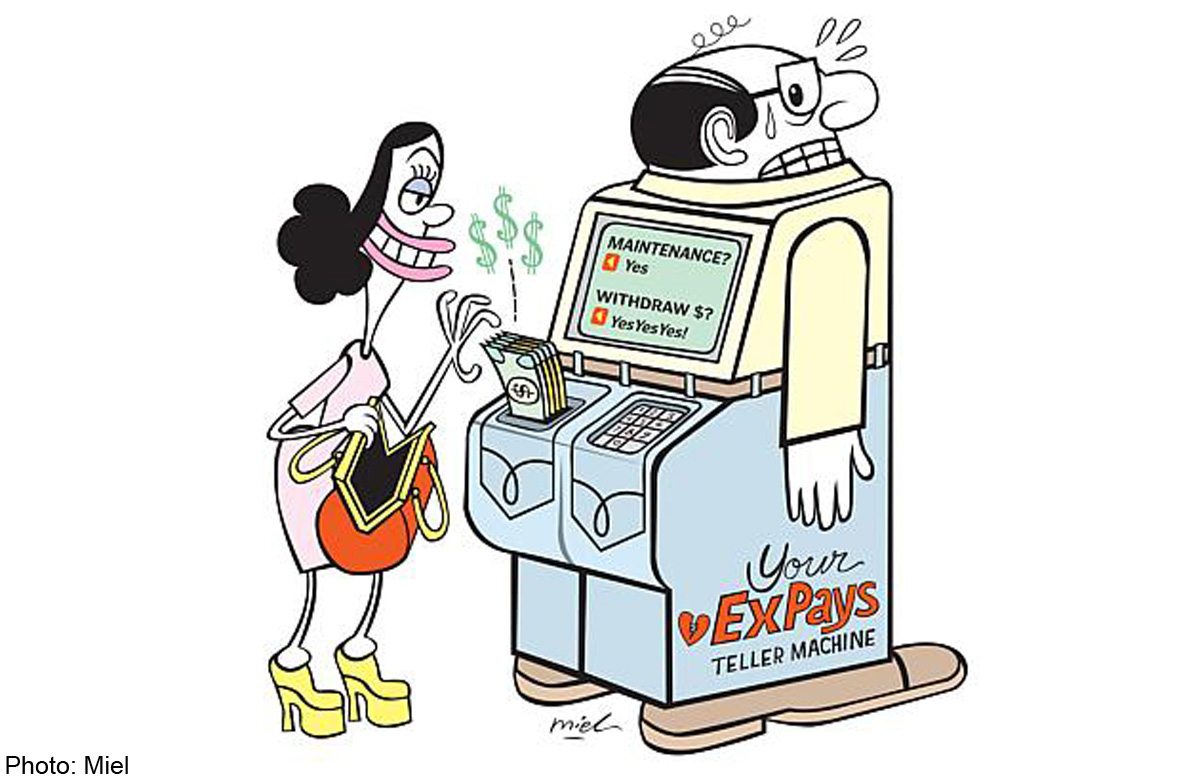 A 69-year-old man, Mr T, has been ordered to pay $70,000 in maintenance to his former wife despite the fact that he is retired, she earns more than him and he paid the mortgage on their marital home.
Singapore's highest court recently upheld the maintenance order even as it acknowledged that it seemed a "little generous" based on the "facts of this case".
However, happily for Mr T, rather than tamper with the maintenance, the Court of Appeal lowered his former wife's share of the property proceeds from 90 to 55 per cent after scrutinising the couple's finances and their respective contributions to the marriage.
It also struck down the lower court's order for the retiree to maintain his adult children.
According to court documents, the retired expatriate lives on around $2,800 a month, the bulk of it being pension payments from his home country. His last drawn pay when he worked was $5,000.
His Singaporean ex-wife is a decade younger than him and earns between $4,000 and $7,000 a month as a self-employed corporate trainer.
Bias against men?
The former naval officer's predicament is not unique. As women earn more, Singapore's courts are seeing more cases of well-off ex-wives demanding large sums in maintenance from their former spouses. Some of these women earn more than the men.
Unlike divorce laws in countries like the United States, Australia, Canada and much of the European Union, the Women's Charter - which governs marriage and divorce matters in Singapore - does not allow men to claim maintenance from their wives.
In Britain, for instance, spousal maintenance is paid by the man or woman with the higher income to the one with the lower income. It is generally awarded when one party cannot support himself without payments from the other.
Here, women can be eligible for maintenance regardless of their financial status.
High Court judge Choo Han Teck sparked widespread debate here recently by asserting that maintenance was not the "unalloyed right" of a woman. He was rejecting a working woman's demand of $120,000 in maintenance from her ex-husband. She earned $215,600 annually as a regional manager in a multinational company - which was more than what he earned.
Justice Choo's statements have struck a chord with Mr T. After slugging it out with his ex-wife in Singapore's courts for nearly four years since he first filed for divorce in 2010, he says he understands the need of the law to protect women from deadbeat men who do not look after their children or leave ex-wives in penury after divorce. "But still, Singapore's maintenance laws are loaded against men," he told The Straits Times. "We should get a fair hearing too."
Ten family lawyers polled by The Straits Times aver that maintenance should be based on need, not gender, though some acknowledge that only men in certain situations - such as those who are house-husbands or cannot work - should be eligible.
Even women's groups such as Aware and the Singapore Council of Women's Organisation agree that maintenance should be paid to men in suitable cases.
Protecting women
When the Women's Charter was first enacted in 1961, it was an empowering law designed to protect women, who were clearly the weaker sex. Among other things, it gave women the right to be sole owners of property, to be recognised for their contribution as a mother, wife and homemaker, and to be recognised as an equal partner in a marriage.
At the time, only around 20 per cent of women worked in Singapore. The female labour force participation rate here has since climbed to nearly 60 per cent, higher than what it is in developed countries such as the US, Britain and Germany. Some divorce lawyers say that between 30 and 50 per cent of women in divorce cases have earnings that are on a par with or more than the men.
Men at risk
There are several groups of men who are at risk of losing out under current laws. First, those, like Mr T, who are retired or earn less than their wives.
Rich men with homemaker wives demanding large maintenance sums form another group. In a case last week, a judge rejected a housewife's claim for $32,000 in monthly maintenance from her millionaire businessman husband, which the judge said was "unrealistically high". Instead, he awarded her $8,000 a month for 12 years.
Then, there are men who are obliged to maintain former wives who deliberately quit jobs or refuse to work despite being educated and employable.
One man told The Straits Times he has been ordered to pay maintenance to his wife, despite the fact that she earned only slightly less than him and walked out of the marriage after cheating on him with a far richer man. She quit her job shortly before the divorce.
There are also those who become house-husbands by mutual consent but cannot seek maintenance after divorce, even though they contribute heavily to bringing up the children. In one such case recently, the judge gave a house-husband 25 per cent of the sale proceeds of the flat, although his working wife paid for virtually all of it. While that could be taken in lieu of maintenance, the sum is less than what is often awarded to the stay-at-home wives of men who are sole breadwinners.
Finally, and perhaps most importantly, there is a small group of low-income men who cannot work because of disability or ill health and must depend on their breadwinner wives.
Family lawyer Aye Cheng Shone remembers a case a couple of years ago where a lorry driver husband lost his job after being seriously injured in a worksite accident. His wife, the main breadwinner, filed for divorce once the children grew up.
If the gender roles were reversed and the man had filed for divorce after being unwilling to support his incapacitated wife, he would no doubt have had to pay her a hefty sum in maintenance. She could also be entitled to at least half the proceeds of the matrimonial flat, even if he had been the one who paid for it in full.
But in this case, the man ended up losing his flat - as his wife paid for most of it. He also could not claim maintenance and ended up with virtually nothing from the long marriage.
Mrs Shone, who represented the woman in the case, cannot help but feel sorry for the man.
"I often wonder how this case would have been dealt with if the woman had been injured instead of the man," said the divorce lawyer with more than 18 years' experience who often represents low-income clients.
She said that during divorce proceedings, judges often award a "nominal" $1 maintenance even to rich women. The award is to ensure that they have the right to return to court to ask for higher maintenance should their financial situation worsen any day.
Men are often convinced to agree by being told things like, what if your ex-wife got cancer, said Mrs Shone. "That often makes me wonder, what if the man got cancer, there is no provision in our law for women to help out in such cases."
Those who are in favour of equality with regard to the right to claim maintenance stress that such a move will in no way diminish the power of the law to protect low-income or stay-at-home mothers who need maintenance. Indeed, four in 10 married women do not work and women continue to shoulder the greater share of childcare burdens.
Other reforms needed
There are three other areas where the Charter needs tweaking. First, in keeping with the times, it should be named the Marriage Charter or the Family Charter, say lawyers. Ironically, barring the maintenance provision, the Charter is fairly gender neutral. Yet, its name erroneously conveys the impression that it protects women more than men.
Secondly, tying paternal visitation rights to maintenance payments also needs to be seriously considered. This is important because of frequent complaints that women with custody of the children, while quick to accept maintenance money, often prevent the children from meeting their dad.
But above all, in an era where gender and parental roles are evolving continually, the law should be amended so that a person is entitled to maintenance from former spouses, primarily if they cannot support themselves.
Divorce is never easy and both parties - and the children - lose out.
But what the law can ensure is that independent and eminently employable ex-wives do not continue to live off their ex-husbands, even after short marriages, just because the letter of the law - drafted in a very different Singapore - allows them to do so.
This article was published on May 8 in The Straits Times.


Get a copy of The Straits Times or go to straitstimes.com for more stories.