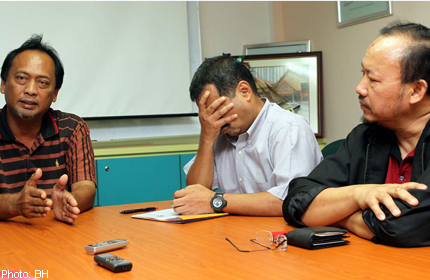 SINGAPORE - Majlis Pusat, a Malay-Muslim organisation behind the annual Hari Raya lightup, is being investigated by the police.
In a statement to Malay-language daily Berita Harian (BH) on Wednesday, the 44-year-old organisation said it was assisting the Commercial Affairs Department (CAD) in their investigation of the light-up projects from 2010 to this year.
Citing sources, BH reported that the CAD had seized documents and computer equipment from Majlis Pusat's office in Toa Payoh recently.
In response to The New Paper's queries, a police spokesman said: "Investigations are ongoing. We are unable to comment further."
Mr Salleh Sam, of events management company MCC Events & Productions, was also called up to assist in the investigations. He told BH that the company had won the tender for the light-up projects from 2011 to 2013. He added that he spent four hours assisting the police.
Majlis Pusat's central committee members have relinquished their positions in light of the CAD probe. Mr Zulkifli Mohammed, the organisation's adviser and former president, has replaced Mr Saharudin Kassim as president in the meantime.
Not the first time
This is not the first time that Majlis Pusat has been in the spotlight.
Problems between MCC Events & Productions and Majlis Pusat first made headlines in March.
BH reported that the events company had not received full payment for the light-up projects for the last two years. The company had asked for about $125,000 for the project last year and more than $20,000 in 2011.
Mr Saharudin, who was a special assistant to the president of the Islamic Religious Council of Singapore from 1998 to 2002, later said in a "joint statement" with Mr Salleh that they would pay the balance upon receiving grants from the two funding agencies, the Singapore Tourism Board (STB) and Tote Board.
Mr Salleh's lawyer, Mr Ahmad Khalis, however, said his client had not agreed to being part of the statement.
On March 21, STB clarified that it had already given its grant in full to Majlis Pusat. Subsequently, BH reported on April 15 that the Tote Board had also given Majlis Pusat the grants for the 2011 and 2012 projects.
This followed a joint press conference on March 30 by Majlis Pusat and MCC Events & Productions, where Mr Saharudin said Majlis Pusat would pay the balance in the months leading to August, BH reported.
Despite the unresolved payment issue, MCC Events & Productions was awarded the tender for the light-up project again this year.

Get The New Paper for more stories.