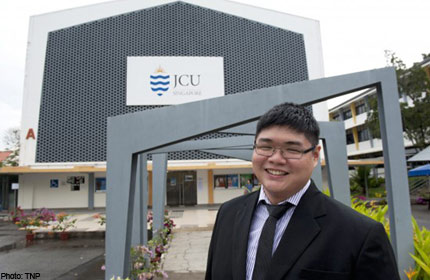 Passionate about the green movement, especially in renewable energy, Mr Zachary Ong Wei Ren decided to enrol at JCU Singapore to pursue his interest.
"I like that JCU has a culture of saving the environment. In Australia, the university is situated in Townsville - home of the Great Barrier Reef - with a focus on environmental research," the 23-year-old said.
Currently in his second year reading a bachelor of business double majoring in international business and marketing, Mr Ong graduated from Temasek Polytechnic in 2010 with a diploma in chemical engineering.
With an engineering background, he decided to change his field of study in the hope of contributing to the environment.
Mr Ong recalled that he had a strong interest to advocate and practise environmentally friendly initiatives since young.
"I always like to read non-fiction books and ponder what will happen to the future generation if nothing is done to reduce pollution. With a business degree, I hope to get into the business development aspects of renewable energy," he said.
It was not too stressful for Mr Ong to make his decision to pursue his degree at JCU because of the university's track record.
"I consulted my friends who were studying there and I was told that university life is very much like polytechnic. It is a lot of independent learning and it tests your maturity as well as discipline throughout the programme.
"My friends also told me that I would be able to get a job after I graduate as the private sector recognises the degree programme," he said.
Indeed, JCU is ranked among the top 4 per cent of universities worldwide.
His degree programme at JCU is the reason he enjoys his life as an undergraduate.
Mr Ong likes the curriculum as it covers many aspects in business.
The intensity of the topics are at just about the right pace which allows him to learn multiple topics on a weekly basis.
"I especially enjoyed the accounting module because we were offered real-life examples of accounting work. Some of the questions given were so challenging that I even spent an entire night attempting it," he said.
In 2010, when the inaugural Earth Hour took place in Singapore, Mr Ong was working with Eco Singapore to bring the initiative into the heartland.
He recalled: "I organised a successful event with a community centre as well as reached out to thousands of households in Bedok to spread the message about the real effects of pollution and energy wastage."
Hence he is impressed with the lecturers whom JCU reaches out to.
Mr Ong added enthusiastically, "One of my lecturer is the wife of the man behind the Earth Hour initiative. Another lecturers in organisation behaviour is a doctorate holder who has also written a book on the subject."
These lecturers are an inspiration to Mr Ong because he can foresee applying these skills in the future.
WHY THIS COURSE
The Bachelor of Business awarded by JCU Singapore will equip students with skills that meet the demands of business, including developing communication and engagement skills, building networks, acquiring a commercial mindset, understanding project management, and mastering critical thinking and problem solving.
Students will have the opportunity to see and experience business fundamentals in action while working on industry projects.
The JCU accounting degree holds full accreditation with CPA Australia and the Institute of Chartered Accountants Australia. Graduates are able to apply for associate membership with these two professional bodies.
"The course is offered by James Cook University. We offer the same course and curriculum as in Australia. - Mr Abhishek Singh, Associate Dean, Business & IT, JCU Singapore

Get The New Paper for more stories.