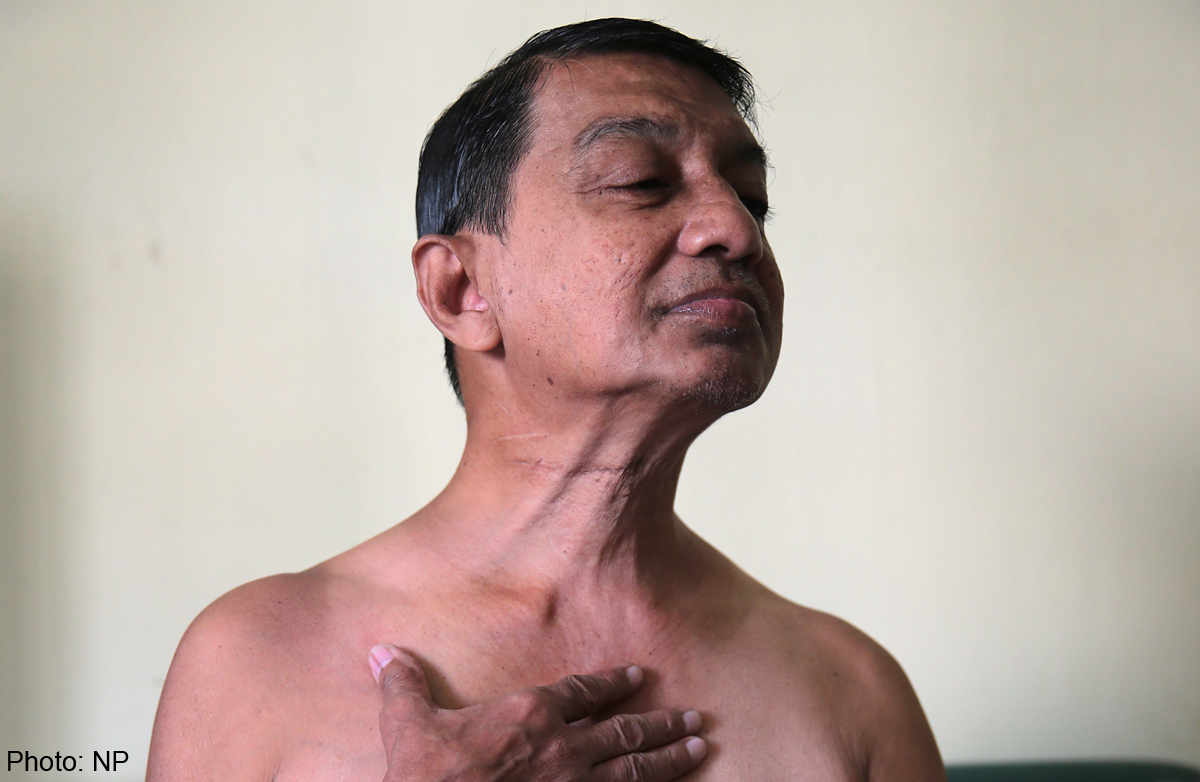 SINGAPORE - He was brutally punched, kicked, stabbed, slashed and even smothered with pillows by his wife's lover - a man young enough to be their grandson.
He was shocked. Why was this happening to him, thought cleaner Loh Ngee Khoon, 59, throughout the ordeal on last National Day.
He said he looked to his wife, also a cleaner then, for help but she merely stood and looked on, he told The New Paper yesterday.
Mr Loh added that although he still loves his wife, Patricia Anne Yong, 60, he finds it very difficult to forgive her.
He intends to visit her in jail - only to tell her that he wants a divorce.
He said of the woman he married in 1994: "I loved and trusted her. I'm very disappointed that she could betray me. I feel very cheated."
On Monday, Yong's young boyfriend, cleaner Ahmad Haji Shahul Hammed, 21, was jailed for four years and ordered to be given six strokes of the cane for his part in the assault.
He pleaded guilty to one count each of voluntarily causing grievous hurt and voluntarily causing hurt.
Yong was also jailed for four years last year for her role in the vicious attack. 
Speaking from his spartan three-room flat at Circuit Road yesterday, Mr Loh said that the incident had badly affected his life.
He used to earn about $1,200 a month as a cleaner at a Tampines condominium, but was let go because he could no longer cope with the physical strains of the job. He is now a part-time cleaner at a Paya Lebar office, earning $40 a day.
He works about three days a week.
"I'm no longer in pain," he said, "but I'm now much weaker than before. The doctor told me I could have died from my injuries. I'm thankful to be alive."
Mr Loh suffered a stab wound on his abdomen, cuts on his neck and wrists, and fractured ribs.
Shuddering, he said that he was at home at around 5pm on Aug 9 last year when Ahmad turned up at his doorstep.
He had never seen the young man before and was puzzled. But he decided to let him in after Yong said that he was her "godson".
STABBED
Mr Loh said: "I was very shocked. He suddenly came in and slammed into me. He pushed me in. After that, he took a knife from the kitchen and stabbed me.
"The floor was covered in blood. I was bleeding and I ran out.
"I made my way to a bus stop and blacked out. The next thing I knew, I was at Tan Tock Seng Hospital."
According to court papers, Mr Loh had returned home drunk that day and started shouting vulgarities at Yong.
She phoned her lover, who turned up soon after and punched the older man.
Mr Loh crawled towards a wall and rested his head and shoulders on it.
Ahmad went to the kitchen to retrieve a knife with 15cm-long blade. He stabbed Mr Loh in the abdomen and slashed him across the eyebrow.
As his victim was wiping the blood away with his hands, Ahmad kicked him twice in the face, causing him to fall to the floor.
To prevent neighbours from looking in, Ahmad asked Yong to close the windows and cover them with towels. She did as told.
The young man continued his vicious attack on Mr Loh. He slashed his neck and, after asking Yong to step on Mr Loh's hand, slashed both of the older man's wrists.
Yong took two pillows from a bedroom and, together with her lover, tried to smother her husband with them.
She also told Ahmad that her husband could not "live past (that day)".
After the attack, the two lovers decided to watch television in the living room.
They called the police at about 8.30pm. The police arrived and arrested the pair.
Contrary to what was heard in court, Mr Loh insisted that his wife did not participate in the attack ­- even after TNP asked him thrice.
Heaving a sigh, he said that she was a good, loving wife, but this slowly changed after she went through knee surgery about five years ago.
"She was in pain, especially when it rained. She took a lot of medicine. I think that affected her," he said.
"Of course we had our disagreements, but all married couples quarrel once in a while."
Mr Loh admitted that his wife had taken a personal protection order against him many years ago, but claimed that he had hit her only once.
He also claimed that several years ago, she took some of his valuables, including watches and jewellery, worth about $5,000 and pawned them.
He got angry when he found out.
PUSHED
"I pushed her and she fell down," said Mr Loh.
"Then I hit her once on the arm. It was the only time I laid my hands on her."
He then stared forlornly at the floor and said that he intends to remain single after the divorce.
In a soft voice, he said: "I'm a faithful husband. I don't go to night clubs. But I was stupid. Now, I just want to move on with my life."
I loved and trusted her. I'm very disappointed that she could betray me. I feel very cheated. - Mr Loh Ngee Khoon
 About the case
It was her second marriage and his first.
But cleaner Loh Ngee Khoon, 59, did not expect his wife of almost 20 years to team up with her young lover to brutally attack him.
Patricia Anne Yong, 60, and her lover, Ahmad Haji Shahul Hammed, 21, will spend four years in jail for the offence.
Ahmad was also ordered to receive six strokes of the cane. He admitted that he had worked with Yong to stab and slash her husband with a knife in their Circuit Road flat at around 5.30pm on Aug 9 last year.
The lovebirds also pressed two pillows against Mr Loh's face that day.
The pair got to know each other in January last year while they were working at Ritz Carlton Hotel, providing laundry services.
At first, she treated him as her godson, but they later became lovers.
Calling the acts "relentless" and "calculated", Deputy Public Prosecutor Joshua Lim urged District Judge Hamidah Ibrahim to jail Ahmad for at least four years.
In his mitigation, Ahmad's lawyer, Mr Jeyapalan Ayaduray, said Yong had told his client about her marital problems.
She wanted him to beat her husband up and teach him a lesson, the court heard.
Mr Jeyapalan said that Ahmad is mildly retarded and had always looked to her for instruction.
He said: "She was unforgiving and directed (Ahmad) to smother (Mr Loh) jointly with her."
"The brutality is shocking," said Judge Hamidah on Monday before handing out Ahmad's sentence.
For attacking Mr Loh with the knife, Ahmad could have been jailed up to 15 years and fined or caned. For pressing a pillow against Mr Loh's face, he could have been jailed up to two years and fined up to $5,000.

This article was first published on June 11, 2014.
Get The New Paper for more stories.