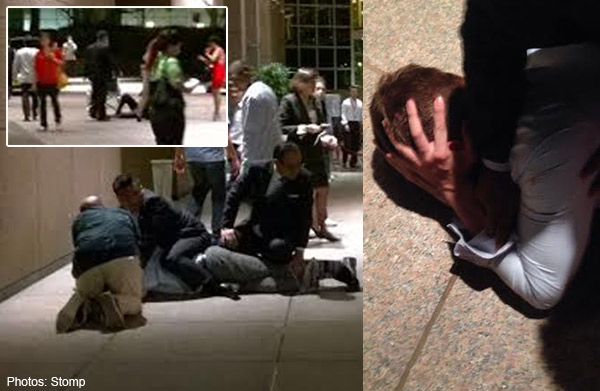 A 31-year-old man was arrested on Friday night after he allegedly assaulted an employee of Conrad Centennial Singapore in front of the hotel's main entrance, and had to be pinned down by hotel staff when he tried to escape.

Get the full story from The Straits Times.
According to the Police, officers received a call at about 8.25pm alerting them to the incident.
A man in his 30s was arrested for voluntarily causing grievous hurt and rash act.
The victim, a woman in her 30s, was conveyed while still conscious to the Singapore General Hospital.
Police say investigations are ongoing.
Previous report from Stomp:
SINGAPORE - A hotel staff was seen using martial arts to take down an aggressive man, before he was able to hold him down with the help of a few other colleagues.
Stomp contributor Linda saw a female employee lying unconscious on the driveway of a hotel in Temesak Boulevard, and other hotel staff chasing after and subsequently restraining a man at sidewalk nearby.
She saw the incident while having dinner at a restaurant across the road from the hotel.
Linda elaborates:
"My husband and I were having dinner at Outback steakhouse in millennia walk when we saw a commotion across the driveway at Conrad Hotel.
"A Caucasian man ran out of the hotel followed by five or six hotel staff.
"They were shouting at him to stop and after tussling, one of the staff did a judo takedown on the assailant. It took a few of them to hold him down.
"At the hotel driveway a female hotel employee was lying unconscious. A man at the scene said she had vision loss.
"Most probably because of the impact to her head from falling on the driveway.
"I'm not sure what really happened but the guy was very aggressive and kept fighting off the hotel staff even as he was pinned down.
"It got more dramatic when the police arrived. He started screaming and refused to leave with the police."
Another eye-witness known as Bryden, said the man held her neck and pushed her to the middle of the road, where she "banged her head on the ground".
He wrote: "At 8.30pm on June 13, an Italian guy who looked drunk pressed on a female Conrad hotel staff's neck and pushed her towards the middle of road at the hotel foyer.
"She ended up banging her head on the road. Two security staff tried to stop him but he was strong.
"With help from passers-by, three people managed to pin him down, and he was handed over to the police.
"The staff suffered head injuries and could not sit up. The ambulance arrived and sent her to the hospital."

Visit STOMP for more stories.