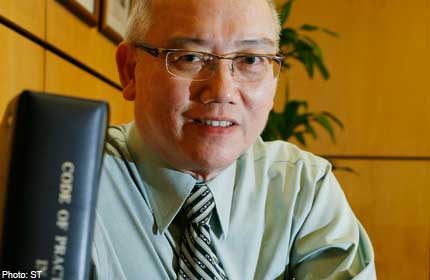 SINGAPORE - When he checks into a hotel abroad or enters a shopping mall, the first thing Mr Boo Geok Kwang does is make a mental note of how to leave.
The 63-year-old looks out for the exit signs for a quick escape in case of a fire.
One expects him to walk the talk after 37 years in the industry. Last Tuesday, Mr Boo retired as the director of the fire safety and shelter department in the Singapore Civil Defence Force (SCDF).
In his 28 years at the SCDF, he introduced the role of fire safety managers in commercial and industrial buildings, as well as provisions to make super high-rise residential buildings, defined as those with more than 40 floors, fire-safe.
For instance, he introduced refuge floors made of non-combustible materials which provide an evacuation point so residents do not have to travel many floors down in case of a fire.
Though he is not the author of the 1974 Fire Code that governs fire safety standards in buildings here, he is the man credited with developing it.
Singapore's first fire safety bureau chief graduated with a Bachelor of Science in Building from the National University of Singapore, and knew only that he wanted to work on buildings.
He was first a building surveyor with the Building Control Division in the then Public Works Department, where most of his work involved fire safety.
Though he was passionate about it, he never intended it to become his lifelong career.
The wheels were set in motion when he was nominated to go for a master's degree in fire safety engineering in Edinburgh, Scotland, in 1981.
After his return, he was seconded to the then Singapore Fire Service in 1985, where he took over as the fire safety bureau director.
One major change he made was allowing architects, engineers and designers more leeway in their work while complying with fire safety standards.
Mr Boo initiated an approach that did away with compulsory requirements so creativity could flourish as long as fire safety standards were met.
It was an approach that made spectacular structures such as Marina Bay Sands possible.
Under the old regulations, the "boat" structure linking the three buildings of the integrated resort would have to be made of concrete, and would have been too heavy to be viable.
But engineers were able to use metal sheets, making the parts nearest the joints of the "boat" fire-resistant and proving through simulations that the building would not collapse in the case of a fire.
"The Fire Code is not able to capture all variations in design. But as long as the engineers can prove fire safety by way of calculations and simulations, there is no problem," he said.
He also introduced the idea of having every commercial and industrial building appoint a fire safety manager who would draw fire emergency plans, remove potential hazards and conduct fire drills.
Mr Boo proudly noted the fire statistics speak for how successful these measures have been.
The number of fires attended by the SCDF hit a 15-year low of 4,470 in 2011, increasingly slightly to 4,485 last year.
While he admits to being reserved, the career bureaucrat is given to an occasional spark, learning Latin dance and training his vocals at the karaoke.
He plans to travel to Europe after retirement, staying in Scotland, where he has fond memories, for a month.
Mr Boo, who is married with two sons and a daughter, is not the overtly sentimental type, but looking around his office, with an array of items waiting to be moved out, he said: "I will definitely miss SCDF and my colleagues."

Get a copy of The Straits Times or go to straitstimes.com for more stories.