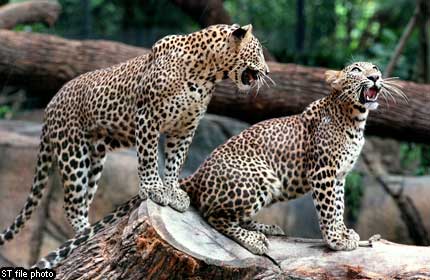 PETALING JAYA, Malaysia - A 40-year-old man has been charged at the Pasir Mas Sessions Court in Kelantan with five counts of possessing frozen tiger and leopard carcasses.
Mohammed Saharil Mat Adam pleaded not guilty to all the charges under Section 68(2)(c) of the Wildlife Conservation Act 2010 on Thursday over the carcasses found in a taxi.
Mohammed Saharil, who is believed to be the taxi driver, was alleged to have the carcasses in the vehicle at Kampung Padang Rokma in Tumpat, Kelantan.
Officers from the Department of Wildlife and National Parks (Perhilitan) and Customs Department seized one tiger and four leopard carcasses from his taxi on Monday night following a public-tip off.
The carcasses were found hidden in the car's boot and backseat.
Mohammed Saharil now faces a fine of between RM100,000 (S$38,600) and RM500,000, a jail term of not more than five years or both.
Perhilitan enforcement director Abdul Kadir Abu Hashim said it would now investigate where the animals had been poached and the destination of the carcasses.
"We will not let the case rest with just the driver's arrest," he told The Star, adding that Perhilitan would continue to tighten and heighten enforcement in its efforts to stamp out the wildlife trade.
Wildlife trade monitoring network Traffic Southeast Asia said a number of cases involving tigers had been brought to court since the Act came into force.
However, its senior programme officer Kanitha Krishnasamy said the "vast majority" of court sentences meted out were not strong enough to deter the poachers.
"We need to make this arrest count or all it means is five more dead animals," said Kanitha.
She pointed out that the seizure occurred a few kilometres away from the Thai border, an area notorious for illegal wildlife smuggling.
"This case presents the Govern-ment with yet another opportunity to find out as much as possible to crack down on smuggling networks," she said.