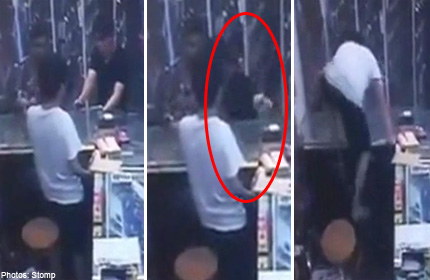 SINGAPORE - A man stole an iPhone 5 and a Samsung Galaxy S4 from a shop in the Chong Pang area of Yishun before hightailing out of there.
A video of the incident was posted on Facebook on Dec 9, apparently by a friend of the shop operator.
The thief was seen to be looking around and checking his surroundings before committing the act. He then dashed off with the two phones, alarming the shop operator instantly.
The shopkeeper proceeded to climb over the bar counter and chased after him. A passer-by who had just walked into the shop also realised what was happening and joined in the pursuit.

Visit STOMP for more stories.