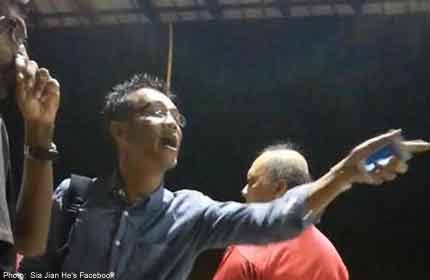 THE man caught on film apparently spitting in a woman's face and harassing her at Woodlands bus interchange is due to appear in court today.
Police said on Thursday that they had arrested the 47-year-old and he will be charged with an offence of public nuisance under Section 290 of the Penal Code, as well as other offences.
A video taken on Tuesday and posted on Facebook shows him shouting at the woman, who was dressed in green, and raising his fist at her before SMRT security staff intervened.
He also shouted at another woman in a blue shirt.
The clip has garnered almost 22,000 shares as of Thursday night, after being posted on Tuesday by Mr Sia Jian He.
The 28-year-old executive felt it was right that the man was arrested.
"That kind of behaviour is not acceptable in public," he said.
"He made a nuisance of himself and he bullied both women. When passengers were alighting, he caught the arm of the lady in green for shouting at him and left the male passengers getting off the bus alone."
Mr Sia said the incident began when the man jumped the queue for the Johor Baru-bound service 950. He had not started filming at this point.
According to Mr Sia, a dispute erupted between the man and the woman in blue, and he later spat at her about 10 times. The row held up the bus when it arrived, said the executive.
The man then stopped the woman in green when passengers were alighting from the first bus to board another bus which was sent after the first one was held up.
The man spat at her several times and pushed her at chest level, said Mr Sia, who began filming the incident soon after.


Nearly all the netizens who commented on the incident condemned the man for his actions.
Many also questioned why SMRT staff and members of the public did not intervene earlier to prevent the women from being spat at and harassed.
Zheng Qinyao wrote: "I'm appalled at how the security members were just watching and not intervening while he was in the act of harassing, spitting and creating a nuisance of himself."
SMRT spokesman Alina Boey earlier said that police had already been alerted and were on their way, while security staff also decided to intervene and lead the aggressor away.
Criminal lawyers said the man could also be charged with outrage of modesty under the Penal Code, and intentional harassment under the Miscellaneous Offences Act.
Those found guilty of causing a public nuisance can be fined up to $1,000.
roysim@sph.com.sg

Get a copy of The Straits Times or go to straitstimes.com for more stories.