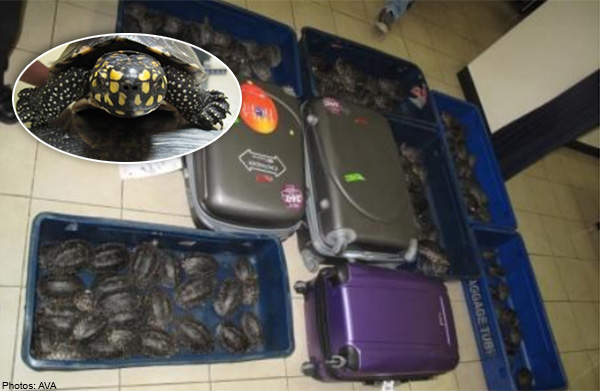 SINGAPORE - An Indian national was sentenced to 16 months in jail today for smuggling 190 endangered turtles through Singapore.
He also received a jail term of three months for animal cruelty to the turtles. Both sentences will run concurrently.
The 42-year-old had been approached by a friend to deliver the turtles from Bangladesh to an unknown man in Surabaya.
He was detained while in transit at Changi Airport on Jan 7, after three pieces of his luggage were found to contain live turtles during screening by aviation security officers.
The Agri-Food and Veterinary Authority of Singapore (AVA) investigated and found them to be black pond turtles, a critically endangered species of which international trading is prohibited.
"The turtles arrived severely dehydrated and were in very poor condition. They were sent to Wildlife Reserves Singapore to be monitored and have since died or had to be put down due to welfare considerations," the AVA said in a statement today.
It added that the 190 black pond turtles were estimated to be worth almost $100,000 and are believed to be in high demand in the exotic pet trade.
The accused could have been fined up to $50,000 per scheduled species, but not exceeding a maximum aggregate of $500,000, and jailed up to two years for infringing the Endangered Species (Import and Export) Act.
For animal cruelty, he could have been fined up to $10,000 and jailed up to 12 months.
huizhen@sph.com.sg