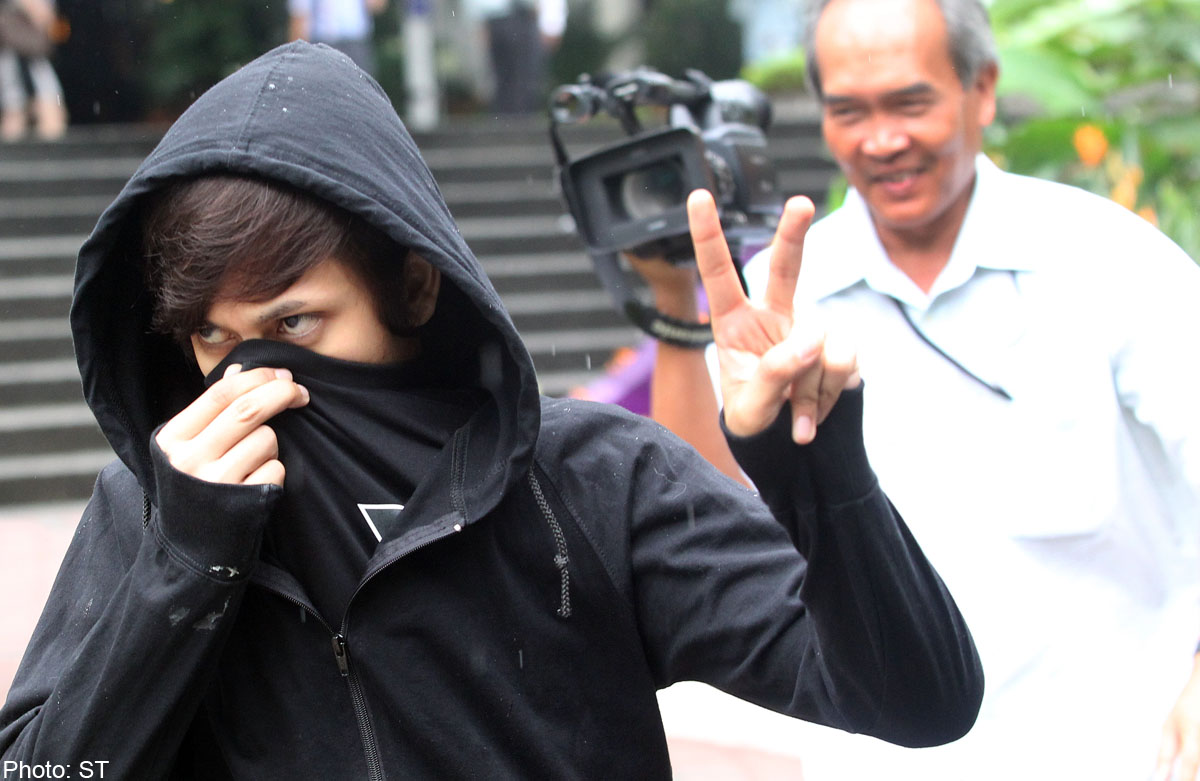 The ringleader in the Prinsep Link vandalism case was sentenced to a total of 24 months' jail and three strokes of the cane yesterday.
Freelance disc jockey Danial Ryan Salleh, 26, had pleaded guilty to vandalising a pillar of Sunshine Plaza; two counts of theft; sex with a minor; and grievously hurting a taxi driver.
Ten other charges were considered during his sentencing.
Two of his accomplices - Muhammad Qamarul Arifin Sa'adon, 23, and Muhammad Fadzly Aziz, 22 - were each sentenced to two months' jail and three strokes in August for vandalism.
The court heard that the group had been outside a bus stop in Orchard Road after a movie on Nov 4, 2013, when Danial told them of a call he had received from someone claiming to be an assistant to the leader of hacker group Anonymous.
The caller from Switzerland told him to get a group to spray the words "We Are One. We Are Legion. We Will Never Forgive. We Will Never Forget. Expect Us". This was supposedly in support of the hacker group's fight against the Government.
The group bought two cans of indelible paint from Mustafa Centre. As they passed Sunshine Plaza at about 4am, Danial used black paint to write graffiti on the pillar. Qamarul, Fadzly and Muhammad Fitri Abu Kasim, 25, acted as lookouts. Fitri was later given a 12-month conditional warning.
In the theft cases, Danial had stolen a 12-year-old student's haversack, containing a laptop worth $700, at Costa Sands Resort in June with his accomplice; and an earpiece worth $150 from Million Tech at Sim Lim Square later that month.
The court heard he also had unprotected sex with a 15-year-old girl he had met on social media platform Twitter in mid-November 2013.
On March 19 last year, he kicked the door and wing mirror of a taxi when the driver, Ng Cheng Keong, 61, refused to take him and four other passengers along Sims Avenue.
When Mr Ng told him to stop and tried to call the police, Danial punched him once in his face and grabbed his phone.
When the cabby exited to retrieve his mobile phone, Danial punched him again. Mr Ng suffered facial fractures.
The court backdated Danial's sentence to July 1. He also has convictions for cheating, vehicle theft, drug possession and perverting justice.
elena@sph.com.sg

Get MyPaper for more stories.