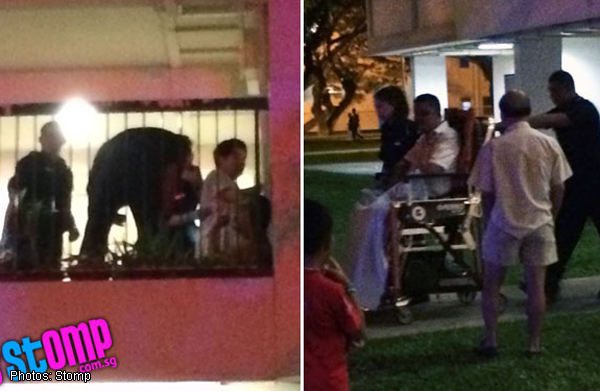 SINGAPORE - A man was arrested after he set fire to his own flat on Tuesday night.
The New Paper understands the 46-year-old man, who is single, lives with his parents in a three-room flat on the second storey at Block 3, Bedok South Avenue 1.
The man managed to start a small fire in the kitchen toilet of the flat before his parents realised what he was up to.
A neighbour, Mr Lee, who lives on the ninth floor of the same block, told TNP that he is friends with the flat's occupants.
He said: "The elderly couple called me when the fire occurred, asking me to call the police."
It was then about 10pm and Mr Lee was out, but he rushed home in a taxi.
When he arrived, he immediately went to his neighbour's flat.
"Two policemen went in the flat with a fire extinguisher first," he said.
"Then, the son came out with his face blackened. I think it was soot."
The Singapore Civil Defence Force told TNP that it sent two fire engines, two fire bikes, a Red Rhino and an ambulance to the scene after receiving a call at 10.20pm.
The man who was arrested was sent inhalation.
"When I was outside the flat, I heard the father asking the son what he had been tampering with," said Mr Lee.
A police spokesman said the man was arrested for mischief by fire.
Burnt Smell
While several residents living at the block said they were unaware of the fire, others living nearby said they could smell something burning.
A neighbour who lives two blocks away, who wanted to be known only as Mrs Lim, 42, told TNP that she had detected a strong burning smell.
She added: "I didn't know it was a fire and thought it was children playing with matches."
Mr Lee said a crowd had gathered when police and firefighters were there.
He said: "There was mainly a burning smell and it was smoky. There was a brief spell of excitement as everyone was curious and a crowd gathered."
When TNP visited the scene yesterday morning, there were no signs outside the flat that a fire had occurred.
Mr Lee said that the occupants had lived there for about three years.
At the scene, an elderly couple, believed to be the flat's occupants, were seen speaking to police. They declined to speak to the media.
regmlee@sph.com.sg

This article was first published on June 26, 2014.
Get The New Paper for more stories.