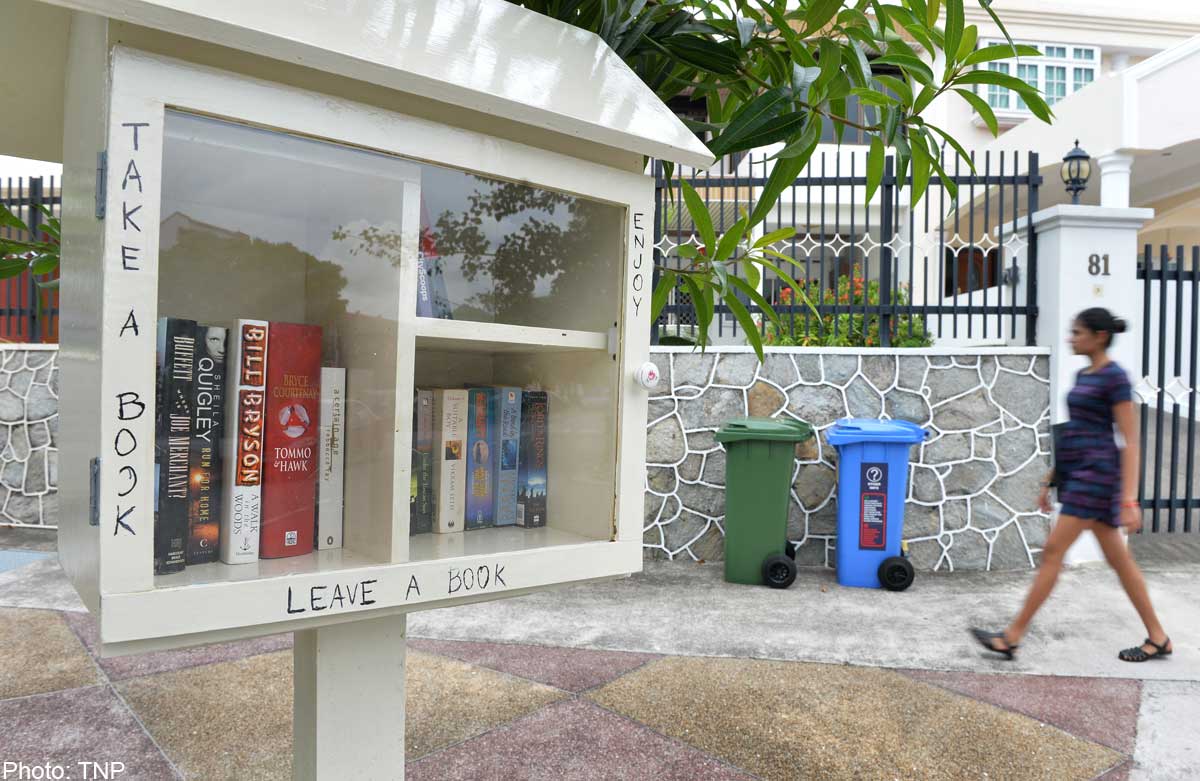 Fancy swapping an old book for a new read?
A book shelf has popped up just outside a two-storey house on Wolskel Road in Serangoon.
The words, "Take a Book, Leave a Book", are painted on the shelf and there are more than 15 books inside, including popular novels such as The Lord Of The Rings triology and works by famous author Nicholas Sparks.
The shelf was put up by Mr Bryan Lim, who lives at the two-storey Wolskel Road house.
Such public sharing of books is part of a worldwide "Take a Book, Leave a Book" movement.
It started in the US but has spread to Europe, South America and even parts of Africa.
All Mr Lim would tell The New Paper was that he was planning an official launch of the book box on Aug 23.
His neighbours are intrigued.
A housewife living three doors away, who wanted to be known only as Madam Tay, said: "I have seen the shelf a few times while walking out to get something, but I haven't got to checking the books up close.
"My daughter loves reading, so I told her about it, and she wants to take a look soon - maybe even contribute some of her own books," said the 51-year-old.
Another neighbour, who gave his name only as Mr Tan, said: "After seeing the shelf, my children have been pestering me to put one up as well.
"I think it's a good idea . Hopefully, more people will start their own and it can become a way of sharing with each other."
GOOD INITIATIVE
Local writer and editor Alvin Pang said Mr Lim's initiative was a good one.
He said that any effort to encourage reading in Singapore, can only be a good thing.
Mr Pang said: "I'd love to see where else these pop-up libraries show up, and more importantly what sort of books get shared and swapped.
"It might also be nice to see these near leisure spots like cafes and beaches."
The National Library Board Read! Singapore-featured author said it would be even better if Mr Lim could add a little local flavour to the books on his shelf.
"I hope he shares more Singaporean books," said Mr Pang.
darit@sph.com.sg

This article was first published on August 14, 2014.
Get The New Paper for more stories.