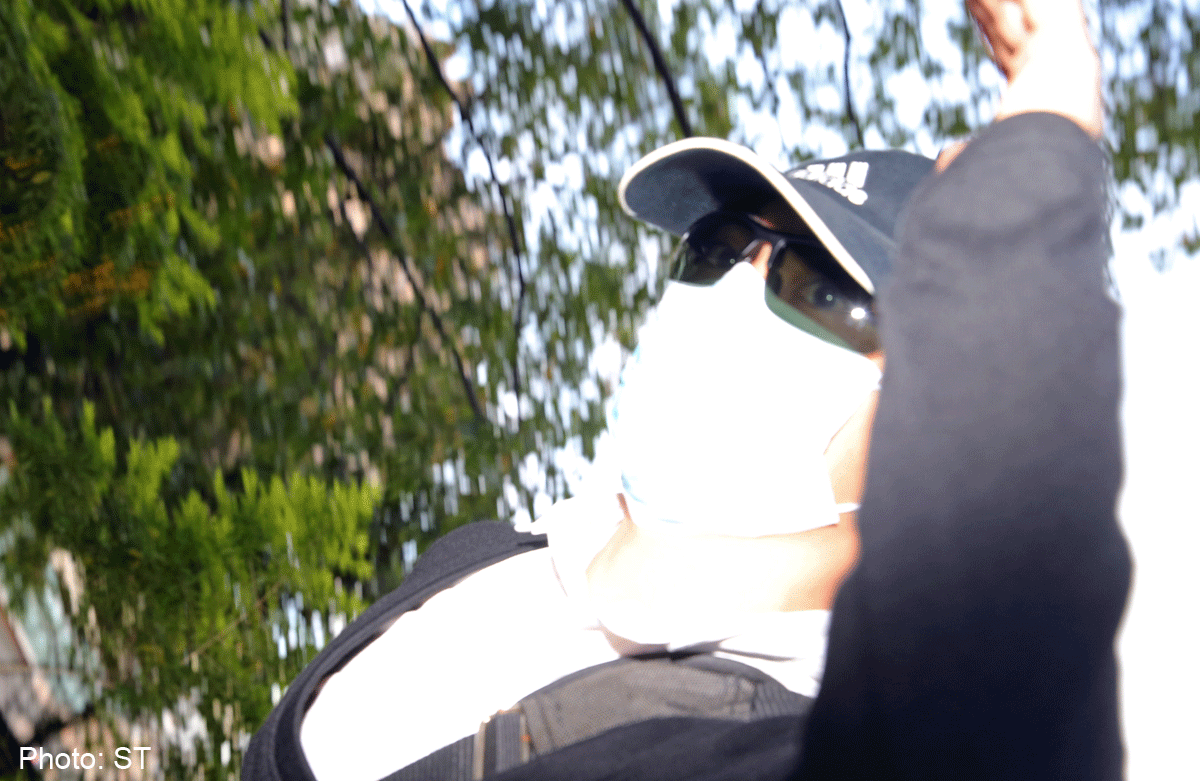 Convicted paedophile Chan Chun Hong's defence counsel, Mr Rajan Nair, yesterday presented his client's mitigation to the court. He also made his submissions on the sort of sentence his client should get in a 27-page document.
Chan had, on Feb 6, pleaded guilty to 12 child pornography and child sex-related charges. 
Mr Nair was also assisted by Ms Mimi Oh, Mr Eugene Leong and Ms Lin Jiemin.
But Deputy Public Prosecutor (DPP) Yang Ziliang refuted much of Chan's defence.
Throughout, Chan, who was dressed in a green polo shirt with white stripes, sat up straight in the dock, but kept his gaze down.
His parents were present throughout the proceedings, sitting quietly in the public gallery.
Here are some highlights of the session:
ENTRAPMENT
In both his submissions, Mr Nair pointed out that his client would not have committed the offences had he not been induced by the undercover police officer.
As far as he was concerned, Teo Dennis, the moniker used by the officer, was a potential client who sought him out on Facebook.
By the time he was communicating with Teo Dennis in November 2013, it had been more than a year since he used the e-mail account that he had created just to exchange child pornography.
DPP Yang replied that entrapment is not a substantive defence in Singapore.
Furthermore, the decoy operation was necessary because detecting and prosecuting consensual crimes committed in private is extremely difficult.
He added that Chan was exposed as a child-sex tour operator and promoter through "necessary subterfuge rather than persuaded or pressurised into becoming one".
"The police did not entice an otherwise innocent man with no criminal tendencies to commit a serious crime with excessive and ever increasing amounts of money," DPP Yang said, adding that Chan was no stranger to illicit child sex tours.
Stopped accessing e-mail account
In his mitigation plea, Mr Nair stated that his client last accessed the child porn e-mail account in December 2012. He was contacted by Teo Dennis in late November 2013 and the trip to Cambodia was scheduled for April 1, 2014.
Chan was arrested at Changi Airport on March 1, 2014, when he was returning from a work trip to the Philippines.
But DPP Yang rebutted this, saying that the prosecution had over 1,000 e-mails, whose dates suggested the account had been accessed at a later date.
He added that it was the prosecution's discretion not to tender all the e-mails to the court, but that Chan and his lawyers should not try to minimise the offence by saying there were no e-mails in the year-long period.
A back-and-forth exchange then began between Mr Nair and DPP Yang.
Mr Nair argued that evidence not agreed to in the statement of facts should not be raised in court, to which DPP Yang said these were facts that had been admitted to.
Furthermore, the contents of Chan's e-mails showed that he had an appetite for very explicit child pornography.
Mr Nair said: "Just because someone says something in his e-mails does not mean it's true."
DPP Yang replied: "And just because someone says something in his mitigation does not mean it should be accepted as fact."
No illegal sex
While Chan had organised the tour, it was a one-off occasion where he did it for a friend, rather than operating a company where he approached strangers and arranged sex tours for them.
The trip also never materialised and Chan never had commercial sex with a minor, Mr Nair maintained.
He added that in Chan's transmission charges, the pictures and videos were circulated within a chat group he was part of, and it never harmed anyone, or was distributed to the general public.
Responding, DPP Yang said: "What (Chan) has forgotten is the many young and vulnerable children found in the child pornography he was distributing and how they were harmed in the making of the material."
He added that despite repeated claims of remorse, Chan had consistently tried to minimise the scale of his misconduct, beginning from his arrest, right through to the court hearings.
"(Chan) claims in mitigation that he 'truly regrets the commission of the offences', but from his constant efforts to diminish his responsibility, it appears that what he truly regrets is having been caught," DPP Yang said.
Despite the judge extending his court bail, Chan asked to be taken into remand and his bail was revoked. As he was taken away, Chan gestured at his parents.
His next court appearance will be on March 23.
His mitigation
 As defence lawyer Rajan Nair read out Chan's mitigation to the court, what emerged was a picture of a man who had his life derailed after his fiancee died.
After graduating with a degree in civil engineering from Nanyang Technological University in 2006, Chan, the oldest of three sons, joined the Singapore Armed Forces (SAF) on a four-year contract under the SAF Local Study Award.
Promoted to the rank of captain in June 2009, he stayed in the SAF till 2013, when he left to be an insurance agent.
Some time in 2009, Chan's Taiwanese fiancee was diagnosed with womb cancer. She died in late 2010.
That also marked the start of Chan's depressive spiral, his lawyer said.
During his depression, Chan started exchanging obscene material on the Internet with like-minded individuals, Mr Nair said.
While he knew there was something wrong, he did not know where he could seek help.
"He was also apprehensive as to the effect the disclosure of his affliction would have on his career in the SAF, family and friends," his lawyer said.
By late 2012, he had stopped using the e-mail account that he previously used to exchange child pornography.
But some time in November 2013, he "foolishly acceded to requests from an 'Internet friend'" to help arrange a commercial sex trip.
This "friend" turned out to be an undercover policeman, his lawyer said.
Civil Engineer
After his arrest on March 1, 2014, Chan quit his job in the insurance industry in mid-2014 and worked as a civil engineer until August 2014, when he quit because he did not want his employer's reputation to be "tainted by their connection to him".
When the hearing was postponed in September 2014, he worked part-time in a fruit juice shop.
"The odium of being labelled a paedophile... will stay with him and his family members for the rest of their lives," Mr Nair said.
He added that Chan hoped for a lighter sentence so he may marry his fiancee and start a family.
About the case 
Diagnosed paedophile Chan Chun Hong, 31, pleaded guilty in the State Courts to 12 child pornography and child sex-related offences on Feb 6.
He admitted to seven counts of electronically distributing child pornography, three counts of promoting commercial sex with a minor outside Singapore, and one count each of facilitating commercial sex with a minor outside Singapore and possession of obscene films.
Chan is the first person here to be convicted of organising a commercial sex tour overseas.
He was initially slapped with 145 charges of various child pornography and child sex-related offences. The other charges will be taken into consideration during sentencing.
Chan was nabbed when Singapore police, acting on a tip-off from America's Federal Bureau of Investigation , launched a sting operation.
An undercover officer posed as someone interested in a sex tour in Cambodia, and Chan offered to make arrangements for the man.
Chan will next appear in court on March 23, where he is due to be sentenced.
Previously, Deputy Public Prosecutor Yang Ziliang had pressed for a total sentence of at least six years, citing the voluminous amount of obscene material Chan had distributed, adding that it was the "most egregious and abhorrent" category of child pornography

This article was first published on Feb 17, 2015.
Get The New Paper for more stories.