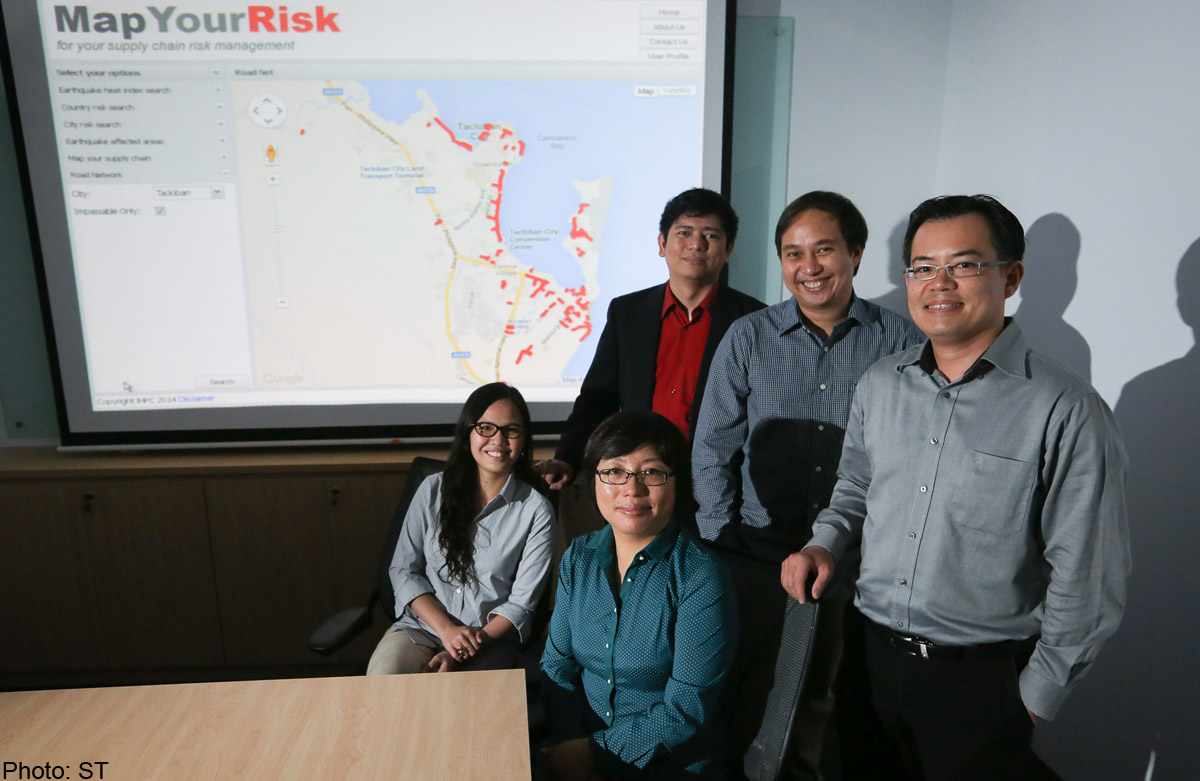 It is hard-nosed research, backed by powerful mathematical models. But it has heart.
Last November, an international team from the Institute of High Performance Computing here was in the midst of an earthquake risk-mapping project when Typhoon Haiyan struck the Philippines with destructive force.
The Singaporean, Filipino and Chinese scientists from the Agency for Science, Technology and Research (A*Star) institute followed news reports telling of survivors stranded in remote parts without aid for weeks, as relief workers struggled to reach them.
Driven by a need to prevent this from happening again, they took on extra work and whipped up a "smart" mapping tool to guide relief workers in disaster zones as they plan quick routes to reach affected areas.
This is a major challenge aid groups face in disaster zones, said Singapore Red Cross secretary-general Benjamin Williams.
In the aftermath of Typhoon Haiyan, which killed more than 6,000, the United Nations estimates that 11 million people needed assistance, including 800,000 displaced residents.
The tool gives rescuers a range of possible routes around damaged roads, sorting them by distance and travel time.
It does this by analysing maps such as those compiled by volunteer group Humanitarian OpenStreetMap, which plot exactly which roads are damaged, using reports and aerial images uploaded by aid groups at the scene.
By crunching the data for them, the tool aims to boost their speed and accuracy in delivering supplies to those in need, explained senior scientist Christopher Monterola.
"Relief workers need to reach lots of locations, not just one," added scientist Erika Fille Legara.
"It can take days. People can die even if they survive the disaster, if they don't get food, medicine."
Their work was published earlier this month in the International Journal of Modern Physics C, and the tool will take another year to fine-tune.
Funding details were not revealed.
Because the smart map ranks damaged roads by their condition, groups can also prioritise which roads to rebuild first.
Importantly, it can indicate which areas groups can reach within a stated timeframe, say, a few hours.
This would be useful after an earthquake for example, when rescuers need to save those trapped under rubble as quickly as possible, noted Mr Williams.
"Many of the features are very relevant, and if properly developed, will be very useful to first responders," he said.
Humanitarian organisation Mercy Relief's director of corporate outreach and support, Mr Jaffar Mydin, agreed.
Another useful feature, he suggested, would be to include ready information on countries' customs policies at sea and air ports.
"That is where logistics jams take place. Many times, supplies reach the country and stay at the port of entry," he said.
Mr Williams also cautioned that the situation in disaster-zones is often complex and fast-changing.
"A road that is passable can quickly become impassable.
"For this tool to be reliable, it must be constantly updated. The information must be accurate," he said.
This article was published on April 28 in The Straits Times.
Get a copy of The Straits Times or go to straitstimes.com for more stories.