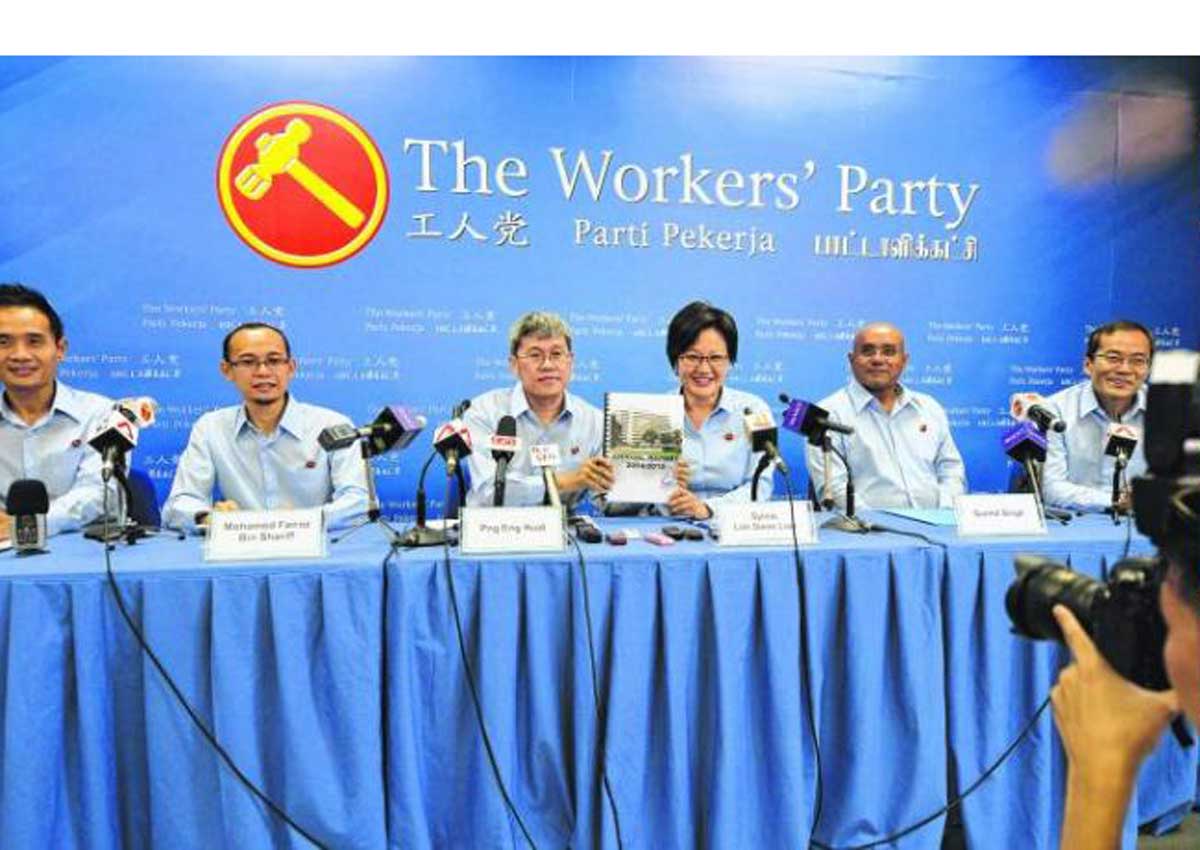 THE Workers' Party (WP) will file its latest town council annual report for financial year 2014/2015 today, Hougang MP Png Eng Huat told reporters during a candidate introduction yesterday.
Holding up a copy of the report, he said that Aljunied-Hougang-Punggol East Town Council's (AHPETC's) financial statements have shown a marked improvement and that the criticisms in the Auditor-General's Report were based on previous accounting periods.
"The important thing for you all to note is that all this discussion about the Auditor-General's Office (AGO) report is on financial year 2012-2013. We already filed for FY2013 and FY2014. Residents must take a look into this account and see: Are there any improvements made?" he said.
Mr Png added: "The disclaimers were gone, not all gone, but a substantial number of the disclaimers were sort of removed."
It was a point also made by WP chairman Sylvia Lim in Parliament earlier this month, when she said that of the 13 disclaimers that caused the town council's accounts to be given a qualified opinion, only three remain unresolved.
Ms Lim also said yesterday that AHPETC will be in a surplus position once it factors in the withheld government grants of $7.2 million.
On Saturday, the Ministry of National Development (MND) said in a statement that it has found, after an ad-hoc review by the Accounting and Corporate Regulatory Authority of FM Solutions & Services' (FMSS') auditor, that FMSS has been "grossly profiteering off its sole client", AHPETC.
MND said that in FY2013-FY2014, while AHPETC suffered an operating deficit of $2 million, FMSS made a net after-tax profit of $2 million, after paying its directors/shareholders fees and salaries of $1.14 million.
Ms Lim also reiterated the arguments made in an earlier statement from the town council.
She said: "All our papers were open to the auditors to look at the way the contracts were assessed and so on. And there has been no finding by the AGO or anyone that we did not exercise due diligence in our assessment of the contract price...
"We are not talking about the remuneration of the officers because this is a typical situation where the (town council) outsources all its services to a company, so what the company does among themselves, how much they pay their officers and so on, that is an internal matter for them. What we assess is based on the services rendered, what is a fair pricing for that service."
leepearl@sph.com.sg

Get MyPaper for more stories.