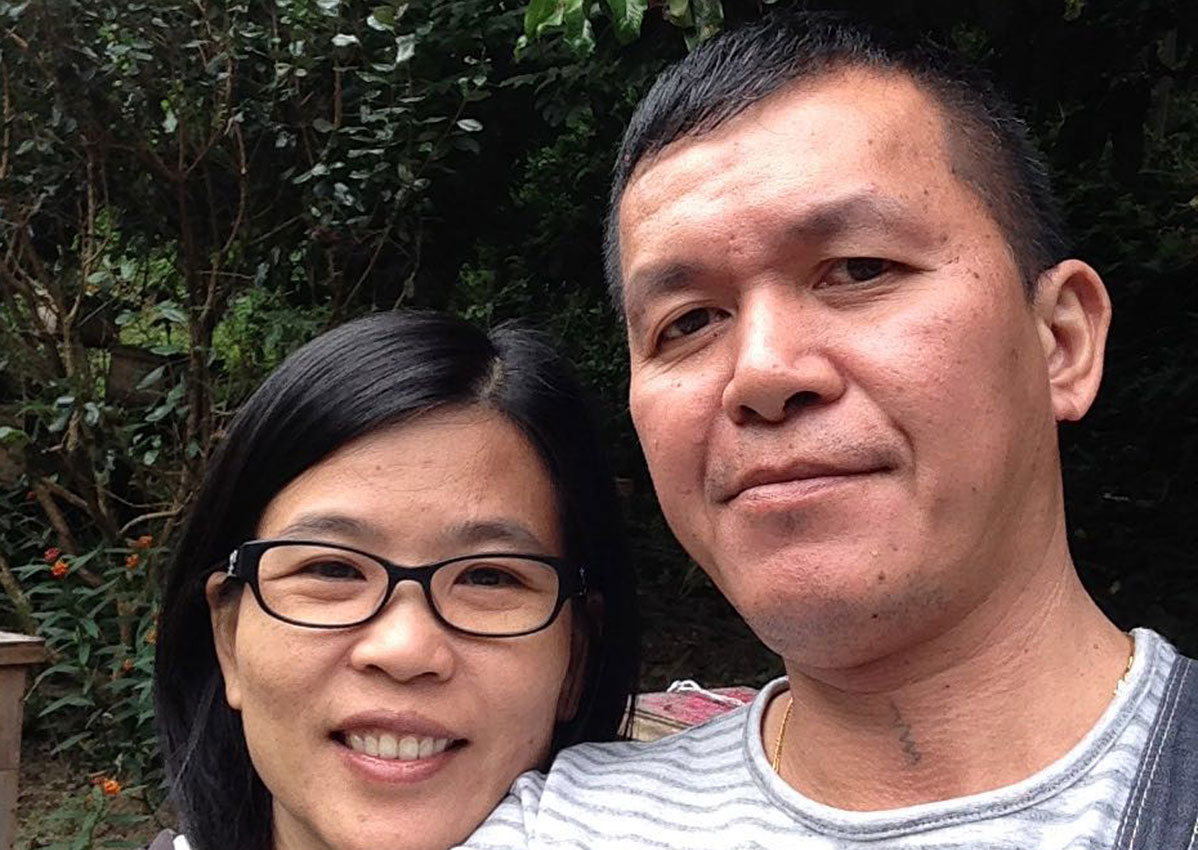 When she found him passed out in the kitchen bathroom, high on drugs, it was the last straw.
She packed her bags and walked out on him, taking with her their two young children.
Nearly a decade later, Mr Alvin Chiong is finally clean and is going all out to woo her back.
Speaking to The New Paper on Sunday, the rugged-looking man with crew-cut hair and tattooed arms and neck blushed and smiled nervously when talking about his ex-wife, Ms May Wong, who was sitting next to him.
It was as though he was 15 again, the age he first met Ms Wong.
Growing up in a one-room flat in Old Airport Road, Mr Chiong, the younger of two boys, had a rough childhood. His father was an opium addict, and his mother walked out on the family when he was seven.
His pre-teen years were spent selling otak-otak and newspapers for pocket money.
By 11, that pocket money was spent on glue and cigarettes.
He started drinking at 12.
After dropping out of Geylang Methodist Secondary School at 14, Mr Chiong worked as a plumber, taking house calls to fix broken pipes and clogged toilets.
In 1985, he was called to a Jurong East flat to repair a clogged kitchen pipe. There, the fifth daughter of the family caught his eye. He wanted to ask her out, but he was too shy.
"Back then, I was always busy, so I would write my clients' telephone numbers on clothes. But by the time I mustered enough courage to call her, I couldn't remember which number was hers," Mr Chiong, 45, says with a laugh.
50 NUMBERS
He spent the next few months calling some 50 different telephone numbers written across his trousers, asking for "May, who lives in Jurong East".
He eventually found her, and the two started chatting on the phone.
When he was called up to serve national service, he took up a one-year posting in Thailand.
They kept the relationship alive through phone calls.
"I wasn't very good at writing, so calling her was easier," says Mr Chiong, nervously running a hand through his hair.
When he returned, they were "just like any other couple", he added and dates usually involved a meal and a movie.
Almost every day, before Ms Wong's classes at a private school in Peace Centre in Dhoby Ghaut, Mr Chiong would meet her for breakfast at McDonald's where they would share a Big Breakfast meal.
All the while, Mr Chiong, who was part of a secret society, was addicted to heroin and eramin - which he also sold.
Ms Wong was oblivious to his vices.
In 1997, after dating for nearly 10 years, they were married.
A traditional Chinese wedding followed two years later, and they moved into a small flat in Jurong West.
Ms Wong and their two sons, aged 11 and 16, still live there today.
But cracks started appearing.
ARRESTS
Months after their first son was born in 2000, Mr Chiong was arrested for taking drugs.
He would go on to be arrested time and time again for drug abuse.
There were small clues around the house, says Ms Wong, speaking for the first time, nearly 90 minutes into the interview.
"I just didn't think too much about it, like why the aluminium foil would run out very quickly or why there were small holders for solid fuel, the kind used to heat up a buffet set-up," says the network administrator.
She thought Mr Chiong's court troubles were because of his involvement with gangs.
"I was silly. I couldn't tell whether or not he was on drugs, and I didn't think of asking him either," says Ms Wong, 48.
"Maybe I just didn't want to believe what was happening."
With a tinge of regret in her eyes, she shook her head slowly and refused to say more.
In early 2007, Ms Wong took time off work to run some errands.
When the then-administrative assistant got home, she found the front door locked.
Ms Wong says in Mandarin: "It was only after 10 minutes of knocking that he opened the door.
"I got a shock. There were three or four dazed-looking men sitting on our sofa. There was a lingering smell, like someone just smoked.
"Call me naive or ignorant. I just didn't believe my husband would be taking drugs in our home."
On June 30, 2007, the family's lives took a turn.
At 10am, Ms Wong walked into the kitchen toilet and found her husband knocked out. Scattered across the floor were tablets, burners and syringes.
She packed her bags, took their sons, then aged two and seven, and went to her brother's home.
By the time Mr Chiong came to - the next day - his wife and children were gone.
The following months were the worst days of his life, he says. He struggled with depression and even contemplating putting an end to his life.
Drug-induced haze shrouded his memories, but Mr Chiong can never forget the pain of losing his loved ones.
"I kept trying to call her, but I couldn't get through. I wanted to see my children," he says.
Eventually, Ms Wong and Mr Chiong worked out an arrangement where he met them for lunch once a week.
She says: "It was always in a public place and for about one to two hours each time. There were times when he was not himself and was very short-tempered."
When asked why she didn't keep her children away from him, she replies: "The boys are his, too. I can't keep them away from their father.
"Alvin hardly knew his father. I didn't want the same thing to happen to my boys."
The couple's divorce was finalised in 2011.
Over time, Mr Chiong realised his sons seemed to be wary when speaking to him despite their weekly meetings.
The boys had grown up without him, and he was afraid of losing them forever, so he checked himself into a halfway house.
Their elder son had emotional issues in school, says Ms Wong, tears welling in her eyes.
Mr Chiong, stoic when talking about his past but affected by his ex-wife crying, immediately pulled out a tissue for her.
He isn't ashamed of his mistakes, but the pain he brought on his loved ones is something he still tries to atone for every day.
BELIEF
During the three years at the halfway house, he found camaraderie, a mentor and religion, he even become an employee.
"Prison cannot change a man, belief does," says Mr Chiong, recalling how he looked forward to Sundays, when he got to meet his family for a meal.
As he spent more time with his family, he knew he wanted to be in their lives.
By 2014, he had left the halfway house and was sharing a flat with a friend in Tampines.
He would spend Saturdays with Ms Wong and the boys.
Sundays were reserved for church and volunteering with the Singapore Anti-Narcotics Association, where Mr Chiong conducts faith-based counselling in prison.
And since last year, he has been working as a hawker assistant at a carrot cake stall in North Bridge Road. As time went by, the couple realised they still loved each other.
Last month, Mr Chiong proposed.
"I asked her if she was ready for me to go home and for us to take care of the children together," he says, looking tenderly at his bride-to-be.
They are hoping to get married in June.
Blushing, Ms Wong says: "He is the father of my children. It'll be good for them to have him around."

This article was first published on Feb 14, 2016.
Get The New Paper for more stories.