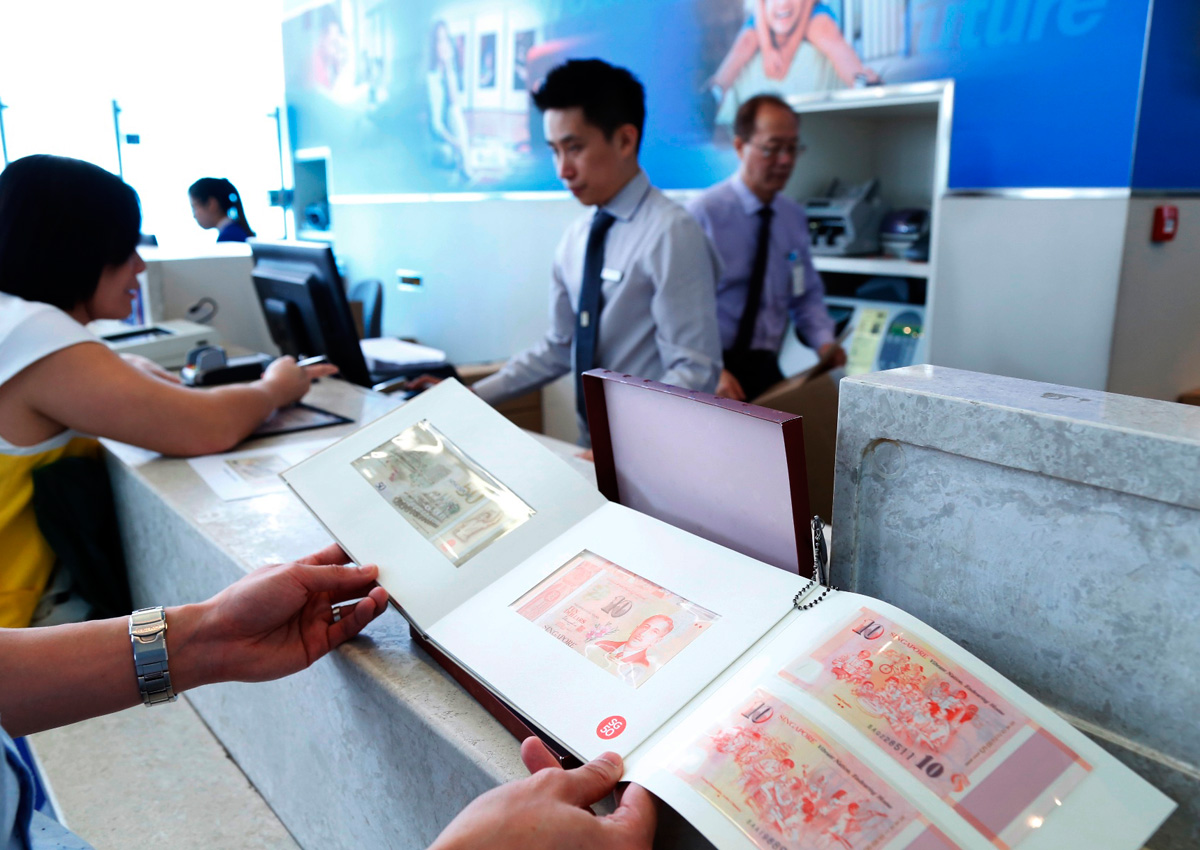 The Monetary Authority of Singapore (MAS) will be printing new folders for the SG50 commemorative note set to correct a typo on them, instead of just pasting stickers over the error.
The sets launched on Thursday had misspelt the name of Singapore's first president, Mr Yusof Ishak, on the packaging. It is spelt on the cover fold and enclosed booklet as "Yusok Ishak".
MAS had said earlier that it will paste stickers over the misspelt part of the name. But yesterday, it announced that the folders will be reprinted instead.
Banks will issue the current folders bearing the typos - stickers will be affixed from next Tuesday - until the new ones are ready at a yet-to-be-announced date. Singaporeans who wish to exchange the folders for the new ones can do so, said an MAS spokesman.
MAS will also replenish the current stock of notes, which are being taken up "much faster than expected". Said the MAS spokesman: "There will be enough SG50 notes for all Singaporeans... There is no need to rush."
Each set comes with one gold $50 note and five $10 notes. A total of 20 million pieces of $50 notes and 75 million pieces of $10 notes will be printed. Singaporeans can exchange for the notes until the end of next month.
"We have also received feedback from the banks that there are customers who queue repeatedly to get more than the stipulated two folders. We would like to appeal to the public to refrain from doing so, in fairness to others," the spokesman added. Each individual is limited to five sets of notes each time.
There were long queues for the notes again yesterday. Some got the bills in plastic bags after some bank branches ran out of folders. After a two-hour wait at a DBS branch in Bedok, client service analyst Richard Tang, 39, got his hands on five sets of notes at 12.30pm.
"At about 11.15am, the staff said there were no more folders. Half the people waiting left," he said.
"I waited because I like the photo of Mr Lee Kuan Yew raising his fist (on the $50 note)."
mellinjm@sph.com.sg
Get a copy of The Straits Times or go to straitstimes.com for more stories.