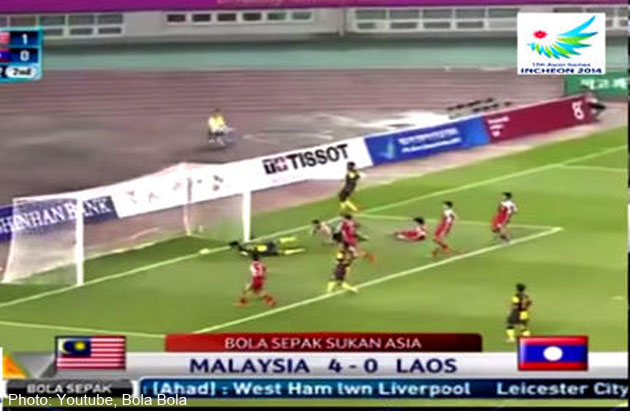 The Olympic Council of Asia (OCA) will investigate allegations of match fixing in the Under-23 football tournament of the 17th Asian Games.
The OCA, the governing body of sports in Asia, said this in a statement yesterday following The New Paper's report that a few matches with late goals could have been compromised.
News agency AFP quoted an OCA official as saying that the council took the matter seriously and was working with the Asian Football Confederation (AFC) and world football governing body Fifa for "a proper and full investigation".
Sportradar, a sports betting analysis company, told TNP that betting patterns and the late goals in some matches have raised suspicions of match fixing.
Mr Andreas Krannich, Sportradar's managing director of strategy and integrity, said in an exclusive e-mail interview: "We can say that we strongly believe there have been manipulated matches at the Asian Games.
"For example, on a certain match in this competition, bettors were incredibly confident of a goal being scored in the final minutes."
Sportradar, whose services are contracted to AFC, declined to name the suspect matches or the teams involved. It also remains unclear how much had been wagered on these matches.
The Incheon Asian Games Organising Committee (IAGOC) said that it "has not received any reports of match fixing".
FAIR GAMES
The IAGOC's press relations bureau director, Mr Park Dal Hwa, said: "The committee has stated repeatedly that it will do its best to ensure fair games, and if there are (cases of match fixing), then an official complaint should be filed."
TNP's report has been picked up by overseas media like Yahoo, Bangkok Post, NDTV, The Malay Mail and Times of India.
Seasoned investigator Terry Steans, 59, told TNP yesterday that it is important to find out who is behind the suspected fixes.
The former global investigation coordinator for Fifa said that a betting analysis system would not know "who the fixers are, where they are or when and where they will strike again".
Mr Steans, a consultant for sports fraud firm SI Sports Intelligence, added: "It tells you there was possibly, probably, manipulation of the betting in the regulated markets it monitors.
"However, it does not and cannot monitor the largest market of all - the illegal betting market. For these reasons, it holds no fear for the match fixer."
Nevertheless, Sportradar's Fraud Detection System has seen success in bringing match fixers to justice in Australia.
Mr Steans expects investigators into the Asian Games allegations to cover breaches in discipline, ethics or integrity, such as result manipulation through match fixing.
Any breaches should lead to disciplinary sanctions, he said. And any evidence of criminal activity should be passed on to the police who will carry out investigations to secure evidence for arrest and prosecution.
Mr Steans said: "It is not the place of football integrity officers to deal with organised crime elements. That's for police professionals."
No kelong attempt escapes FDS radar
Sportradar, with its Fraud Detection System (FDS), detects suspicious kelong attempts by analysing data.
And this has led to arrests, particularly in the Australian match-fixing scandal involving Victorian Premier League team Southern Stars last year.
Nine foreign players and the coach were arrested by Victorian police. Three of four players who later pleaded guilty to match fixing were fined.
Syndicate leader Segaran "Gerry" Subramaniam, a Malaysian linked to convicted Singaporean match fixer Wilson Raj Perumal, was jailed for three years.
Sportradar's managing director for strategy and integrity, Mr Andreas Krannich, told The New Paper in an e-mail: "The recent Southern Stars case proves that match fixing is a profitable business even in the largely unwatched Victorian Premier League.
"When we examine the players' wages, market liquidity, potential profits and lack of consistent jail terms for match fixers, organised crime is likely to view match fixing as one of the best opportunities for illegal gains."
The FDS analyses up to 100 million pieces of data per day by looking at odds from more than 450 bookmakers worldwide in both pre-match and live betting. It also tracks football players linked to suspicious matches.

This article was first published on Sep 26, 2014.
Get The New Paper for more stories.