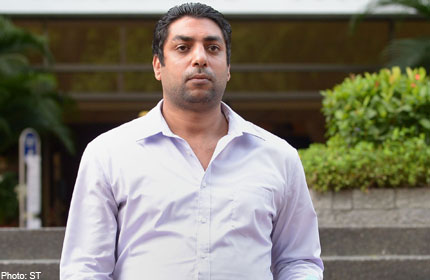 Arabic interpreter Khaled Atwa Nabil on Wednesday dropped two bombshells that surprised both sets of lawyers in the match-fixing trial against Eric Ding Si Yang.
The prosecution witness revealed that statements were recorded by the Criminal Investigation Department (CID) from two Lebanese linesmen on June 11, the day they were repatriated after serving jail time here.
This took place after a separate set of statements was recorded by anti-graft officers. Mr Atwa had served as interpreter for the Corrupt Practices Investigation Bureau (CPIB) and CID.
Although the linesmen indicated they would return to testify in court, neither did. Their CPIB statements have been admitted as court evidence.
Defence lawyer Thong Chee Kun argued: "The prosecution has sought to tender statements in place of the actual attendance of the linesmen in court. So naturally, the accuracy of statements would be an issue.
"They should not be picking and choosing which statements to tender in court."
Deputy Public Prosecutor Asoka Markandu replied: "We were not aware what CID intended (to do) with those statements nor do we have them in our possession. We have never seen those statements, which are not relevant to this particular trial. We do not know the purpose, but it's probably unrelated."
The defence said it will apply for the disclosure of any unused material "at an appropriate time".
Ding, 31, is standing trial for bribing referee Ali Sabbagh, 34, and linesmen Abdallah Taleb, 37, and Ali Eid, 33, with prostitutes in return for fixing a match.
He faces two other charges, which have been stood down, of perverting the course of justice by concealing a receipt from anti-graft investigators and for failing to give his laptop password to a police officer.
Mr Atwa also testified that he was aware the linesmen, who had told him they were "very happy" with the way they were treated here, would give press interviews at home. But in a Lebanese news report tendered in court, the linesmen allegedly said they faced injustice from the Singapore authorities.
One linesman - Mr Atwa could not recall who - told him he was "ashamed to face the press" because "the (Lebanese) press sometimes fabricate some stories", drawing gasps from lawyers.
On his third day on the stand, Mr Atwa grew visibly restless as his credentials were questioned repeatedly. On occasion, he sighed audibly, cupping his face in his hands. He also pointedly told defence lawyer Yusfiyanto Yatiman: "I keep asking you to repeat again because you have been asking a lot of similar questions from me in so many different forms."
The trial continued Thursday.

Get a copy of The Straits Times or go to straitstimes.com for more stories.