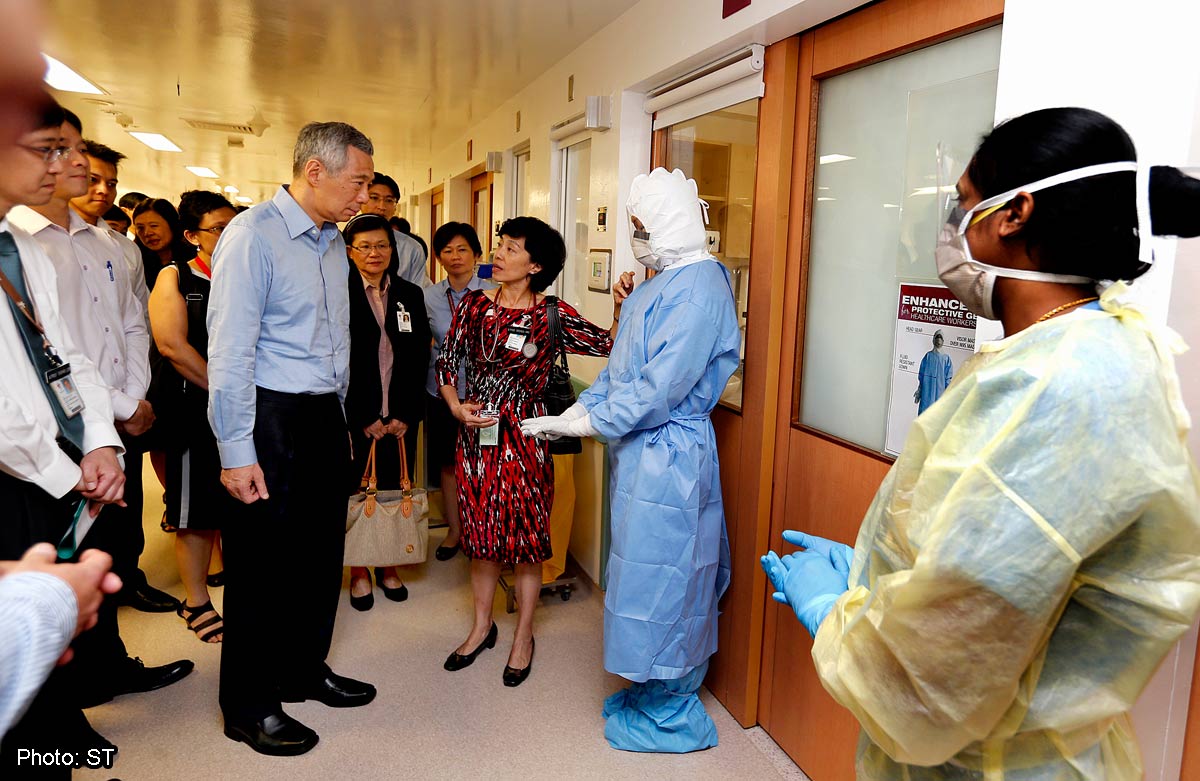 SINGAPORE - Singapore's hospitals need to be prepared if the Middle East Respiratory Syndrome (MERS) enters the country and the public must be vigilant, said Prime Minister Lee Hsien Loong during a visit to Tan Tock Seng Hospital (TTSH) Thursday morning.
Mr Lee said it was "just a matter of time" before the disease hits Singapore and wants to be sure that our medical facilities, the hospitals and staff - the whole team - are ready to tackle the disease.
He added that we must contain MERS and put a stop to disease as quickly as we can.
It is not just the medical teams who must know what to do. Mr Lee said the public must be in the know as well.
Mr Lee and his wife Ho Ching were visiting TTSH to observe the emergency preparedness measures there.
According to reports, the disease originated from the Middle East and has recently hit South Korea.
South Korea is a popular tourist destination for Singapore travellers, noted Mr Lee.
He said: "Every month we have about 40,000 visitors and during a holiday month like June, a lot of families go to Korea on holiday."
The Korea Herald reported that total number of infected with MERS has gone up to 108 and the death toll stands at nine, as of June 10.
On Tuesday, Changi Airport activated temperature screening at checkpoints for travellers arriving from South Korea.
If a person starts to have symptoms of respiratory illness after visiting South Korea or the Middle East, they would be isolated for up to 48 hours at TTSH's emergency department if they are suspected of having MERS.
Doctors will take a sputum sample or a swab from their nose or throat to test for the virus.
According to the Ministry of Health (MOH), all hospitals in Singapore stand ready to screen and isolate any suspect cases for further evaluation.
Only adult passengers who fulfil the criteria for a suspect case of MERS-CoV detected at the air checkpoints, as well as adult patients who visited General Practitioners (GPs) for their illness and are assessed to fulfil the criteria, will be referred to TTSH for further evaluation, it added.
To date, there have not been MERS-CoV cases reported in Singapore.
wjeanne@sph.com.sg
Here is PM Lee's post on his Facebook page:
We read about the Middle East Respiratory Syndrome (MERS) cases in the Middle East, and recently a major outbreak in South Korea. Sooner or later, we will have a MERS case in Singapore. We must be ready.
I visited Tan Tock Seng Hospital (TTSH) this morning. I wanted to be sure that the medical team and facilities are well drilled and ready.
It's not just the medical team. The public too must be psychologically prepared, so that we won't panic.
So if you have travelled recently and feel unwell, please see your doctor. Please tell him where you have been, especially if it was to the Middle East or South Korea.
If we have a MERS case here, please stay calm, listen to advice from the govt, but otherwise go about your daily lives normally. Let's take care of each other. - LHL