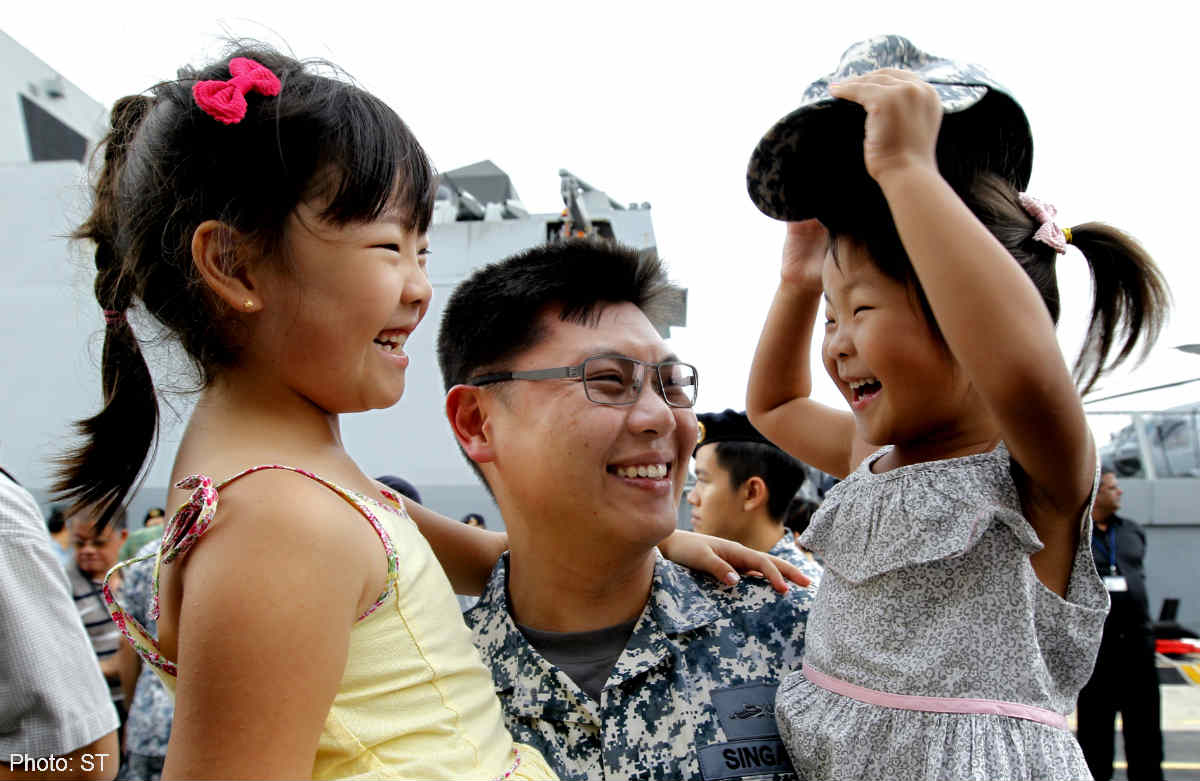 For the past 103 days, crew members on board the RSS Tenacious have lived up to the stealth frigate's name.
They have faced a host of difficulties in one of the more challenging anti-piracy deployments to the Gulf of Aden in recent years.
Not only did they have to battle choppy waters and soaring temperatures of up to 42 deg C, they also risked being infected by the Middle East respiratory syndrome coronavirus.
The Tenacious stayed out at sea for almost a month, after plans to call at Djibouti were scrapped following a suicide bombing in the country, said Colonel Ricky Hi.
He led the ship's 193 servicemen who included support staff from the Army and Air Force pilots who flew the Sikorsky S-70B Seahawk naval helicopter.
"The crew was very resilient and did well despite all the challenges," he said. "Even after spending 29 days at sea, nobody was unhappy or depressed."
Yesterday morning, the RSS Tenacious docked in Singapore after its 4,000 nautical-mile journey from the Gulf of Aden.
A gentle sea breeze kept gathering storm clouds at bay, as about 500 family members and friends thronged the pier at Changi Naval Base, armed with banners and cameras, to welcome their loved ones home.
Marketing executive Herlina Goh, 27, waited with a "Welcome Home" balloon for her boyfriend, Military Expert 2 Sim Ti Kai, 31.
"What I missed the most was sitting down to have a meal, or jogging with him on the weekends," she said. "It's not easy being apart but I support him because he keeps the country safe."
Full-time national serviceman Daniel Ng, 22, who served on board as a navigation specialist, said: "I learnt from this mission to always expect the unexpected."
Crew members were presented with Overseas Service Medals by Defence Minister Ng Eng Hen, who thanked them for their work in the Gulf of Aden, a major waterway that connects Asia and Europe. More than 30,000 vessels pass through it every year.
Dr Ng noted that multinational counter-piracy efforts have reduced reported piracy incidents to just one so far this year, compared to 15 last year and 237 in 2011.
"Trade and livelihoods would be severely affected in Singapore and our entire region if the freedom and safety of navigation in these vital sea routes are disrupted," he said.
"This is the reason that the SAF actively participates in this international effort against the scourge of piracy in the Gulf of Aden."
jianxuan@sph.com.sg

This article was first published on June 28, 2014.
Get a copy of The Straits Times or go to straitstimes.com for more stories.