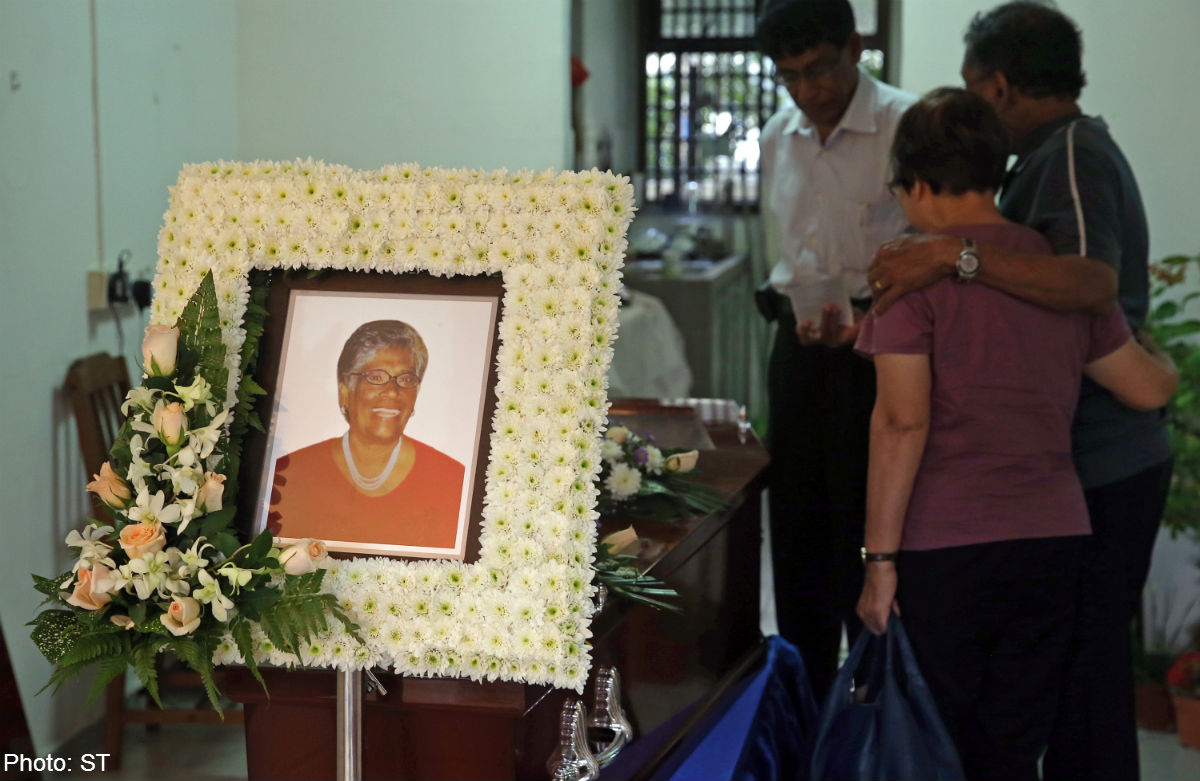 Daisy Vaithilingam, who pioneered medical social work in Singapore and started the first fostering scheme for children here, died on Wednesday. She was 88.
She had been undergoing intense radiotherapy since being diagnosed with gum cancer earlier this year, but the cancer spread.
"She was very peaceful before passing away. I read Psalms 23 which was what she liked," said lawyer Glenn Knight, 59, of his aunt who had remained single.
Born in Penang in 1925, Ms Vaithilingam was the youngest of four children and had always wanted to care for the needy.
Her mother, a nurse, and her stepfather, a doctor, were her role models. Although she read English literature, economics and geography at the now defunct Raffles College, she went into social work after a talk by a medical social worker at the university.
She started work at the Singapore General Hospital in 1952 and was made Singapore's first local Senior Almoner in 1955, which meant she oversaw all medical social workers in Singapore.
Honoured as one of the 108 women in the Singapore Women's Hall of Fame in March this year, she also started the first fostering scheme here for children.
As Mrs Ann Wee, 88, another social work trailblazer, recounted: "She saw children abandoned by their mothers at the hospital and she would go around assigning them to be looked after by hospital attendants and amahs."
"It was very unofficial and the director of social welfare saw that and decided to do it properly with a central registry and that's how the whole fostering programme began."
Ms Vaithilingam cared deeply for intellectually disabled children and lobbied for financial aid for their parents. She was key in helping to set up the Singapore Association of Social Workers in 1971 and chaired the first Committee of the Care of the Aged.In 1967, she became a social work lecturer at the University of Singapore and retired in 1982.
She readily agreed to come out of retirement after that when asked to help set up the medical social work department at the National University Hospital (NUH).
Having worked in hospitals most of her life and hailing from a family of doctors, she felt at ease in her last days at Dover Park Hospice, said Mr Knight. Her steady stream of visitors included Minister for National Development Khaw Boon Wan, her then boss at NUH.
"It was a tremendous gesture on his part and a reflection of the fantastic job she had done," said Mr Knight, who remembered her for "being very caring".
Her work also inspired many who also in turn became leaders in the social work sector. One of them is Mr K.V. Veloo, 80, who set up the Community Probation Service in 1971 and the Prison Welfare Service two years later.
Ms Vaithilingam interviewed him in the 1960s when he applied to become a social worker.
"Every time I met her after that, she would tease me about being 'an angry man' because I was disappointed at the pace of development of social services and I showed it at the interview," said Mr Veloo with a chuckle.
"She gave me the chance to become a social worker and I hope all of us did her proud."
jantai@sph.com.sg
hpeishan@sph.com.sg

This article was first published on August 9, 2014.
Get a copy of The Straits Times or go to straitstimes.com for more stories.