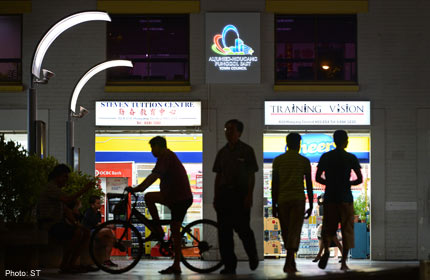 THE Ministry of National Development (MND) on Wednesday refuted the Aljunied-Hougang-Punggol East Town Council's (AHPETC's) claim that it was unable to get data from government bodies for a particular item in its accounts.
At issue is a sum of $1.12 million, which the former Aljunied Town Council run by the People's Action Party had recorded as receivable from the Citizens' Consultative Committees (CCCs) for town improvement projects.
AHPETC's auditor said the town council had received about $521,000 from the CCC in the last financial year, but this could not be identified and matched to the $1.12 million receivable.
AHPETC chairman Sylvia Lim referred to this last Friday as an example of an "information gap" arising from the handover of the town council to the Workers' Party in 2011.
But in response to queries, MND said AHPETC had twice in 2012 sought assistance for data on outstanding items in their records, including the amount receivable from the CCC. MND and HDB had provided the data available within 25 days in one case and a day in the other.
"In turn, MND/HDB asked the town council to provide further details and/or copy of invoices, to enable MND/HDB to help check on the payment status. However, (they) did not respond to this."
On Wednesday, MND also disputed the $1.12 million figure.
MND and HDB had paid AHPETC some $2.9 million for projects under the Community Improvement Projects Committee (CIPC) in the 2011 and 2012 financial years, it said.

"As at end-FY12, there was no more outstanding amount due to AHPETC from the CIPC. Hence, we are puzzled by an outstanding receivable of $1.12m... in the FY12 financial statements."

Get a copy of The Straits Times or go to straitstimes.com for more stories.