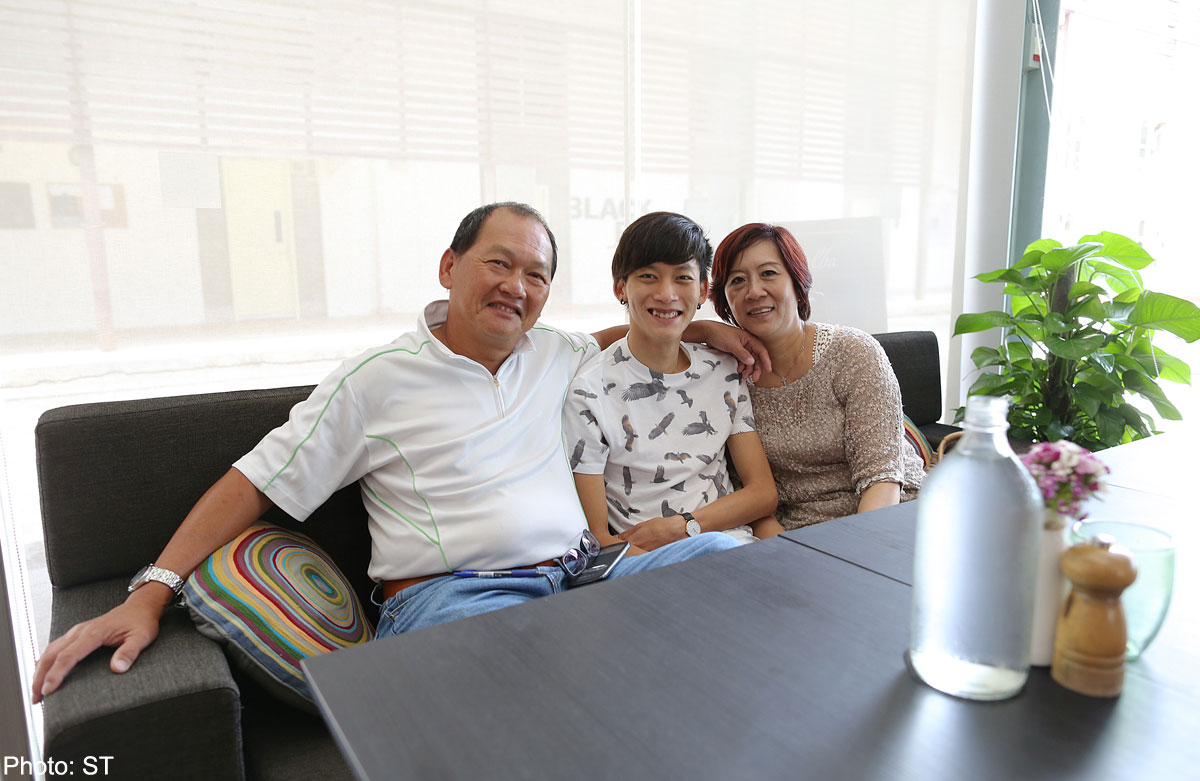 Actor Noah Yap's parents support his decision to quit school to pursue a full-time career in show business.
One of the stars in Jack Neo's phenomenally successful Ah Boys To Men (2012/2013), he decided to quit his theatre studies at the Nanyang Academy of Fine Arts last year to film The Lion Men, another of Neo's movies.
Noah's father Tony Yap, 54, who owns a firm constructing sports facilities, says: "I believe that doing what you like is the most important. We should always think about what we can offer rather than what we are receiving."
Noah's decision to forgo school has turned out to be practical. In August, he is scheduled to start filming a new movie, Ah Boys To Frogmen, about the Republic of Singapore Navy's elite Naval Diving Unit.
The project, also directed by Neo, reunites the Ah Boys To Men cast and they are set to undergo rigorous training in order to accurately depict what life in the navy is like for the elite force.
Noah, 21, who completed his O levels at Bendemeer Secondary School, is not unduly worried though. "It's going to be one new adventure. Every project is a new experience," he says.
He and his family, including his housewife mother Alice, 49, and 17-year-old brother Sean, live in a house whose location they declined to reveal.
They have all appeared in Noah's humorous self-made YouTube videos, about topics such as things not to do during Chinese New Year and the perks of being a mummy's boy. He has more than 47,400 subscribers to his YouTube account.
"I asked my family to help me if they were free. They were very willing to help with my videos and they were okay with me putting their faces up on YouTube," says Noah. "Even though they were embarrassed, they still helped me. I didn't have to force them to do it."
The name Noah is in the news recently because of the Hollywood movie based on the Bible. How did you come to name him Noah?
Mr Yap: He's a miracle kid to me. His birth weight was only 676g as he was a premature baby. On the day he was born, the doctor actually told my wife and I to be prepared that he might not make it.
I prayed to God - whatever His will for our child, we would submit. After that, I decided to name him Noah, because I think he has a calling.
Mrs Yap: Noah in the Bible is a man whom God favours. We also hope that God will bestow favour on our son, Noah. That's why we gave him the name.
What was your relationship like with him when he was growing up?
Noah: I'm one of the best sons anyone could have.
Mr Yap: Well, he's very active, playful and, sometimes, naughty. I think I spent a lot of time with him until he had his own friends when he was 14 or 15. Then, we spent less time together. I took him to the park and playground almost every night. I wanted him to enjoy his childhood. My parents worked very hard, but didn't spend a lot of time with me. I didn't want this to happen to my children.
My fondest memory of Noah's childhood is coming home and receiving a hug from him when he was six to eight years old. I still wish he would jump on me today. That was a very happy moment for me. I felt that all my hard work paid off at that moment.
Are you a family that is able to have heart-to-heart talks with one another?
Mr Yap: I usually make the final decision, but I definitely want to hear their opinions. You might say I run my company the way I run my family. I think someone eventually has to make the final call. But what's important is to explain why you made such a decision.
Noah: I don't think we're the kind of family that doesn't communicate. We spend family time by going to church every Sunday, having a good dinner after church and probably going shopping after that.
It's not just Sundays that we spend time together. When I come home after work, we'll sit down, have dinner and talk. My mum and dad will ask about my day. They are very supportive - whatever magazine that I appear in, it will already be on the table when I reach home. So I know that they actually read the stuff I appear in. I come home and feel a sense of warmth.
Mrs Yap: In fact, I keep all the newspaper articles about him.
Mr Yap: Now that he has grown up, my role is to guide him and give him advice.
What was the naughtiest thing Noah did when he was young?
Mr Yap: When he was about 10, he used a pair of scissors to cut the wire of a lamp while it was switched on. I heard a loud noise and asked him, "What are you doing?"
My usual punishment for him was to ask him to face the wall. I just needed to isolate him for a while and he would feel very lousy.
Noah: During lantern festivals, I'd make a big fire and the paper lanterns would be set on fire. I'd put five lanterns together and they'd burn.
Mrs Yap: He also liked to provoke his brother.
Noah: When I played with my brother in the past, even if he was in the wrong, my mother would take his side. Every time he shouted, "Mummy!", it would be my fault.
Mrs Yap: I would try to find a balance, but I guess it is very common for this sort of problem to happen between siblings.
Did you cane your sons?
Mr Yap: Yes, sometimes. I think using the cane is okay, but not hitting with your hands.
Mrs Yap: When he was young, I did use the cane on him. Sean was caned too but less than Noah. I believe in what is said in the Bible: Spare the rod, spoil the child. I think certain kids need some caning in order to learn. But we stopped caning him before secondary school.
If the parent-child roles were reversed, what would you do differently?
Mr Yap: If I were him, I would spend more time studying. I think studying is important and it doesn't necessarily mean going back to school.
I would definitely do a lot more reading, learn more skills and learn from other people. I would definitely be more focused in what I want to do.
Mrs Yap: I've also been telling him that maybe he should go for some courses, to learn more, even in acting. I would further my studies in acting.
Noah: I like the way they're parenting, but if I were them, I think I'd leave $5,000 on the table every day for my son to spend.
seemanda@sph.com.sg
This article was published on April 6 in The Straits Times.


Get a copy of The Straits Times or go to straitstimes.com for more stories.