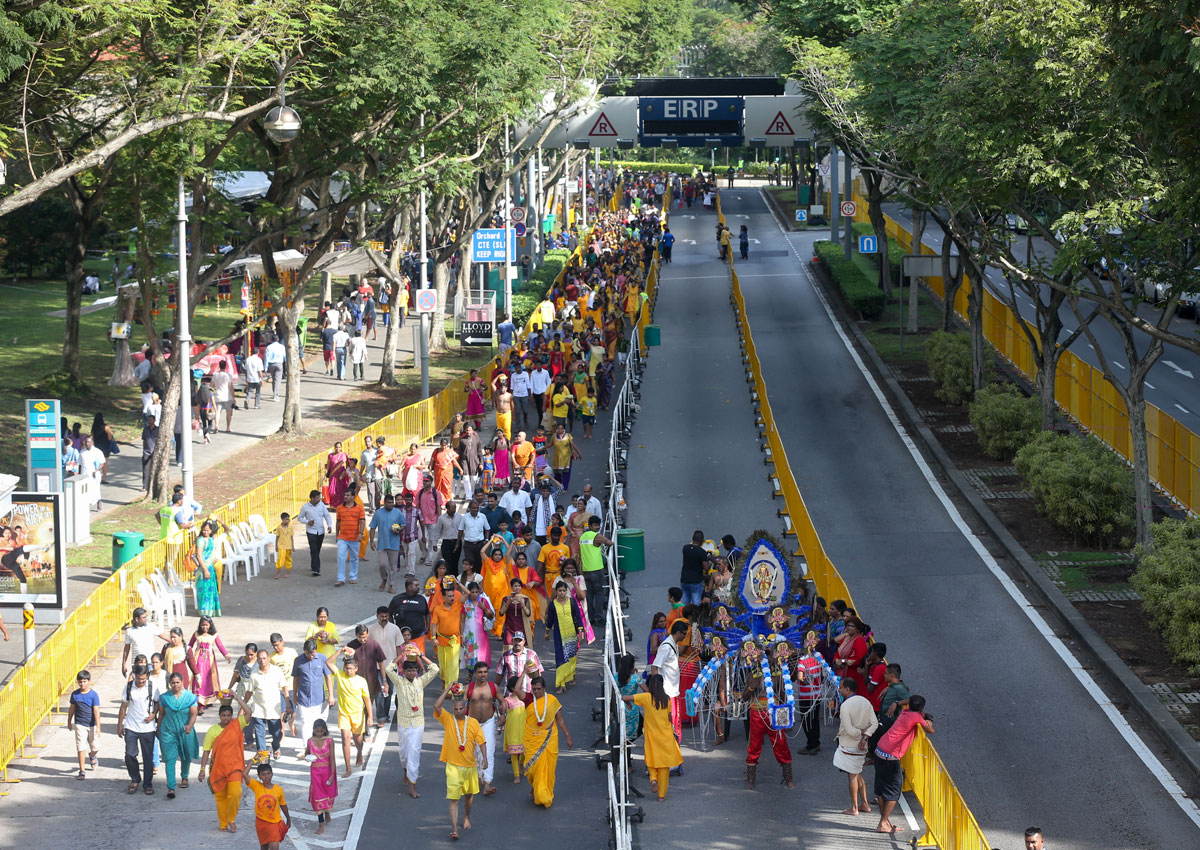 Mr Manibalan Dhanabalan, 33, was among over 20,000 people who marked Thaipusam yesterday.
Like many others, the construction worker who volunteered to guide devotees at Dhoby Ghaut Green said this year's 4km procession from Sri Srinivasa Perumal Temple in Serangoon Road to Sri Thendayuthapani Temple in Tank Road felt more festive, as the ban on live music was relaxed for the first time in over 40 years.
Dhoby Ghaut Green was one of three live music stages, where musicians certified by organisers could play religious music for devotees.
Said Mr Manibalan, who helped out with a team of 25 colleagues: "It's a holiday for us, so we came to volunteer, and we like the crowds and music."
This year's procession also saw other improvements, such as resting and overtaking bays, and a dedicated lane for female and young devotees in Clemenceau Avenue.
This enabled them to enter the Tank Road temple faster and not get stuck in a bottleneck behind kavadi-carrying devotees.
Asked by reporters about the possibility of further relaxing the rules, Home Affairs and Law Minister K. Shanmugam said that, as a rule, the Government did not allow any religious foot processions due to concerns over law and order.
However, exceptions are made for Thaipusam and two other Hindu festivals, Thimithi and Panguni Uthiram, and there is a need to be careful in making further changes.
Also involved in helping maintain order were local grassroots leaders, such as retired consultant A. K. Latchumanan, 65, who said: "I've carried the kavadi before. I know the old-timers; they call me big brother. We get things done."
Tanjong Pagar GRC MP Melvin Yong, whose Moulmein-Cairnhill ward includes parts of the route, also joined devotees, as did tourists and onlookers from various races.
Said National University of Singapore undergraduate Tan Lien Chew, 21, who is doing a project on multiculturalism: "I wasn't sure what to expect, but it was quite an eye-opening experience."
rachelay@sph.com.sg

This article was first published on Jan 25, 2016.
Get a copy of The Straits Times or go to straitstimes.com for more stories.