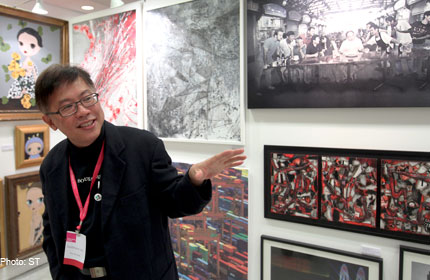 The Affordable Art Fair will make art buying for the budget conscious a breeze when it returns in November to the F1 Pit Building.
A 20 sq m wall in the fair grounds will display selected artworks priced below $1,000 from different galleries. This new feature aims to give first-time visitors a quick overview of the range of art available and help them make a beeline for the galleries that pique their interest.
This visual signpost will also come in handy for seasoned visitors who need help navigating the largest edition of the fair here since its launch in 2010.
The fair, which has grown in size every year, will present 95 galleries over 5,000sqm, up from 86 galleries and 4,000sqm last year.
More than 60 per cent of the exhibitors are galleries from Asian countries such as Thailand, Korea and Vietnam while the rest are from Europe and America including Spain and the United States.
Fair director Camilla Hewitson, 34, says more than 170 galleries applied to take part in this year's fair but it had to narrow down the selection. She says: "We want to nurture the fair and ensure it grows proportionately to the demand for art here."
Last year, the fair drew 16,000 visitors and chalked up more than $4 million in sales. This marked an 18 per cent increase in visitorship and 25 per cent increase in sales from 2011.
She expects this year's fair to attract about 17,000 visitors and ring in $4.5 million in sales as the fair gradually matures.
She explains that although the fair will have 1,000 sq m more space, the number of galleries will increase by just nine because some returning exhibitors will occupy bigger stands.
There will be 21 galleries new to the fair this year. They include Tembusu Art Gallery from Singapore and Gallery Bhak from Seoul.
British gallery Manifold Editions will also debut at the fair. It will feature blue chip artists such as Anish Kapoor and Damien Hirst, albeit their limited edition prints, which fit within the fair's price range.
Works sold at the fair are priced from $100 to $10,000, with three-quarters of the offerings priced below $7,500.
The fair was founded in London in 1999 to make contemporary art accessible to the masses. It now spans 12 cities and debuted in Hong Kong in March.
Ms Hewitson says: "Having two fairs in the region is indicative of the growth of the art market in Asia."
She adds that the presence of a Hong Kong fair will likely not dampen the fair's performance here because the fairs target local residents.
Ms Vera Wijaya, 37, managing partner of the Singapore-based Galerie Sogan & Art, is upbeat about the fair.
The gallery exhibited in 2011 and last year. Last year, its sales at the fair grew by 35 per cent. It will return this year.
Ms Wijaya says: "It provides a solid platform for us to introduce our new emerging artists to the arts scene. Local artists such as Sarah Choo and Guo Yixiu, whose works we first showed at the fair, have since gone on to win international awards and be selected for the Singapore Biennale."
This year, the gallery plans to introduce other emerging local artists such as Henry Lee, Sebastian Mary Tay and Andre Wee.
Ms Wijaya says: "We certainly hope to replicate the same exposure and sales we enjoyed in the past two editions."
lijie@sph.com.sg
Book it
THE AFFORDABLE ART FAIR SINGAPORE Where: F1 Pit Building, 1 Republic Boulevard When: Nov 21 to 24, noon to 8pm (Thursday), noon to 6pm (Friday), 11am to 8pm (Saturday), 11am to 6pm (Sunday) Admission: $12 for adults, $8 for students and senior citizens, $25 for Arty-Licious Evening on Nov 22 from 6 to 10pm. Tickets are available from Sistic (call 6348-5555 or go to www.sistic.com.sg).

Get a copy of The Straits Times or go to straitstimes.com for more stories.