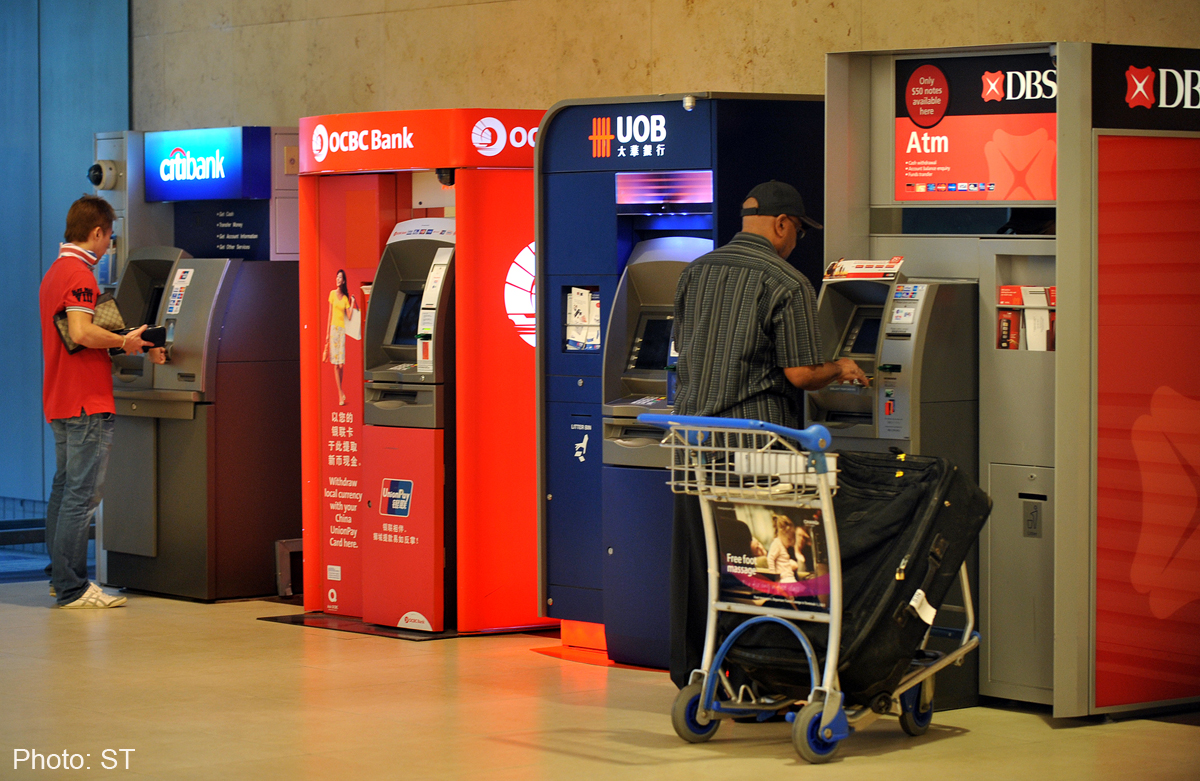 More automated teller machines (ATMs) have been installed this year but residents in less densely populated areas can still struggle to find one.
This is a sore point, particularly, among the elderly, who are less mobile.
For instance, 67-year-old Elizabeth Boyd, who lives in the Upper Thomson area, finds it hard to access ATMs.
The housewife told The Straits Times that two UOB ATMs near Jalan Leban have been removed, causing inconvenience to many senior citizens living in the area.
"I have a very sick husband, and I need to take a little cash to pay the nurse. The elderly find it difficult to go far," she added.
Mrs Boyd's case is not an isolated one. Mountbatten MP Lim Biow Chuan said his elderly constituents have also encountered difficulty in getting access to banking services. That led him to table a parliamentary query earlier this month asking if the Government would consider requiring banks to provide adequate ATMs and cash deposit machines when there is a critical mass of 5,000 residents in the area.
"From my perspective, we should regulate things like banking facilities more because this is a service to people and we can't leave it to the banks entirely to see if it is commercially viable to do so," he told The Straits Times.
There were about 2,700 ATMs operated by both local and foreign banks as of last month.
That is about 116, or 4.5 per cent, more than the 2,584 machines available at the end of last year, said the Monetary Authority of Singapore.It is a significant increase as there were 2,579 local and foreign ATMs at the end of 2012, meaning only five additional machines were installed in the 12 months to the end of 2013.
Local banks have kept their ATM numbers more or less the same over the past few years, so the growth has likely come from foreign banks looking to boost their retail presence.
DBS Bank and its POSB brand have the largest network with just over 1,100 ATMs. OCBC Bank and United Overseas Bank (UOB) each have about 600 ATMs but, as they share their networks, customers have access to around 1,200 machines although a small fee is charged after a user makes a specified number of transactions from the other bank.
Banks said customer demand is a major driving force behind the location of ATMs and whether they dispense both $10 and $50 notes.
A UOB spokesman said the bank has relocated a number of ATMs in areas with low usage to places with higher customer activity. It will also install a new ATM at a Jalan Leban SPC petrol kiosk within the next few weeks.
"We always look for ways to make banking more convenient for our customers," she added. "This is why we have placed our ATMs at transportation hubs and shopping centres across the island and where there is strong demand from our customers."
DBS' move to reconfigure its ATMs comes in response to customer demand.
At least two DBS ATMs - one at Marine Parade Central and another at Cambridge Road - have started dispensing both $10 and $50 notes again in recent weeks. They were converted to issuing only $50 bills a few months ago but customers complained.
Its head of consumer banking group here, Mr Jeremy Soo, said: "We have taken on board customer feedback on their preference for withdrawing cash in smaller denominations and are already making adjustments to many of our ATM withdrawal configurations across the island."
He added that DBS is partnering 7-Eleven so bank customers can withdraw up to $80 at the convenience stores. "By doing so, we increased our network of cash withdrawal touchpoints to over 1,600."
feimok@sph.com.sg
This article was published on Aug 19 in The Straits Times.

Get a copy of The Straits Times or go to straitstimes.com for more stories.