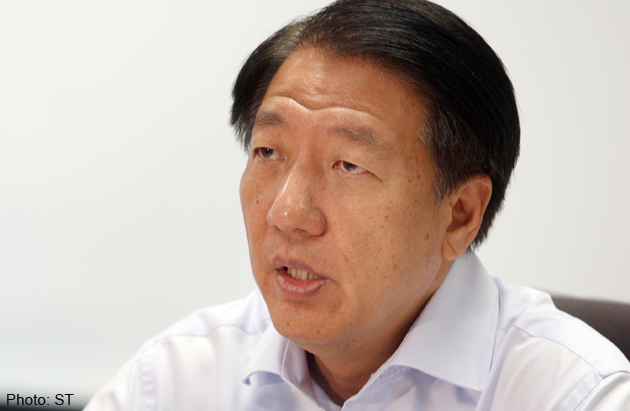 Singapore's maritime security will be tightened by the setting up of more physical barriers on land and at sea, even as a review of current measures is undertaken.
Deputy Prime Minister and Minister for Home Affairs Teo Chee Hean made this clear in Parliament yesterday, in his response to a question on an immigration breach at Raffles Marina in August. Then, a Mongolian woman and two foreign men sneaked into the country after sailing from Langkawi on a catamaran.
Mr Hri Kumar (MP for Bishan- Toa Payoh GRC) wanted to know what the government has done to beef up border security since the incident.
Mr Teo said an additional 80km of barriers, such as fences, will be added to the 63km already in place. This means 143km of Singapore's 193km coastline will be barricaded. A spokesman for the Ministry of Home Affairs told The Straits Times that the first 30km of the new barriers will be up by 2019.
Mr Teo told Parliament that the barricades, together with regular patrols, have proven to be "generally successful".
Between 2011 and 2013, Mr Teo said, 46 vessels were seized for intruding into Singapore's waters and 144 persons arrested for illegally entering Singapore waters or attempting to do so.
Last year, 2,890 vessels were detected and stopped from entering Singapore's waters, although most had simply strayed off course, added Mr Teo.
In the border breach on Aug 19, the 30-year-old woman had wanted to snatch her two-year-old son from his paternal grandparents and take him back to London, after winning custody in her divorce from her Singaporean banker husband in the British courts.
She hired Adam Christopher Whittington, 38, managing director of Child Abduction Recovery International. After finding out that Raffles Marina in Tuas West Drive was guarded only from 9am to 5pm, they sneaked in at about 6am, after arriving here on a ship skippered by Australian Todd Allan, 39. All three were arrested and jailed for 10 to 16 weeks.
While the authorities will study this incident and work with security agencies and private partners to review measures to keep Singapore's coastline secure, said Mr Teo, he also urged the seafaring community to alert the authorities to any suspicious activity.
He explained that securing Singapore's waters is "a daily challenge" because of the high traffic and long coastline, which in some places is less than 500m from international waters.
For land and flight travel, "we can funnel and control the movement of persons entering or departing Singapore via a small number of immigration checkpoints at the airport, Woodlands and Tuas". But "because we are an island, the maritime domain is far more complex".
Mr Teo pointed out that there are 180 wharves and jetties along Singapore's shoreline - many within private premises such as shipyards and marinas. He said that owners and occupiers of such landing points have a responsibility to ensure there is adequate security in their areas.
Early this year, two Malaysians - a delivery driver and a teacher, who was later declared to be of unsound mind - managed to get past immigration checks at the Woodlands Checkpoint in separate incidents, sparking a review of security there.
Experts told The Straits Times they welcome the new review of maritime security, and hope to see more coastal patrols and greater use of advanced surveillance technology.
Mr Mark Fallon, a former United States Navy counter-intelligence agent who worked with the Singapore Police Force and Internal Security Department in the 1980s, pointed to the American practice of having "maritime intelligence fusion centres" where information and warnings are coordinated. "The integration of information and the ability of entities to work within a well thought-out strategic framework is essential," he said.

This article was first published on Oct 8, 2014.
Get a copy of The Straits Times or go to straitstimes.com for more stories.