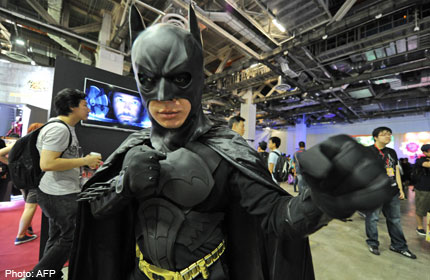 SINGAPORE - Ticket prices for this year's Singapore Toy, Game and Comic Convention have drawn flak from some visitors after organisers raised them.
The price of single-day tickets for the event was increased from $15 last year to $19 this year.
A spokesman for organiser Reed Exhibitions said that this was to encourage visitors to patronise the event on both days - Saturday and yesterday.
The price of two-day tickets remained the same this year at $25.
The annual event is organised by Reed with the creators of the New York Comic Convention.
The spokesman added that major conventions abroad, such as the San Diego Comic-Con, charge visitors for admission "as the organisers have been making substantial investments to promote pop culture".
Still, she said the price increase was not expected to affect fans and overall visitorship, noting that, last year, most visitors bought the two-day tickets.
Some visitors told My Paper that their willingness to pay depends on the event's content.
Full-time national serviceman Alexander Tan, 22, said he would stop attending the event should ticket prices increase further. He said the rise is a downer for people who cannot afford the time to attend the convention on both days.
Even so, many visitors were not bothered by ticket prices.
Cosplayer and photographer Joey Lim, 28, said: "A lot of (cosplayers) are willing to pay because it occurs only once a year."
In fact, there were already 37,000 visitors as of 3pm yesterday, more than the 35,000 across last year's two-day event.
Another pop-culture event, Anime Festival Asia, upped prices for some tickets last year. The most expensive three-day ticket last year, including entry to concerts and premium seating close to the stage, was $408, up from $366 in 2011. But the price of the basic one-day festival-only access pass, without concert, remained at $8.
Ticket prices for this year's event have not been finalised.
tanjoce@sph.com.sg
Get My Paper for more stories.