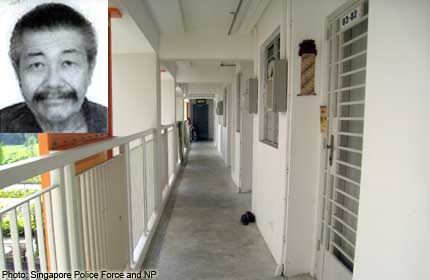 SINGAPORE - He had been living there for three years, alone, and quietly.
Mr Lim Teck Hai, 68, who died in May, had lived a solitary life in his flat in Buangkok.
Neighbour Marial Amuthavally, 53, said she had never seen any of his friends or family visit him.
Ms Amuthavally, a retiree who lived next door to him, said: "No one came to visit him except the people who came to give him his CDC money. Other neighbours didn't talk to him either, just me."
But even Ms Amuthavally hardly knew anything about his life. She only knew that he was a heavy drinker and had a cheerful and friendly disposition. When he died, his body was discovered only two days later.
"We started smelling a bad smell in the corridor, so another neighbour climbed on a chair to look into his window. He saw his body lying face down in the living room," said Ms Amuthavally. "Only then did we realise he had died."
In a flat in Hougang, 65-year-old Madam Tan Swee Ee, also died quietly and alone in her home.
Her neighbours knew nothing about her life.
One of them, who wanted to be known only as Madam Lee, said: "I never talked to her before. I only knew something happened when I saw the police."
This worrying trend of old folks living alone in Singapore looks likely to continue and even worsen, said Mr Goh Boo Han, executive director of Lions Befrienders Service Association, a voluntary welfare organisation in Singapore that works with lonely poor elderly.
He said: "The number of beneficiaries under the care of Lions Befrienders has increased from close to 4,000 seniors five years ago to about 5,500 today.
"An increasing trend of people dying alone only to be discovered after an extended period of time reflects how much, or how little, we look out for... the people living in our community."
Concerns
Dr Lily Neo, MP for Tanjong Pagar GRC and member the Government Parliamentary Committee for Social and Family Development, said that it is worrying when old folks do not interact with the community.
Dr Chia Shi Lu, an MP for Queenstown ward, which is part of Tanjong Pagar GRC and one of the areas in Singapore with a high percentage of old folks, had similar concerns.
"For the elderly, it's in their best interests to go out and reassociate themselves with the community," he said.
"The real tragedy is when they live an isolated life and no one knows or cares who they are after they've passed."
To help some of the elderly living alone, Lions Befrienders is partnering The New Paper and Ngee Ann Polytechnic for Project Helping Hands, an initiative which aims to set up an Elderly Monitoring System in the homes of 1,000 seniors living alone.
Said Mr Goh: "The motion sensors will be able to track non-bodily movement after the programmed period of time and trigger an SMS to a caregiver. This will then allow the caregiver to respond to the situation quickly and hopefully, save lives."
Lions Befrienders will be conducting the contract signing session with its vendor for the project today, at their Clementi Senior Activity Centre.

Get The New Paper for more stories.